This delicious Hamburger Hash Slow Cooker Recipe is a simple meal for those busy nights that you just don't have time to cook! It's a one dish meal that makes clean up a breeze and your family will devour….mine is constantly asking for this slow cooker Hamburger Hash Recipe!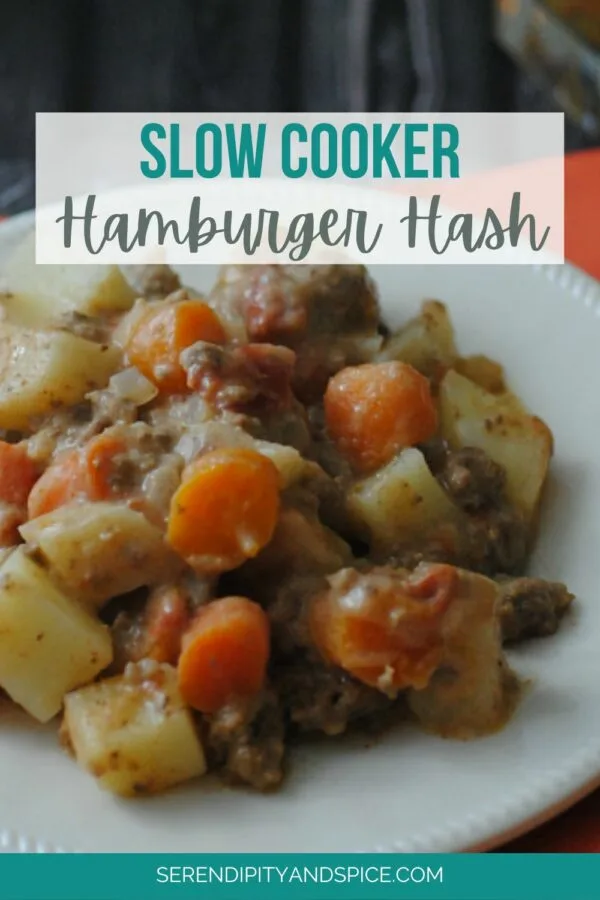 Hamburger Hash Slow Cooker Recipe
A Simple One Dish Meal the Whole Family Will Love!
I have been a crock pot cooking queen lately….I swear my slow cooker has seen more action in the last few weeks than it's seen all year! Juggling a toddler and a newborn has definitely limited my time in the kitchen.
Needless to say, we've been eating a LOT of takeout but sometimes you just need some fresh home cooking…especially since all the take out adds up pretty quickly. So I've been working really hard on perfecting some slow cooker recipes that the whole family loves (did you see last week's Slow Cooker Recipe Creamy Chicken with Bacon…it's TO DIE FOR!)….and this Slow Cooker Hamburger Hash Recipe is another MAJOR hit with the family!
To keep my daily prep time to a minimum I like to freeze meats ahead of time so that it's easy to pull them out and toss them in the crock pot (this is my favorite slow cooker). Once a month Hubs and I will go buy a bunch of ground beef, chicken, and a ham.
We'll split up the ground beef into 1lb portions and brown it up in a skillet, then we just toss it in a freezer bag and it's ready whenever I need it for a quick recipe….it takes one step out of the cooking process on the day of and it guarantees me that I'll always have these staples on hand for a last minute meal.
We do the same with the chicken and ham as well. This way, when a melt down occurs (the kids or my own 😉 ) I can literally toss dinner together in about 5 minutes and get back to juggling two kids.
The nice thing about this Slow Cooker Hamburger Hash Recipe is that it's packed full of hidden veggies….so Little Man thinks he's getting a yummy treat and I'm happy because he's getting all sorts of healthy veggies!
You can even add different veggies if you want….peas are great (just add them in about 30 minutes before the recipe is done cooking)….even subbing out the red potatoes for sweet potatoes is yummy! I love that this dish can be switched up in so many ways….it keeps it from becoming boring and I can add it into our meal rotation more often. 🙂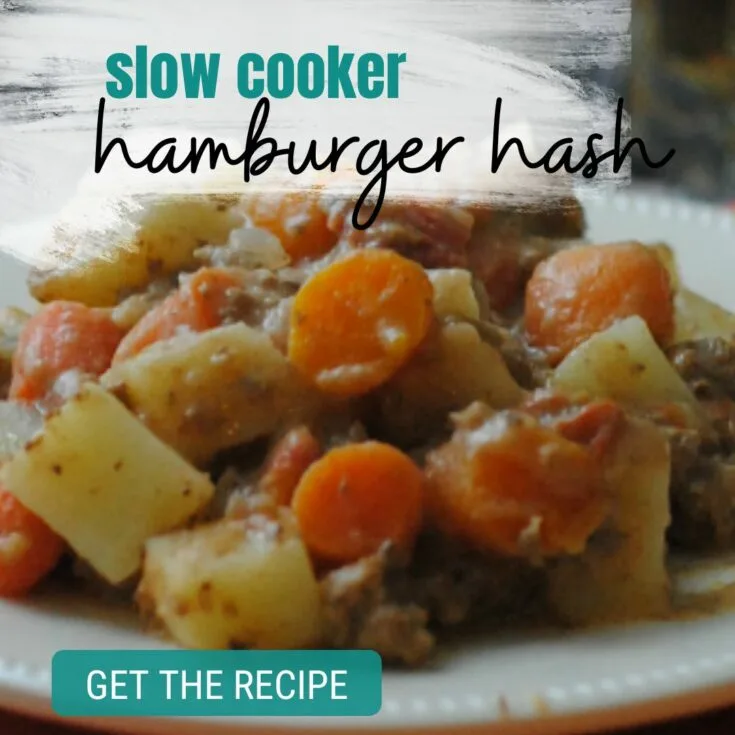 Yield:

4
Hamburger Hash Recipe
Total Time:
4 hours
10 minutes
This slow cooker hamburger hash recipe is a simple meal for busy nights. Using ground beef, onions, potatoes, and carrots...you'll make dinner a breeze with this recipe!
Ingredients
1lb cooked ground beef
4 medium Red Potatoes diced
1 large Vidalia Onion diced
1 cup Carrots diced
1 can Cream of Onion Soup
1 can Diced Tomatoes
1 cup Shredded Cheese (I like to use Colby Jack)
Instructions
Toss all ingredients except cheese into the crock pot, stir well, and cook on low for 6 hours.
Once veggies are cooked to desired softness add in the shredded cheese and cook additional 15 minutes.
Sauce will thicken as it cools.
Recommended Products
As an Amazon Associate and member of other affiliate programs, I earn from qualifying purchases.