This Mango Chutney Chicken Recipe is a little bit sweet, a little bit savory, and a whole lot of deliciousness! Ready in about 30 minutes it makes for a fun weeknight meal….serve with rice and beans for a true tropical escape.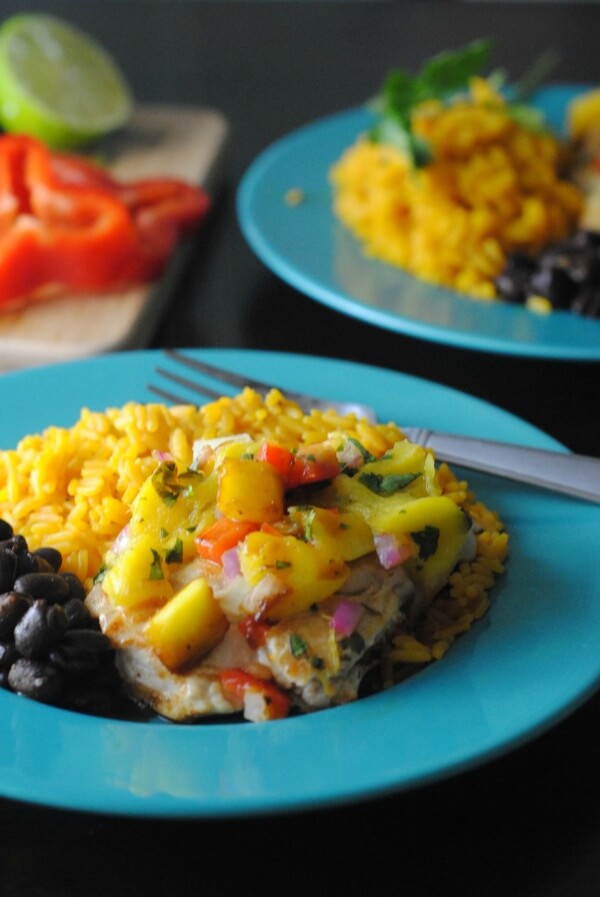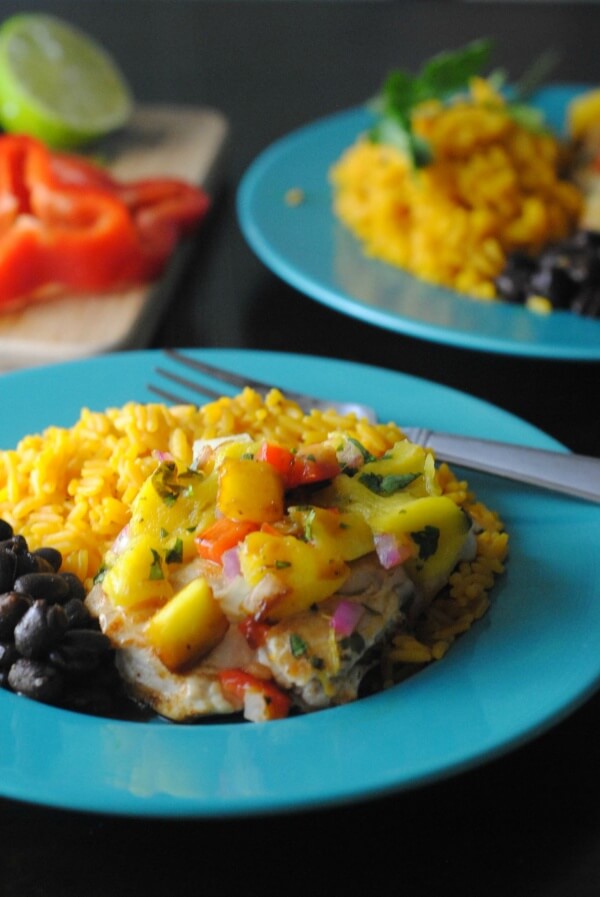 Mango Chutney Chicken Recipe
A tropical escape that's ready in 30 minutes!
What is it about school starting back that immediately elicits dreams of a tropical vacation?! Luckily for us we're headed to Cancun in October for Food Blog University (if you're a food blogger you totally want to check this conference out!). But I'm still dreaming about the tropics now so this Mango Chutney Chicken Recipe is the perfect meal.
I love that this chicken recipe is ready in just 30 minutes….you know me….I want something fast and healthy to feed my family during the week.
So, chutney is basically a fancy way of saying salsa. Chutneys come in lots of different forms…but basically chutneys are condiments that are made from fruits, vegetables, and spices. Anyway– whether you call this dish Mango Salsa Chicken or Mango Chutney Chicken….it's a mango chicken that's SUPER delicious!
Let's start off with talking about how to make the chutney. I love making this mango chutney for all sorts of meats….I've added this mango chutney to grilled salmon, chicken, steaks, pork chops, etc. It's super awesome and so simple to make!
Mango Chutney Recipe
Author:
Prep time:
Total time:
Ingredients
1 small red onion (about 1/4 cup)
2 Mangos (about 1 1/2 cups)
1 Red pepper (about 1/2 cup)
1/8 cup Cilantro
Instructions
Dice red onion.
Peel, pit, and dice the mangoes.
Remove seeds and dice the red pepper.
Dice the cilantro.
Mix all ingredients together.
Now, don't eat all the chutney by itself…trust me…you'll have to hold back. I seriously just want to grab a bag of tortilla chips and eat all the mango chutney without bothering to make the rest of dinner!
I like to use boneless skinless chicken breasts for this recipe. Actually I use boneless skinless chicken breasts for a majority of my chicken recipes because it's easy to cook with, there's no bones to deal with, and I always have it on hand in the freezer.
See, a few years ago Hubs and I decided to get an upright freezer like this one so that I could make a whole bunch of freezer meals when Little Man was born. Well, I never got around to doing all of the freezer meals but I did realize that by buying ground beef and chicken in bulk not only do I always have what I need on hand for a quick dinner but we save money and get better cuts of meat all at the same time. I started purchasing my ground beef and boneless skinless chicken breasts from Zaycon foods because of the quality and price. Now you do buy like 40 pounds at a time– but I just divide them up into 1 pound portions in freezer ziplock bags and freeze them. Now I always have high quality beef and chicken on hand for last minute dinners.
Anyway, let's get back to how to make this Mango Chutney Chicken recipe.
Mango Chutney Chicken Recipe
Author:
Prep time:
Cook time:
Total time:
Ingredients
2 TBS Olive Oil
1 Pound Boneless Skinless Chicken Breasts
Mango Chutney from above
Instructions
Heat olive oil in a skillet on medium heat.
Add chicken breasts to skillet and sear on each side for 4 minutes.
Cover and cook for 15 minutes or until chicken is cooked through.
Add mango chutney on top of chicken and continue cooking for additional 5 minutes.
Let the juices seep into the chicken breasts.
Serve hot.
I always serve this with some Spanish rice and black beans….it's so delicious. Tip: Let your mango chutney char just a little bit in the skillet…it brings out some delicious flavors!
Other Recipes to Try:
Chicken and Apple Baked Polenta Recipe
OMG the BEST Crockpot Chicken Ever
Slow Cooker Creamy Bacon Chicken