Cleaning Glass Shower Doors Hacks…get your glass shower door clean and keep it clean! Find the best cleaner for glass shower doors in this list of hacks that will blow your mind!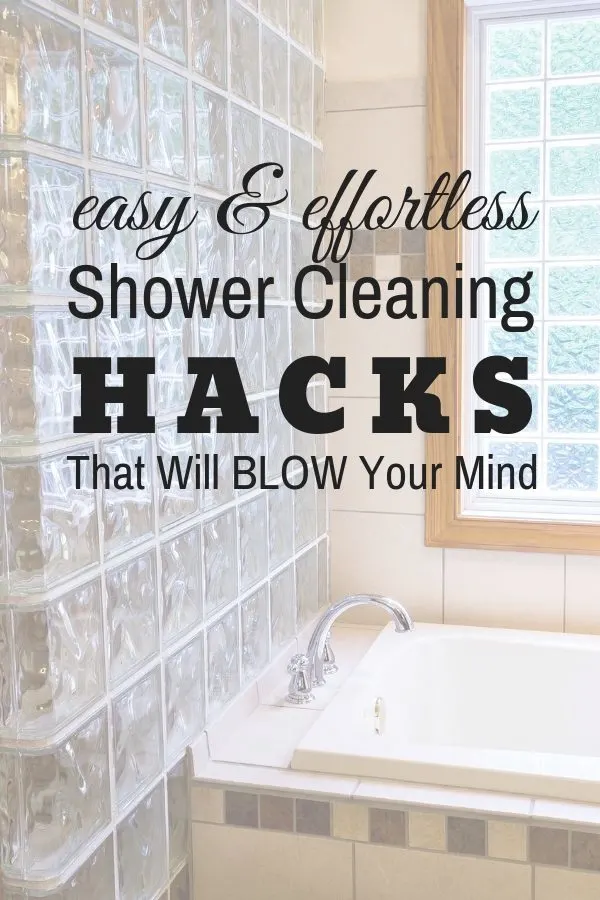 Cleaning Glass Shower Doors Hacks
Ahhhh…glass shower doors….they're so beautiful when you first move into a house but it's only a matter of time until they get grimy and gross if not maintained properly.
Several years ago I shared how to keep a glass shower door clean for 6 months and it went crazy. But then I started getting questions about how to get the glass shower door clean when it's covered in soap scum. So, I started trying out all sorts of techniques I would find on Pinterest.
Some people swear by the Dawn technique…I'm not crazy about this but I'm assuming I must be doing something wrong because so many people love it!
Life with the Littles shares how she cleans the glass shower door using natural ingredients…and I must say her doors are sparkling!!
Okay…now this is totally genius! Did you know you can clean your glass shower door using just aluminum foil?! Check out this amazing hack from Murchison-Hume!
Personally, I really like the smell of this essential oil glass shower soap scum remover from ONE Essential Community.
It's so interesting HOW many different ways people have found to clean glass shower doors…like this little trick from Thrifty and Chic…seriously….she uses a dryer sheet to clean the glass shower door…GENIUS!!
To get a super duper deep down clean then you can always break out the steamer and steam clean the glass shower door like Polished Habitat suggests. If you have a steamer then she walks you step by step through the total cleaning process.
Did you know that you can clean the glass shower door with the same stuff you use to clean a glass cooktop?! Who knew?! Well, First Home Love Life does and she explains exactly how to get your glass shower door sparkling clean!
Finally, several of my friends and family LOVE Bar Keeper's Friend for getting rid of the soap scum! It's abrasive but gets the cleaning done quick and efficiently. I guess there's something to be said about a cleaner that's been doing the job for so many years!
What are your tips for cleaning glass shower doors? Share in the comments below!