This DIY Natural All Purpose Cleaner Recipe will have your home sparkling clean and germ free! Plus, it's so simple and cheap to make– you'll be wondering why you haven't been doing this all along!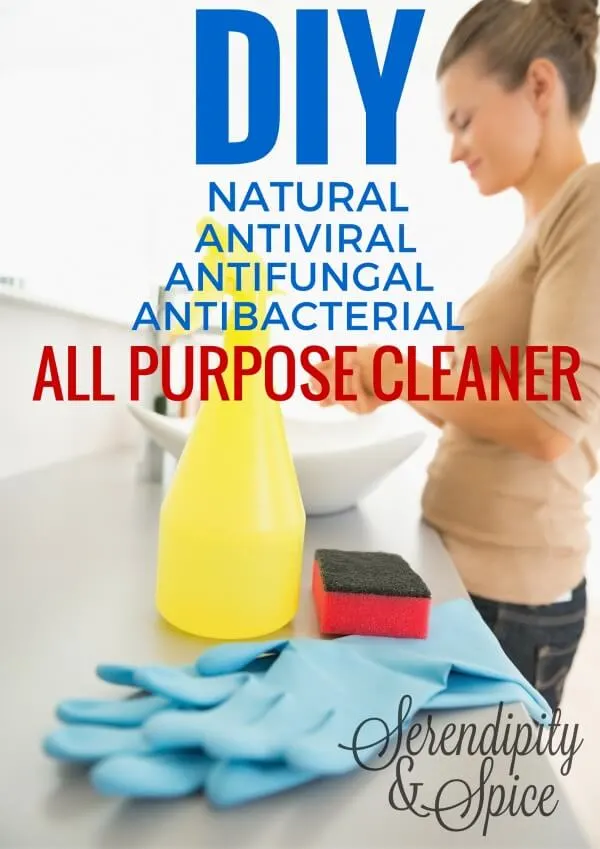 DIY Natural All Purpose Cleaner Recipe
A Simple and Cheap Way to Disinfect Your Home
Making your own cleaning products is the easiest and cheapest way to start taking those baby steps to a natural lifestyle that we're striving to do this year.
Check out these other all natural cleaning posts:
I always thought that going to a natural lifestyle was going to be too expensive and time-consuming for my busy schedule— BUT I found that it actually saves me money and time to make my own natural cleaning products because if I run out I don't have to run to the store….I simply mix together another batch. The ingredients that you'll purchase for this DIY Natural All Purpose Cleaner Recipe will last for many many bottles of cleaner….plus, you'll use several in other DIY natural cleaner recipes that we'll be mixing up in this series.
So, there's a myth going around the internet about vinegar and I'm guilty of not doing the proper research and falling for this myth. The myth about vinegar is that it'll naturally clean your entire house when mixed with a little castille soap. The truth is that when you mix vinegar with castille soap you wind up with goop. Yep, goop. The vinegar breaks down the castille soap and you don't get an amazing all natural cleaner….you get goop.
In fact, vinegar doesn't do much for cleaning dirt away– it's actually your old fashion elbow grease that's doing the cleaning. So, today I'm going to share with you a DIY Natural All Purpose Cleaner Recipe that works without all of your added elbow grease.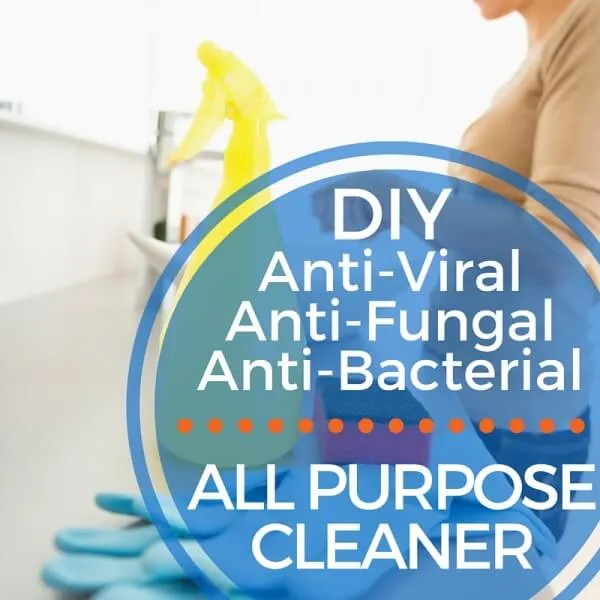 DIY Natural All Purpose Cleaner Recipe
16 oz Glass Spray Bottle
I use these glass spray bottles from Amazon because when you're using essential oils you want to keep them in glass so that they don't erode plastic bottles. If you can't afford the glass bottles then you should be okay with plastic since the tea tree oil is so diluted– just know you'll have to replace the plastic bottle more frequently.
1/2 TBS Arm & Hammer Super Washing Soda
Yep, the same stuff we use in the HE Friendly Laundry Detergent. I love this stuff because it's used in so many DIY natural cleaner recipes. Super Washing Soda is definitely a product that I keep in good supply.
1 Cup Hot Water
Dissolve the Super Washing Soda in the hot water.
1 TBS Liquid Castille Soap
I also like to keep a large bottle of Castille soap in good supply because it's used for tons of natural cleaner recipes. I prefer to get the unscented baby formula so that I can use it for all of my baby supply recipes for Miss Jellybean. Plus, I can then add whatever scents I do want and it's not competing with the soap.
10 Drops Tea Tree Oil
Did you know that Tea Tree Oil is antifungal, antiviral, and antibacterial? It's a MUST have for cleaning our house during cold and flu season. I like to buy my essential oils from Tropical Ttaditions because they carry Florihana Essential Oils which are 100% pure, 100% natural and the majority are 100% certified Organic.
Water
After mixing all of the above ingredients in your spray bottle finish filling the bottle with water.
Here's the printable recipe:
DIY All Natural All Purpose Cleaner Recipe
Author:
Prep time:
Total time:
This DIY All Natural All Purpose Cleaner Recipe will have your home sparkling clean and germ free! Plus, it's so simple and cheap to make.
Ingredients
1/2 TBS Super Washing Soda
1 TBS Liquid Castille Soap
Instructions
Mix all ingredients in the glass spray bottle.
Finish filling bottle with water.
Shake well before use.
I love that this natural all purpose cleaner recipe is free of any harmful chemicals and safe to use on all of the kids' toys and play areas. No more worrying if Miss Jellybean is licking the freshly cleaned table because there's no chemical residue left behind.
Oh, and stock up on microfiber clothes…they are amazing for cleaning up dirt and spills! I have a huge stack in my kitchen drawer and use them instead of paper towels. Under the sink I keep a small waste basket and just toss them in there when I'm done. Once a week I'll wash all of the towels in the basket. Using microfiber clothes is not only green but saves you so much money on paper towels!
After you try this DIY Natural All Purpose Cleaner Recipe share your thoughts in the comments below!
Follow my All Natural and Wellness Pinterest Board
Follow Melissa @Serendipity and Spice's board All Natural and Wellness on Pinterest.
You may also like:
HE Friendly Laundry Detergent for Sensitive Skin
All Natural DIY Laundry Detergent Crystals