Cuisinart GR-4NR 5-in-1 Griddler Review – This is a non-sponsored review. I did not receive this item for free in exchange for a review. This is simply my personal in-depth review of the Cuisinart GR-4NR 5-in-1 Griddler. I hope you find it useful!
*Disclosure- This post does contain affiliate links. Purchasing through these links adds no cost to you but does help support this site.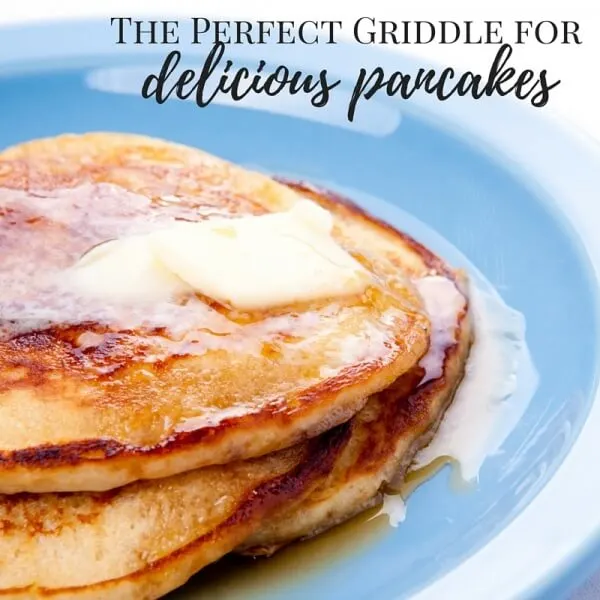 Cuisinart GR-4NR 5-in-1 Griddler Review
A Versatile and Affordable Indoor Griddle
Hubs LOVES using a griddle for making his pancakes every Saturday morning. Before getting married I never had a griddle and didn't realize how amazing this inexpensive kitchen gadget truly is. Hubs talked me into putting one on our registry because he wanted one….in fact, I think the griddle was the only item he chose for our registry….oops. 😉
Anyway, here we are many years later and we've gone through our fair share of griddles on the hunt for the perfect one.
If you are looking for a versatile and affordable indoor contact grill, you may want to check out this Cuisinart GR-4N 5-in-1 Griddler review.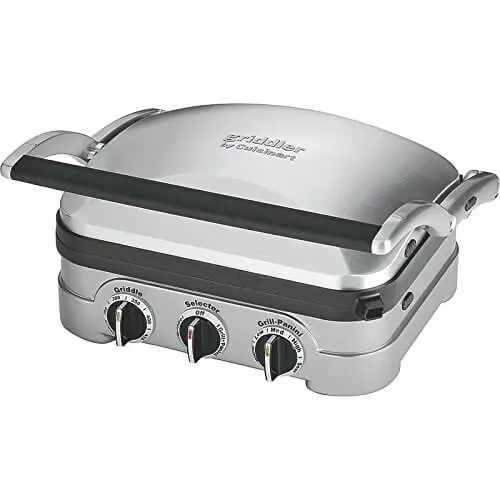 This attractive and compact countertop grill will allow you to prepare a wide variety of foods ranging from pancakes and eggs to grilled paninis, hamburgers and steaks with ease.
As the name implies, the Cuisinart GR-4N 5-in-1 Griddler is no one trick pony. It comes with two reversible, non-stick cooking plates that are smooth on one side and ridged like an outdoor grill on the other. Depending on how you position these non-stick cooking plates, you can use it as a half griddle or half grill – or you can take advantage of the floating hinge lid design to open it up for a full griddle, full grill or half griddle/half grill.
For even more versatility, you can pair the Cuisinart GR-4N 5-in-1 Griddler with the Cuisinart GR-WAFP Griddler Waffle Plates (sold separately) to add delicious homemade Belgian waffles to your Sunday morning breakfast menu without needing to buy a separate appliance.
Regardless of how you choose to use it, the removable dishwasher-safe cooking plates means cleanup is always a breeze, but to get the longest use out of your appliance, hand-washing without the use of harsh abrasive scrub pads is recommended.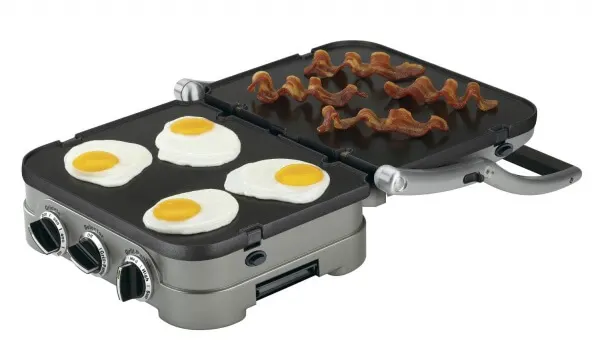 As noted above, the floating hinge lid design allows you to open the Cuisinart GR-4N 5-in-1 Griddler all the way to double your cooking surface. This is a nice feature, especially if you have limited counter or cabinet storage space because it keeps the overall footprint small (11.5 x 13.5 x 7.1 inches when closed) while still providing a large overall cooking surface when needed.
Obviously, nobody likes food that is burnt on the outside and undercooked on the inside. Fortunately, the Cuisinart GR-4N 5-in-1 Griddler features adjustable temperature settings, ranging from 200 to 425-degree F, so you can make sure your food is perfectly cooked inside and out.
Of course, no kitchen tool is perfect for every use, so there are a few things you should be aware of before spending your money. First, if you cook a lot of really greasy foods like bacon, you already know those items tend to splatter quite a bit. They can also quickly overfill the drip tray that comes with the unit. If you decide to give it a whirl, you'll want to keep an eye on it to avoid messy clean ups later.
Another feature worth noting is the electrical cord is not very long and is not retractable, which can make storage a bit cumbersome. So consider where you would plug in and store your Griddler before deciding if this the right unit for you.
Currently, the Cuisinart GR-4N 5-in-1 Griddler retails for around $75 (and qualifies for free shipping) on Amazon.com. The Cuisinart GR-4N 5-in-1 Griddler enjoys a 4.4 out of 5.0 rating on Amazon.com based on nearly 6,200 customer reviews. With nearly 83% of all reviewers rating this product either 4 or 5 stars, you can rest assured this is a high-quality unit that provides good value for the money.
Do you use a griddle? Which one is your favorite?