This list of delicious and easy polenta recipes will have you and your family loving polenta….it's such a super simple food to make and the family just loves every bite!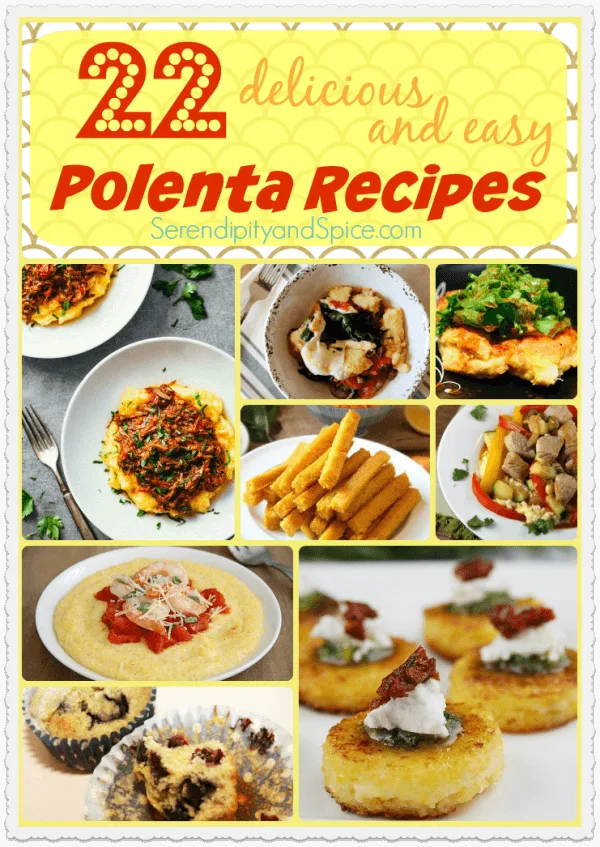 Delicious and Easy Polenta Recipes
So last week I shared with you my Chicken and Apple Baked Polenta Recipe— it's the one dish meal that's ready in just 30 minutes and is oh so yummy! Hubs and Little Man gobbled up every last bite. I love that it's an easy meal that I can toss together in 5 minutes and have ready in just 30 minutes for those busy school nights.
Little Man just started back to preschool, he's starting soccer lessons, and I just joined a gym….so our lives have turned pretty hectic after a summer of lazy days and fun. That's why I'm on the hunt for SUPER SIMPLE recipes that I can have ready for dinner SUPER FAST!
Since I have a new found love of polenta I decided to round up some of the yummiest polenta recipes out there. Polenta is a very versatile food…by just changing a few ingredients and method of cooking you can create a completely different taste.
So here you go….the best, most delicious, and easy polenta recipes I could find!
Serendipity and Spice- Chicken and Apple Baked Polenta
Chocolate Covered Katie – Cheezy Baked Polenta Fries
Sweet Little Kitchen – Polenta, Mushroom, and Swiss Chard Casserole
Jo Cooks – Polenta with Feta Cheese and Bacon
Recipe Girl – Sundried Tomato Polenta Bites
Recipe Girl – Southwestern Pork Stir Fry
Annie's Noms – Blueberry Polenta Cupcakes
Eat Drink Love – Shrimp and Tomatoes Over Creamy Parmesan Polenta
Love and Olive Oil – Polenta Crusted Chicken with Balsamic Caper Pan Sauce –
Pinch of Yum – Crockpot Braised Beef Ragu and Polenta
Pinch of Yum – Mexican Polenta Pie
Fearless Dinning – Sauted Chicken with Shishito Pepper Sauce Over Cheesy Polenta
Half-Baked Harvest – Sweet Buttered Polenta Pancakes with Fresh Summer Berries
The Kitchy Kitchen – Broccoli Polenta
The Live-in Kitchen – Grilled Polenta Cakes with Pico Grilled Vegetables
Half-Baked Harvest – Peach and Gorganzola Grilled Polenta Rounds with Chipotle Honey
Mountain Mama Cooks – Chickpea Pttanesca with Polenta
Vegetarian Ventures – Goat Cheese Polenta with Basil Almond Pesto
Family Style Food – Lemon Polenta Cake
Produce on Parade – Cheesy Polena with Roasted Vegetables
The Kitchn – Beakfast Polenta Squares with Spinach and Bacon
No Whey No Cow – Crispy Polenta Bites
Baker Bettie – Creamy Breakfast Polenta with Asiago, Thyme, Bacon, and Poached Eggs
Are you a fan of polenta? What's your favorite recipe? Share in the comments below!
Here is my favorite new cookbook this month….it's 75 Tried and True Freezer Meals from Six Sisters Stuff….I'm always looking for super simple recipes and this cookbook is packed full of them! It's only 4.99 and worth every penny!!