Polenta is a delicious alternative to pasta. This chicken and apple baked polenta recipe is a SUPER simple one dish meal that's ready in just 30 minutes!  It's perfect for a busy weeknight and all ingredients can be kept on hand for a last minute dinner.  Definitely give this chicken and apple baked polenta recipe a try this week…you won't be sorry!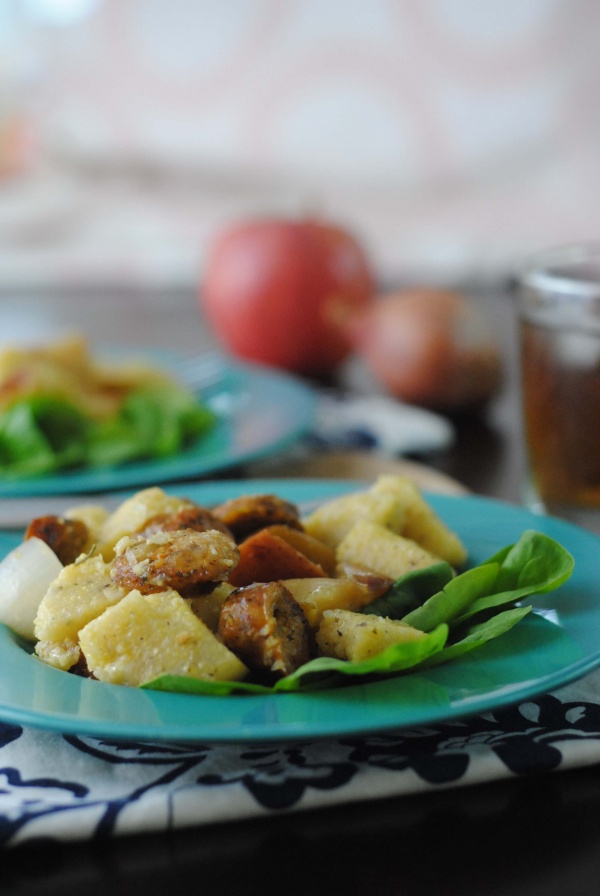 Chicken and Apple Baked Polenta Recipe
The perfect one dish meal for busy nights!
So first off….how is it that I've never tried polenta before?  If you have never had polenta then you HAVE to try this recipe!  It was so simple and delicious…this chicken and apple baked polenta recipe is definitely on the regular rotation now!
A few months ago…well, probably more like a few years ago…I tore a recipe out of a magazine that I thought looked absolutely delicious.  I know, I know…this was before I was posting recipes regularly and I didn't save any information to properly cite the source of this recipe.  But, it's an AMAZING recipe that I couldn't keep to myself.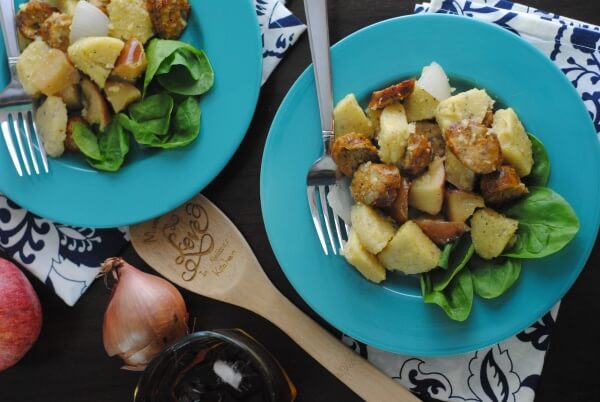 For those that have never had polenta before it's a unique type of food.  Some people refer to it as a spin off of pasta while others refer to it as a spin off of cornbread…while others refer to it as a spin off of mashed potatoes.  The truth is….it's all of those things.  Weird…I know!  The neat thing that I've learned about polenta is that it can be cooked in several different ways and it tastes completely different in each way….it's pretty versatile.  Polenta is made from cooking cornmeal for hours on the stove….but who has time for that!  Luckily, most polenta that is sold at the grocery store is already pre-made…you just heat it up!
The story is that polenta originated in southern Italy and was used in place of pasta. It's perfect for creamy dishes or dishes that have a lot of sauce.  But I've also found that it's awesome just sliced and baked for a drier consistency.
You'll find polenta in a tube like packaging usually over with the rice and pastas in the grocery store.  It doesn't need to be refrigerated so it's perfect to buy a few packs to always have on hand for that night that you're running like crazy and don't want to put a lot of effort into dinner.

It's already cooked so the main thing you have to do is decide how you want to eat it and just heat it up.  You can add some milk or water to it and it will be more like a grits type consistency or you can just slice it like I did for this recipe.  It's hard to explain the consistency but if you're a cornbread lover like me then you're going to LOVE polenta!!
Chicken and Apple Baked Polenta Recipe
Note: When drizzling the olive oil you want to do it VERY lightly…I like to use my
Misto olive oil mister
to just barely coat the dish.
Have you ever tried polenta before?  What's your favorite way to cook it? Share in the comments below!
Other Recipes You Will LOVE:
OMG the BEST Crockpot Chicken Ever
Perfectly Glazed Slow Cooker Chicken
Kid Friendly One Dish Turkey Jambalaya
Chicken and Stuffing One Dish Meal
My Favorite Kitchen Tools for this Recipe:
Thrive Market
- It's like the Costco of organics...this is where I get all of my sugar, flour, baking supplies, kids snacks, etc.
Zaycon Foods
- This is where I buy most of my meat products in bulk.  The quality is amazing and the prices just can't be beat!  I mean, $1.89 a pound for boneless all-natural chicken breasts!!  It is bulk but you can always split with a friend or make up a bunch of freezer meals like I do!