Hi everyone! Hope you're having a great week. Tisa Jackson here from Just My Little Mess, I'm back to share a cute holiday project with you using gift cards. Whaaaaa?!?!? Yes! I know, you can design your own Starbucks gift cards.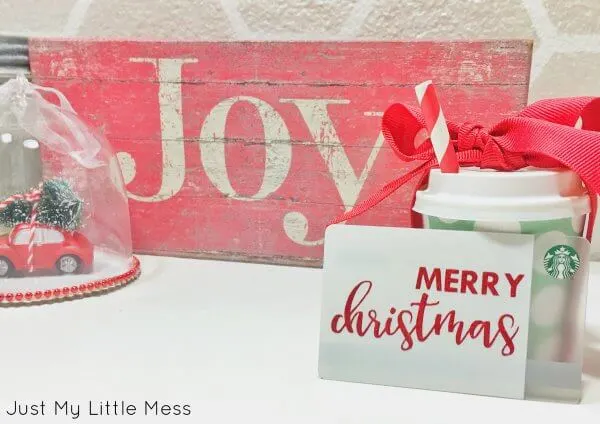 Create Your Own Starbucks Gift Card
A Simple Personalized Holiday Gift Using the Cricut Explore Air
Starbucks actually thought of this amazing idea, and I knew I had to jump at the chance to create something amazing. I just saw this little package and all I could see were three small canvases with limitless possibilities! Now, put down your coffee mugs, you only needed a few supplies to get started.
– Starbucks gift cards
– Vinyl
– Glue pin
– Rhinestones
– 2 inch circle paper punch
– Glitter cardstock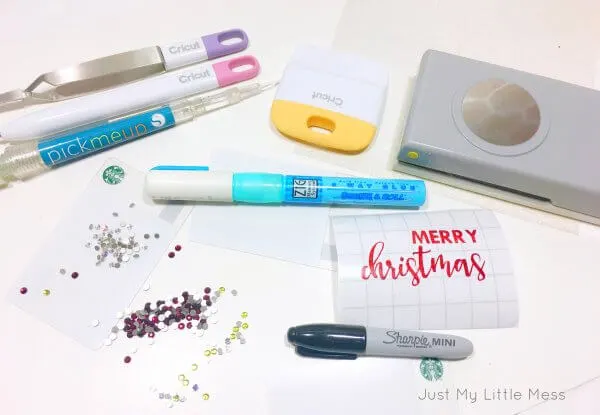 I created three different gift cards.
Merry Christmas Gift Card: I used my personalized cutting machine. Designed the words Merry Christmas using a couple of my favorite fonts and cut it out on red glittered vinyl. Simply apply to the card using transfer tape.
Rhinestone Gift Card: I grabbed rhinestones I had in my supplies. Using a glue pen as well as a pick me up pin, simply apply the rhinestones and let dry. PLEASE NOTE: You should NOT apply rhinestones to the near the bottom of the gift card, this is prevent your card from being swiped.
Ornament Gift Card: This package comes with the cutest mini Sharpie and I knew I wanted to use it in some way. I used a 2 inch circle punch and punched out a piece of card stock. I drew the top of the ornament using the enclosed sharpie and simply applied the card stock to the card using scrapbook adhesive.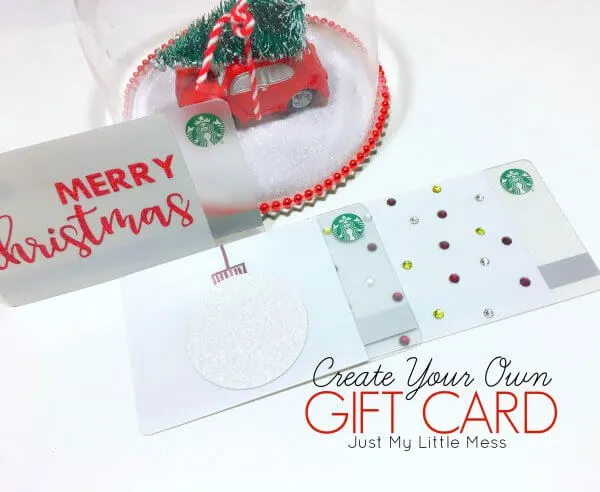 Create these gift cards in under 10 minutes for and to give to everyone on your list. I'm going back to Starbucks to stock up on these cards. Let your imagination run. Give everyone on your list a creative cup of coffee this holiday season.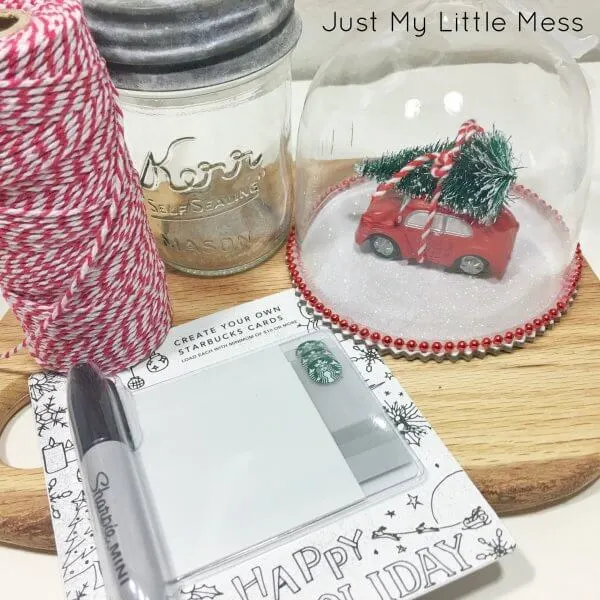 Thanks for stopping please leave a comment with any questions, suggestions or feedback. Don't forget to check out the Serendipty and Spice Blog for more inspiration and ideas! Be sure to also visit me at Just My Little Mess and tag us on social media showing us your finish projects.
Here are other DIY Projects you might enjoy:
Find Tisa on:
Facebook – Instagram – Twitter – Pinterest