Social studies, at its core, is an exploration of society and its components. There are 5 main themes of social studies weaving together geography, civics, government, world history, and economics.
In early grades, when using a social studies curriculum, you won't need a stand alone history curriculum. In fact, I've found that my kids enjoy social studies far more because it does blend together multiple subjects so they truly understand the world around them.
I was excited to have the opportunity to review the Discover! Curriculum: Social Studies 3rd Grade and share it with you. I was compensation for my time in looking over the materials and creating this post, but as always, all opinions are my own and completely true.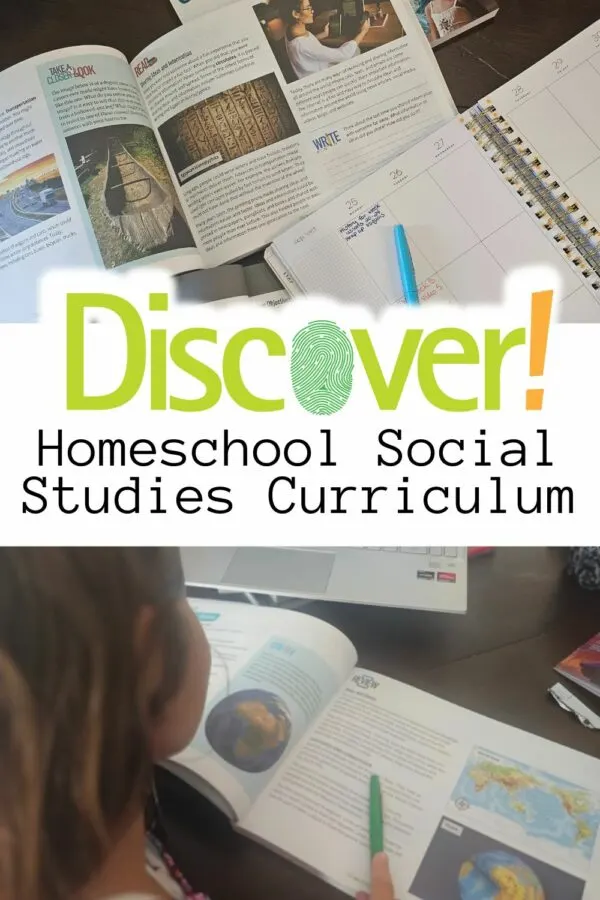 Since I love the Discover! Curriculum so much, the folks at Discover! Curriculum were generous enough to offer my readers a coupon code to use toward any of the Discover! Curriculum subject kits! Use code Discover2blog15 to receive 15% off any curriculum kit.
Table of Contents
Discover! Curriculum Social Studies for 3rd Grade is a well rounded social studies curriculum that blends digital resources with traditional workbooks to create an immersive learning experience.
What Sets Discover! Curriculum Apart
'Discover!' isn't just another homeschool curriculum; it's an immersive experience. Discover! is a blended curriculum that incorporates online/digital learning with offline worktext and parent involvement.
Each lesson includes optional components based on learning styles; whether your child is a visual learner, auditory learner, or kinesthetic learner…there's something for everyone!
The Discover! Curriculum uses the Bridgeway Academy interface, so students can be self-directed through their learning journey. This is so useful for me since I'm working with multiple children throughout the day. I love that I can direct one to the online platform while I work individually with my other child.
The parent dashboard allows you to see how your student is progressing through the course.
I like the fact that by default the Discover! 3rd Grade Social Studies curriculum is a secular social studies curriculum– there is a toggle that can be switched if you prefer to add in a religious component.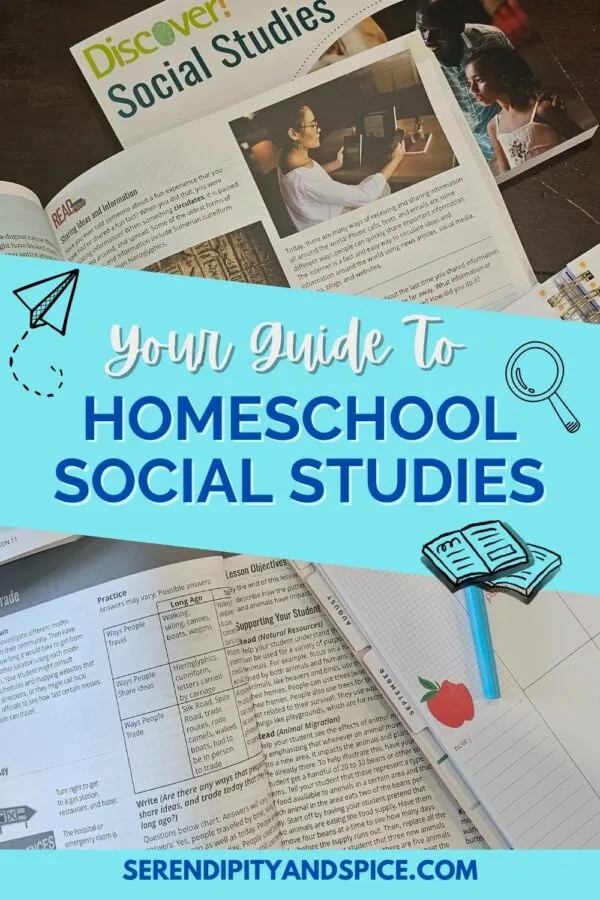 Discover! Curriculum's 7 Steps of Learning
I was impressed to find that the online learning portal walks students step by step through what needs to be completed for the day. Each lesson is broken down into 7 steps that are completed over a 2-day period:
Step 1 Get Ready- Digital Component
Get Ready tells the student EXACTLY what they are expected to learn in the lesson.
This is a game-changer for my ADHD child who gets easily distracted and loses track of what he's supposed to be doing.
Get Ready also introduces vocabulary terms that will be used throughout the lesson. I love that it's interactive and my kids don't realize they're learning vocabulary terms…they're simply playing the game.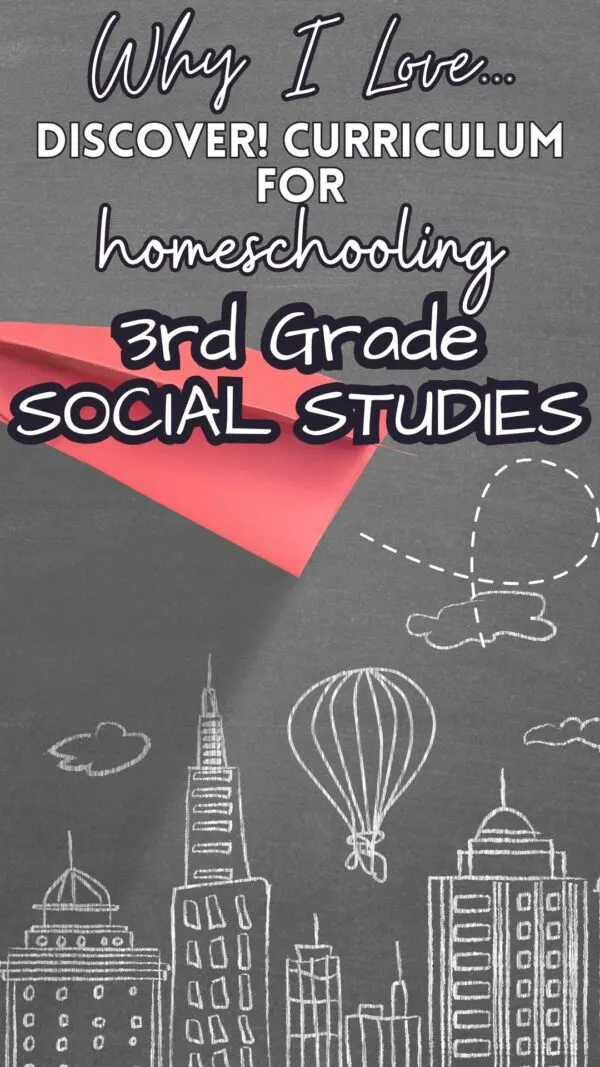 Step 2 Read and Do- Workbook Component
Once students are done with the "Get Ready" section, the online learning platform directs them offline to the workbook and gives the exact pages and texts to read. It also tells them any activities or projects they need to complete for this step.
As a homeschool mom to multiple kids, this is AMAZING!
My daughter is constantly asking "What do I do now?" and even though she knows what to do she'll waste 20 minutes wandering around because "she forgot what's next"…especially if I'm busy helping her brother on another task.
This program takes that unknown out of the equation. It literally walks kids step by step through the lesson….both online and offline.
I also like that there's an offline component component. Sometimes I feel like we get too complacent with doing everything digitally and forget the value of writing things down.
I for one, always remember things better when I put pen to paper and physically write it…and I've noticed my kids are the same way.
Something about using an old fashioned pen and paper helps solidify what's just been learned!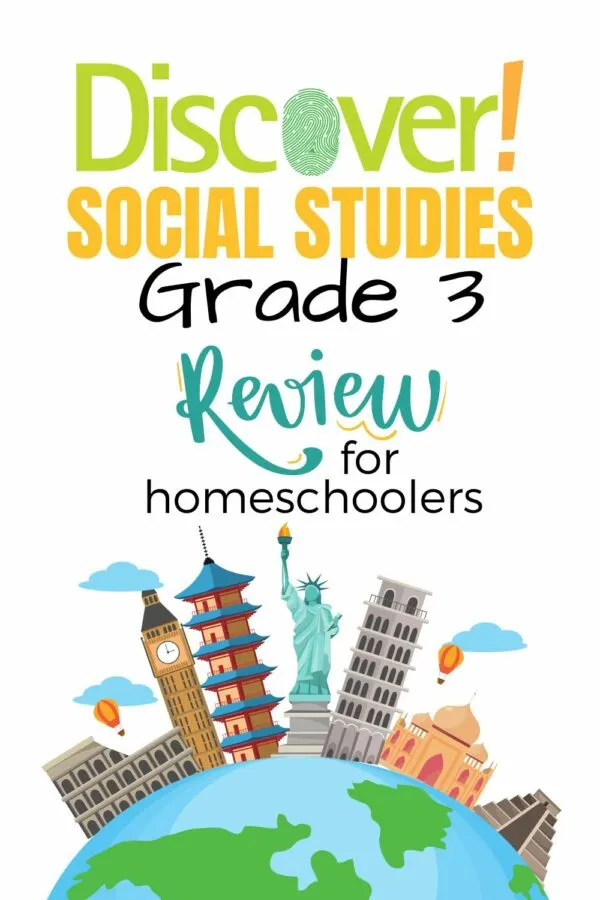 Step 3 Interactive Practice- Digital Component
Back to the fun and games online! The "Interactive Practice" gets kids playing games or solving puzzles with the information they have learned so far in the lesson.
There's also cute little characters that guide students along the way and help them complete all of the activities.
Step 4 Continuing the Journey- Digital Component
Now that students have learned new concepts and have solidified their understanding through readings and games…this is where they get to put that new knowledge into practice.
Whether it's sorting concepts into columns, or answering multiple choice questions…this is where students put their new found knowledge to the test.
Step 5 Extend Your Learning – Digital Component
My favorite part of any curriculum is the rabbit trails! This section is all about discovering more about the topics in the lesson.
Students are lead to external resources where they can watch videos, create crafts, find more readings, etc.
Students can go as deep as they want or just pick an item or two to help them understand a certain concept better.
This is also where the Instructor Guide comes in handy by utilizing some of the extension activities or learning style activities shared there.
Step 6 Show What You Know – Digital or Workbook Component
The final part of each lesson consists of almost a mini-review of the lesson. This is where students answer questions about what they just learned. Either online with a grade given right away…anything below a 70 will require that they review and retake the assessment.
I love that they made this part available as an online or offline component. For my kids, learning disabilities make multiple choice and matching tests a bit difficult. So I can take over this section and instead of doing questions, we can have a conversation about what they learned.
Step 7 Worktext- Workbook Component
Honestly, after going through all of the other sections, I don't think this component is necessary. BUT, if your learner is still struggling with the concepts in the lesson then the final step/component is to return to the workbook and complete the lesson in there.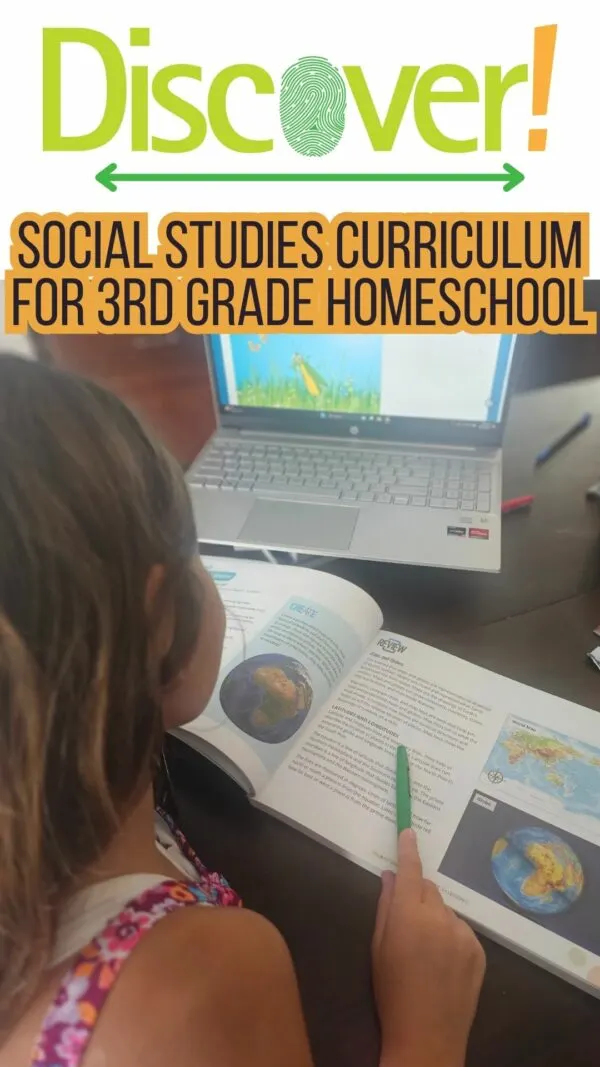 What Students Will Learn in Discover! 3rd Grade Social Studies
When I first came across the Discover! Curriculum for 3rd Grade Social Studies, I was genuinely surprised by its depth and breadth.
It's not just another standard social studies package; it's a comprehensive journey that delves much deeper into the world of social sciences than I ever thought possible for a third-grade level.
By the end of the academic year, here's everything my 3rd will know, understand, and truly comprehend:
Understanding the Five Themes of Social Studies
Social Studies isn't just learning about places and names. Social Studies is a more holistic approach to the world around us and understanding geography, civics, government, world history, and economics.
Grasping the Dynamics between Citizens and Their Government
It's imperative for young minds to understand their role in society. Through Discover! 3rd Grade Social Studies, students will be equipped to articulate the crucial roles that both citizens and governments play in shaping a nation.
Analyzing Various Forms of Government
It's not just about democracy. Discover! delves into different governance structures from around the world, drawing comparisons and contrasts to better understand the underlying principles and mechanisms of each.
Unraveling the Complexities of International Relations
Beyond borders, the world is a web of relationships, some amicable and others contentious. Discover! Social Studies curriculum takes students on an exploration of various international relationships, gaining insights into the reasons behind conflicts and collaborations.
A Multifaceted View of History
History is never one-sided.
Students are taught to view historical events through various cultural lenses, allowing them to compare, contrast, and understand different perspectives that have shaped our past.
Decoding Economic Systems
At the heart of every society lies its economy.
Discover! 3rd Grade Social Studies teaches the foundational components of economic systems, so students understand how resources are allocated, how markets function, and how economies shape nations.
Discover! Curriculum Discount Offer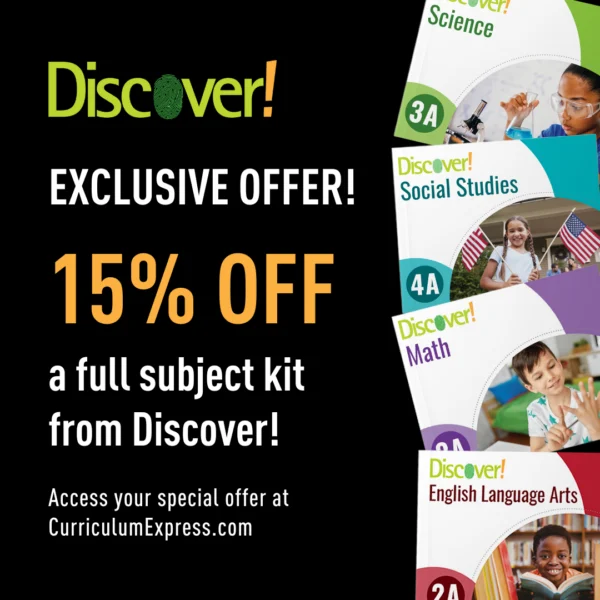 If you're looking for a rigorous social studies program that will cover everything your 3rd grader needs, then I highly recommend Discover! Curriculum 3rd Grade Social Studies.
As a bonus for my readers, Discover! Curriculum has extended a 15% off coupon code to purchase any of the Discover! Curriculum Kits: