These Mummy Meatballs are the perfect Halloween snack for kids! They're so easy to make, delicious, and not packed full of sugar like most Halloween treats. Plus the kids just gobble them up!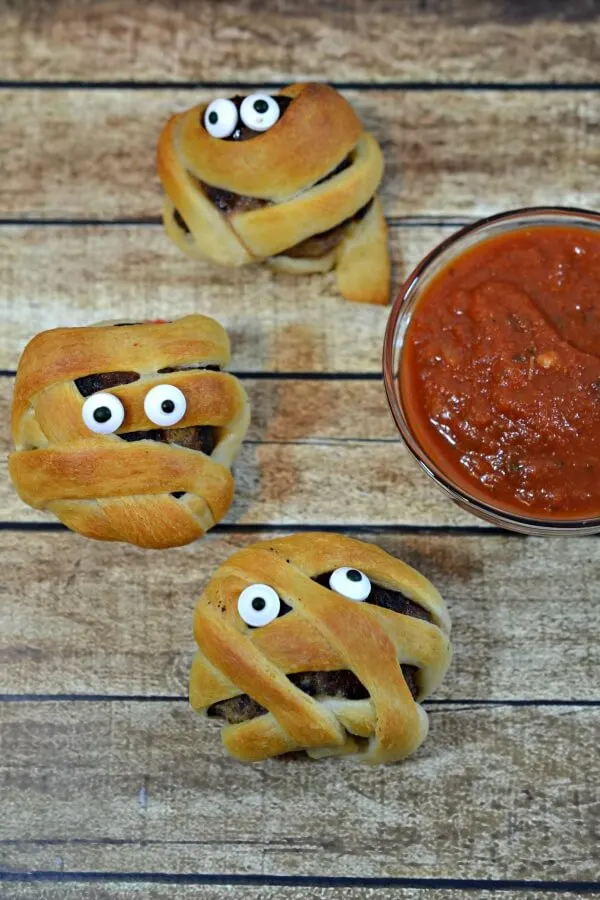 Mummy Meatballs Recipe- Halloween Snack for Kids
A Delicious Kid Halloween Treat that's NOT Full of Sugar!
Can you believe that Halloween is right around the corner???
I love Halloween…I mean it's the first sign of fall and all that the season brings….like Pumpkin Spice EVERYTHING, cooler weather, cozy sweaters, and spooky fun! Halloween is such a fun holiday for kids and kids at heart. I love getting in the kitchen with the kids this time of year and whipping up delicious treats.
The only problem is that most treats are packed full of sugar which I really don't want to fill my kids with….they get plenty of sugar during all of the celebrating at school. Plus, October is also Hubs and my anniversary along with Little Man's birthday…so there's TONS of celebrating going on over here!
That's why I love finding fun treats that the kids can help make but are also healthier. I love these Mummy Meatballs because you can really customize them to your own tastes and you can decide how healthy to make them. I've even hidden veggies in them before(a bag of frozen carrots or spinach mixed into the meatball mixture works great for adding in extra nutrients)!
Little Man adores helping out in the kitchen and these Mummy Meatballs are so simple to make that I let him help by mixing together the meatball mixture and forming the balls. Adding the "bandages" is a little advanced for his age (he'll be 4 at the end of the month) so I wrap the "bandages" and he places the eyes.
Okay, ready for the recipe??
Mummy Meatballs Recipe- A Halloween Snack for Kids
Mummy Meatballs Recipe- Halloween Snack for Kids
Author:
Ingredients
½ lb ground Italian sausage
½ lb ground beef, turkey or chicken
1 egg
¼ cup Italian bread crumbs
¼ cup Parmesan cheese
Salt and Pepper to taste
1 tbsp Italian Seasoning
1 tsp onion powder
½ tsp garlic powder
Olive oil
1 package crescent dough (find it in your refrigerated section of the grocery store)
Candy Eyes
Black decorating gel
Instructions
Preheat your oven to the crescent dough's instructions.
Line a baking sheet with aluminum foil.
Pour a bit of olive oil in a skillet and heat on medium heat.
In a mixing bowl, add your meat, egg, bread crumbs, Parmesan cheese, and seasoning.
Using your hands, gently mix everything together.
One of the secrets to making great meatballs is to not over mix your ingredients.
Form your meatballs and place in skillet.
Brown your meatballs, cooking them almost all the way through.
While the meatballs are cooking, unroll the crescent dough.
Cut the dough into long strips.
When your meatballs are done, pat dry and wrap one of the crescent roll strips.
Place on your greased baking sheet.
Bake according to the crescent dough's instructions.
Once baked, use a small drop of decorating gel on the back of a candy eye and attach to the mummy meatball.
Serve with a cup of marinara sauce (or brains as my son put it) to dunk into.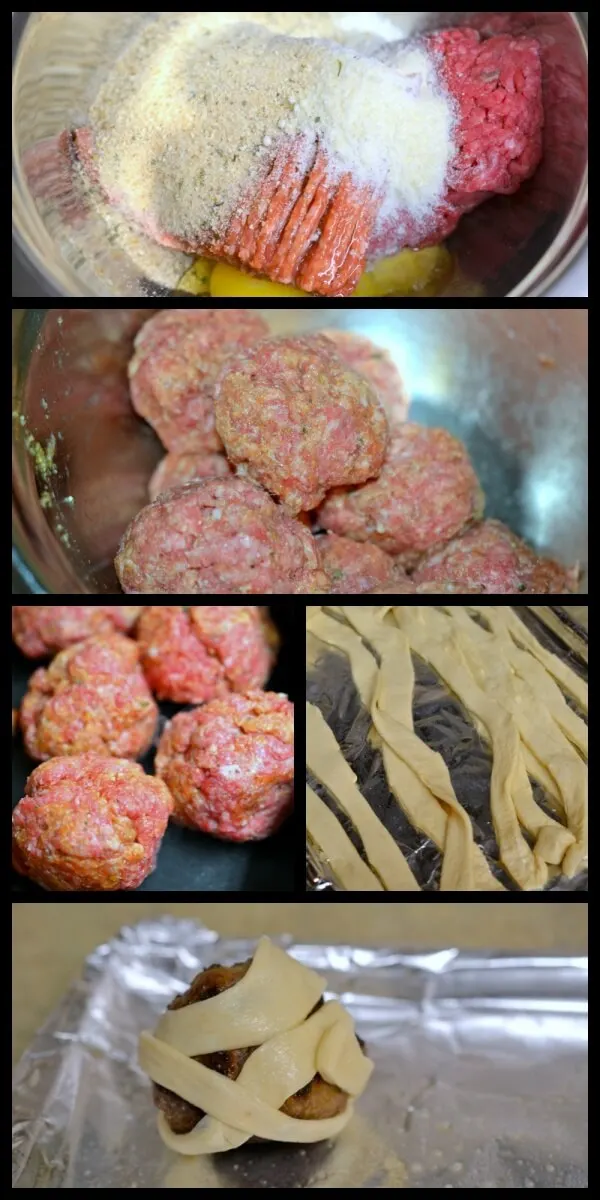 Make sure you let the meatballs cool down before wrapping them in the crescent dough….you don't want any burnt fingers!! 🙂 These are a great alternative to take for preschool parties and they're delicious and nutritious enough that you can make them for Halloween dinner.
You may also like:
How to Make Boo-tiful Bat Cookies with Kids
How to Make Spooky Ghost Cookies with Kids
Halloween Crafts for Preschoolers
The Best No Carve Pumpkin Ideas