Instant Pot Hoppin' John recipe, a heartwarming staple of Southern cuisine, often graces dinner tables as the year transitions.
Steeped in tradition, this black-eyed pea and rice dish is believed to bring prosperity and good luck, especially when enjoyed on New Year's Day.
But why wait for a special occasion?
With the revolutionary power of the Instant Pot, you can enjoy this delicious comfort food any day of the year.
Dive into our Instant Pot Hoppin' John recipe and let the flavors of the South dance on your palate.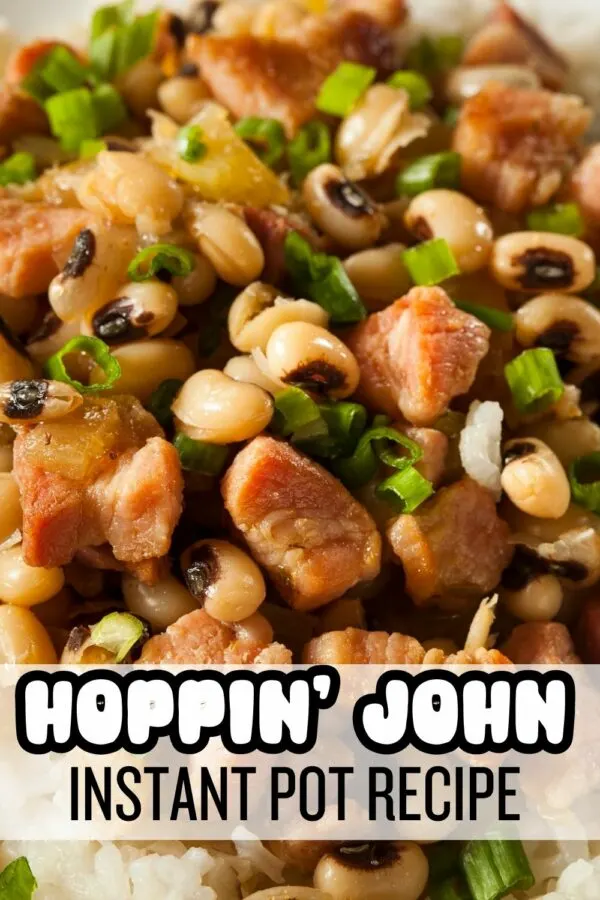 Table of Contents
The Southern Way to Eat Black Eyed Peas
I used to not like black eyed peas at all! Every time they would show up at the dinner table I would pass them over and not give them a second glance.
Well, I don't know if it's being pregnant or my tastes have changed but I started craving black eyed peas a few weeks ago and I must say….I'm converted to a black eyed pea lover!
I think part of the problem was that I never cooked them correctly….silly me would follow the directions on the freezer bag and just boil them in water for 20 minutes.
To make REAL Southern Style black eyed peas you have to follow this Instant Pot Hoppin John recipe…there's something about adding pork to these veggies that just can't be beat!
Why the Instant Pot is Perfect for this Hoppin' John Recipe
While traditional recipes require long hours of soaking and simmering, the Instant Pot dramatically reduces the cooking time.
The pressure cooking function ensures that the flavors meld beautifully, giving you a dish that tastes like it's been cooking all day, in just a fraction of the time.
Instant Pot Hoppin John FAQs
Do I need to soak the black-eyed peas before cooking?
While traditionally black-eyed peas are soaked overnight to reduce cooking time and ensure even cooking, the Instant Pot eliminates this need. However, if you prefer to soak them, it will reduce the cooking time slightly.
Or, opt for frozen black-eyed peas. I prefer frozen black-eyed peas because they have the same consistency as dried peas after soaking.
Can I use canned black-eyed peas instead of dried ones?
Yes, you can use canned peas. If doing so, reduce the cooking time to 10 minutes and make sure to drain and rinse the peas before adding them to the pot.
Just know that even with reduced cooking time, using canned black-eyed peas will result in a mushy hoppin' john.
How long will this Hoppin' John keep in the fridge?
Stored in an airtight container, it should keep well for up to 4-5 days.
Can I freeze Instant Pot Hoppin' John?
Yes, this dish freezes quite well. Store in a freezer-safe container and consume within 2-3 months for the best quality.
I got a "burn" notice on my Instant Pot. What did I do wrong?
The "burn" notice can occur if there's not enough liquid, the pot is too full, or something is sticking to the bottom.
Make sure to deglaze the pot after sautéing ingredients, ensuring that no bits are stuck to the bottom before pressure cooking.
Printable Instant Pot Hoppin John Recipe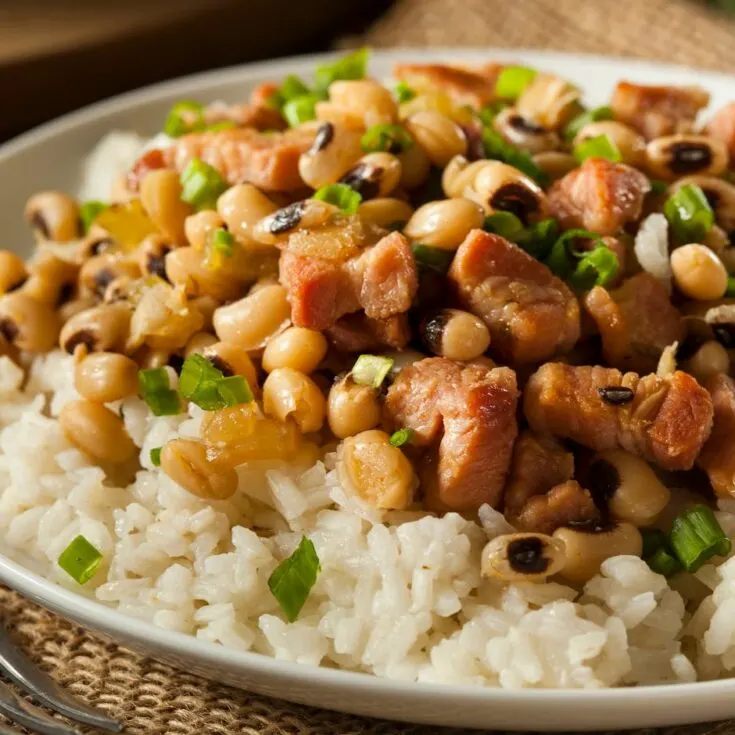 Yield:

4
Instant Pot Hoppin John Recipe
Additional Time:
10 minutes
Discover the classic Southern Hoppin' John recipe reimagined for the Instant Pot. Dive into flavors that blend tradition with modern convenience for a dish that promises both comfort and prosperity. Perfect for any day of the year!
Ingredients
1 cup dried black-eyed peas, rinsed
1 cup long-grain rice
2 cups chicken or vegetable broth
1 onion, diced
3 cloves garlic, minced
1 green bell pepper, chopped
4 oz. smoked ham or bacon, diced
2 tsp olive oil
1 tsp salt
1/2 tsp black pepper
1/2 tsp smoked paprika (optional)
2 green onions, sliced (for garnish)
Instructions
Sauté Basics: Using the 'Sauté' function on the Instant Pot, add the olive oil. Once hot, add the onion, green pepper, and garlic. Cook until the onions are translucent.
Add Meat: Toss in the diced ham or bacon and cook until slightly browned.
Combine Ingredients: Add the black-eyed peas, rice, broth, salt, pepper, and smoked paprika. Give it a good stir to combine.
Pressure Cook: Secure the Instant Pot lid, making sure the valve is set to 'Sealing'. Select the 'Pressure Cook' or 'Manual' mode and adjust the time to 25 minutes.
Natural Release: Once the cooking cycle is complete, allow the Instant Pot to release pressure naturally for 10 minutes, then carefully switch the valve to 'Venting' to release any remaining pressure.
Serve & Garnish: Fluff the Hoppin' John with a fork and serve it hot. Garnish with sliced green onions for that added burst of flavor.
Recommended Products
As an Amazon Associate and member of other affiliate programs, I earn from qualifying purchases.
More Delicious Side Dishes to Try