Posts on Serendipity and Spice do contain affiliate links.
Did you know that companies will PAY YOU to share your opinion with them?! Here are some great ways to earn money online taking surveys!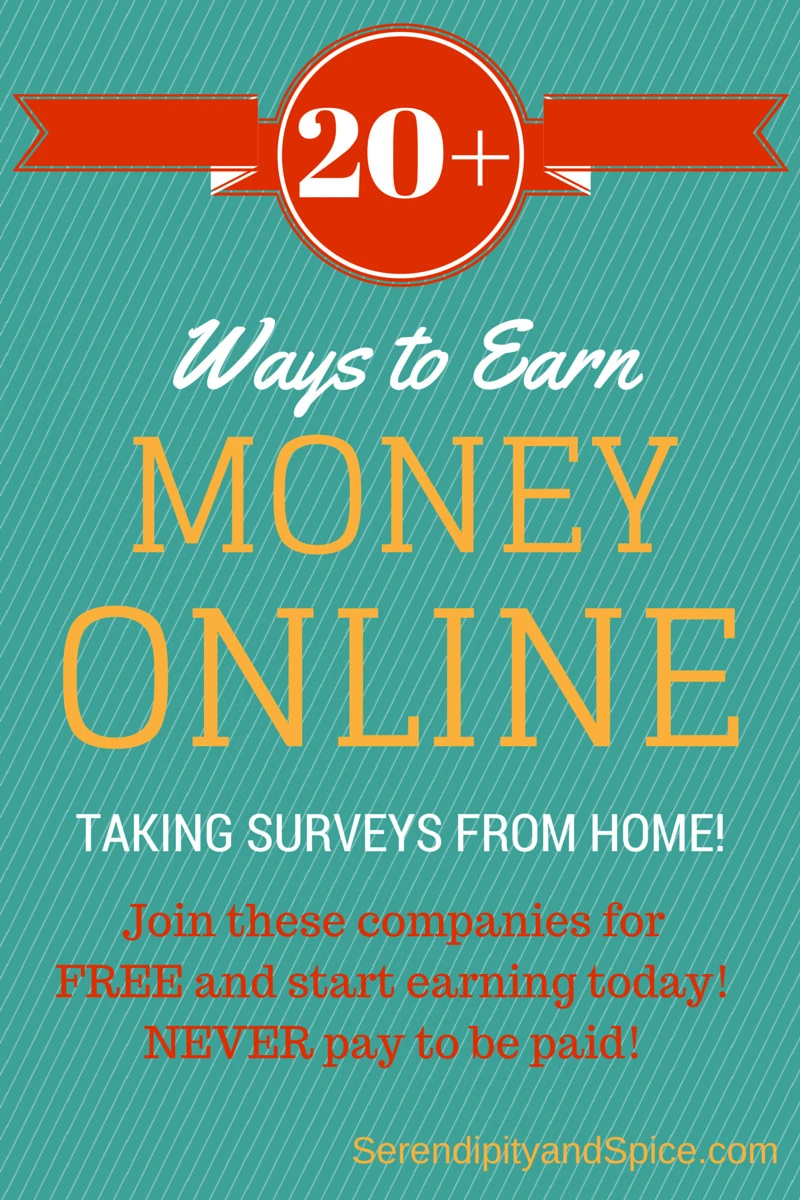 Earn Money Online Taking Surveys
Share Your Opinion and Get Paid!!
(Learn how to start your own successful blog and find out how I make an extra $2000 a month blogging!)
As a stay at home mom I'm always looking for ways to bring in a little extra income. I've always been one of those people that likes to have my own source of income so I don't feel the need to explain every Starbucks Latte or Panera indulgence….because there are WAY more than I would like to admit! 😉 It's not that Hubs' cares about my little indulgences….I mean I am at home raising two little monsters angels. I just like knowing that I have the means to treat myself and not worry that I've spent too much this month…you know?!
Anyway, that's why I'm so excited to share with you this list of companies that will PAY YOU to take surveys and give your opinion. I'm all about sharing my opinion so these are so super simple to do…..and a few extra bucks here and there really add up quickly! I had no idea that you could earn real money online taking surveys….but you totally can! Now, you're not going to get super rich but I was able to make enough to pay for several meals out last month!
So, without further adeau, here is the compiled list of companies that you need to sign up for so you can start earning money online taking surveys. Each of these companies are no cost to you and completely free to sign up with….in fact, please don't ever sign up for a company that you have to pay them to pay you…there's just something sketchy about that.
Earn Money Online Taking Surveys from These Companies
SavvyConnect you the opportunity to speak up on what affects their daily lives – from products to politics. By joining one of America's leading online research communities, you'll become eligible to receive invitations to our surveys, earn Survey Dollars and to help shape America's future!
3. I-Say Research
I-Say is looking for Moms! Take surveys and earn points. The more surveys you complete the more points you earn. The more points you earn, the more you can redeem in our online reward catalogue. We also like to chip in and offer some great contests & prizes for dedicated members. It's a win-win!
Help Companies hear you…Join NPD VIP Voice and let them know what products you buy and why. Confirmed panelists will be entered into a sweepstakes upon joining and will have additional chances to win cash and other great prizes, with each survey taken.
5. MySurvey
MySurvey.com is a group of consumers from throughout the United States who influence future products and services by volunteering to participate in consumer research. By sharing your opinions about products and services, you are rewarded with Reward Points to redeem for cash and merchandise.
6. Harris Pole Online
Once you complete the initial survey, you will start receiving invitations to participate in a variety of cool surveys. Topics include: consumer, technical, political, etc. For every survey you successfully complete, you will receive points called HIpoints, which you will be able to exchange for awesome rewards after just doing a couple of surveys!
7. Panda Research
Receive Up to $50 Per Offer Completed. Daily Updated List of Offers. Refer Your Friends and Receive Additional Rewards!
8. MindsPay
9. InboxPays
InboxPays gives you the opportunity to earn some extra CA$H. Become a Member and earn CA$H to Read Emails, Refer Your Friends, Play Games, Complete Offers, Coupon Clipping, Shop Online and more! We have hundreds of offers ranging from cash surveys to free trials and credit cards. Then, simply "cash out" your balance and get paid directly to your PayPal account.
10. InboxDollars
Inbox Dollars pays members to read emails, take surveys online, play games, and go shopping!
11. Survey Spot
Survey Spot conducts surveys because businesses, governments, public bodies, and similar organizations are interested in the views and attitudes of the people who use their products and services. The more they know about what customers and citizens think, the easier it is for them to improve and adapt what they supply. Take Surveys to give your opinion and shape the future.
12. SwagBucks
Swagbucks.com is an online portal dedicated to helping you earn digital dollars called "Swag Bucks", which can be redeemed for exclusive Swagbucks.com merchandise. Things like PayPal and Amazon gift cards, toys, clothes, collectibles, games, electronics and more… Swagbucks.com is a 100% free, no strings attached, free prizes, no shipping charges, no membership fee's.
13. SendEarnings
14. Opinion Outpost
Rewards include get cash, Amazon gift cards, game points, donations to your favorite charities, and more. Everyone is also automatically entered to a $10,000 sweepstakes by joining and taking surveys. The minimum cash out for Paypal is $10 and only $5 for Amazon gift cards.
15. Quick Rewards
16. CashCrate
Do you know that companies are paying top-dollar to have users like you try their products and services for free? At CashCrate, we pass that money on to you. Simply complete free offers and get paid without spending a dime!
17. E-Poll Survey Panel
Express yourself! Take Surveys with E-Poll & Earn Rewards. Sign-up now to be entered into the $1,000 Monthly Draw!
18. Honest Insite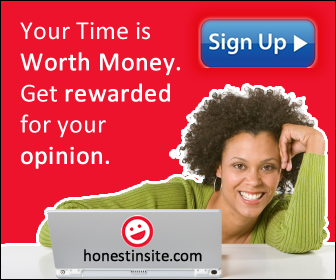 Honest Insite is a market research panel. And it's a fun way to learn about and influence the products and services you use everyday.

19. Nielsen Digital Voice
Surf the web, get rewards! Reap the benefits of Nielsen Digital Voice. Install a safe, secure app on your computer to help us understand internet trends. You'll not only be contributing to important research, you'll be eligible to win cash prizes every single month.
20. Reward Survey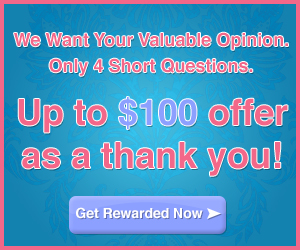 Okay, so technically this one doesn't pay you…but it's a super simple 4 question survey that you take and they reward you with 4 magazine subscriptions for just $2 each. I just did this one and got some of my FAVORITE magazines like Better Homes & Gardens and Taste of Home! (just double check the length of subscription…most are for a full year but some are less).

Health Specific Surveys:
Check out this Asthma Survey for a chance to qualify for up to $900 and FREE medical treatment!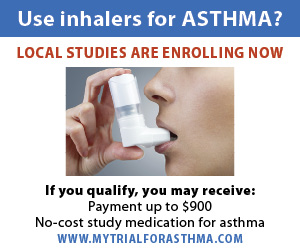 Get started to see if you qualify for the High Cholesterol study and a chance to earn up to $1,000 and FREE medical treatment!