This is a sponsored post written by me on behalf of Walmart. All opinions are 100% mine.
Little Miss Jellybean has ARRIVED!!
Check Out These Top 10 MUST HAVES for Baby!
Well, Little Miss Jellybean has arrived! And I must say….she is the most adorable little girl I've ever laid eyes on…I know, I'm a bit biased but really…have you seen a cuter baby?!

Her due date was December 21st but I suspect she didn't want to miss Santa Claus by being at the hospital for Christmas so she came a few days early on Friday December 19th and it was quite the experience! I spent all day Thursday in labor and didn't even know it!!
See, with Little Man my water broke and that's how I knew it was time to go to the hospital….so, naturally, I expected that the same thing would happen with Little Miss Jellybean if she were to come early. But since I had a c-section scheduled for Monday (yes, it was medically necessary) I really didn't think I would go into labor.
So all day Thursday my mom and I were out shopping and trying to finish up getting ready for Christmas….I kept having contractions but thought they were just Braxton Hicks….until I got home at 5pm and realized they were just getting more and more intense. I called Hubs and told him I thought I might be in labor….he was already on his way home from work so he asked if I wanted to meet him at the hospital. I told him "No. Come home and eat dinner first and then we'll call the doctor if they're still regular like this". Well, by the time he made it home (just 30 minutes later) I was waiting by the door, bag in hand, his dinner wrapped up to go, and I told him "We NEED to go NOW!". My labor had progressed extremely quickly. Just a few hours later I was back in the operating room and Little Miss Jellybean was here!
Now, as a new mom I was immediately in love with my sweet little girl and I only want the very best for her….especially in those first moments of life! The nurse brought her to me in nothing but a Pampers® Swaddler diaper so we could nurse skin to skin….because you know, Pampers® Swaddlers is the #1 choice of hospitals (*based on hospital sales data).
We used Pampers Swaddlers with Little Man and we'll be using the same for Little Miss Jellybean too. I love Pampers® Swaddlers because they're soft, fit perfectly, and have the cheat line that turns blue when their wet…no more guessing or pulling the diaper back to know if it's time for a change. That's why I made sure that Pampers® Swaddlers in all sizes were on my Walmart Baby Registry.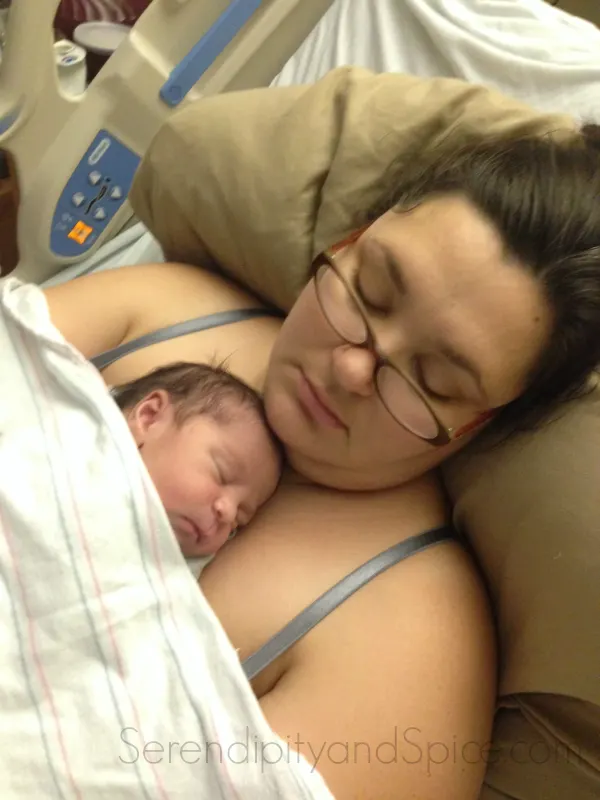 Did you know that you can make a baby registry at Walmart.com? It's great! Check out my registry for some of my MUST HAVES for baby!
Diapers are a MUST for your registry! Especially Pampers® Swaddlers….they're my favorite diaper because they fit snuggly and keep baby dry.
2. Sleepy Nightgowns
These are a must have for girls AND boys! I used these all the time with Little Man and now with Little Miss Jellybean. By using a nightgown at night diaper changes are oh so simple…in fact, I can change Little Miss Jellybean's diaper without even waking her up!
3. Swaddling Blankets
For bedtime I put Little Miss Jellybean in a nightgown and then swaddler her up in one of these swaddling blankets….Hubs calls it the "Burrito Blanket" because she looks like a little burrito all wrapped up! These are the best blankets because they keep her warm, they make swaddling foolproof, and they're safe….no loose blankets that she could get tangled up in or that could cover her face. And always, sleeping on the back is best!
4. Travel System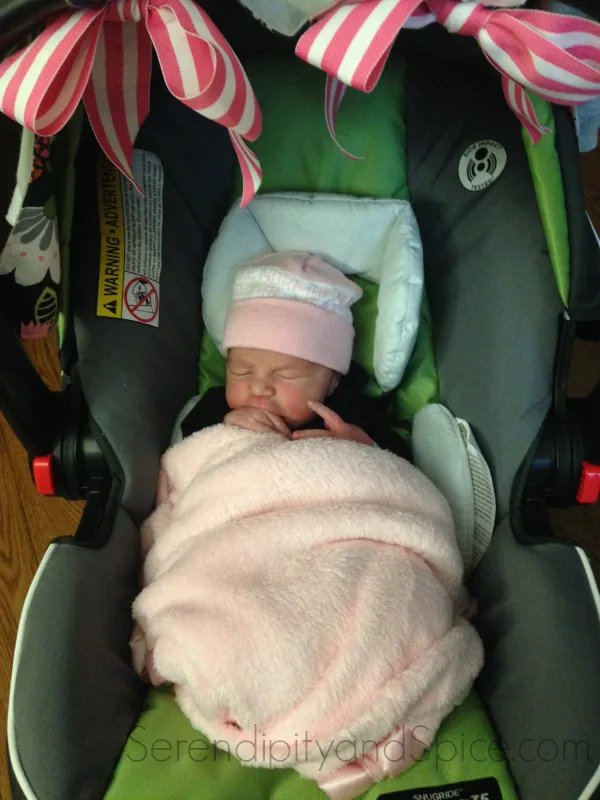 I personally love my Graco Jogger Travel Set….it's really helping me get out and about with Little Miss Jellybean. You HAVE to HAVE a car seat before you're allowed to leave the hospital and this is a great set because it gives a nice smooth ride when we're out for walks…plus it keeps Little Miss Jellybean up high to where I can easily see her.
5. Glider/Swing
Even though I want to hold Little Miss Jellybean ALL THE TIME…the reality of the situation is that it's just not possible. I still need to play with Little Man, do laundry, cook dinner, etc and those things are a bit difficult while holding a newborn. She LOVES spending time in the Graco Glider and I love that it's compact and can easily be moved from room to room depending on what I need to get done. Plus, it also allows you to either plug it into the wall or run it off the batteries….that way if there's no power outlet where I need to be Little Miss Jellybean can still swing to her heart's content.
6. Baby Carrier
My absolute favorite baby carrier is the Sleepy Wrap baby carrier. I put it on before I leave the house and then can easily add Little Miss Jellybean whenever we get to our destination. This wrap is so comfortable and secure. It allows me to free up both of my hands to shop easily or play with/chase after Little Man! Plus, I love that it wraps her securely and gives fantastic head support when you wrap it correctly.
7. Little Remedies Baby Essentials Kit
We got this kit when Little Man was born and immediately went out and got one for Little Miss Jellybean. It's packed full of all the medicines that you could need to keep baby comfortable…especially during these winter months.
8. Pampers® Baby Wipes
Pampers® baby wipes are my favorite because they're the softest and thickest wipes I have ever found. Baby's bottom is soft and sensitive and I want to make sure I'm using the most gentle and comfortable to clean her.
9. Sleep 'n Play Sleepers
I don't bother buying outfits for newborns. These sleepers are the perfect daytime wear for Little Miss Jellybean! They're comfortable, keep her warm, and make getting ready super easy! Let's face it….newborns are a bit awkward and regular clothes can look weird on them…not to mention just down right uncomfortable. Can you imagine being naked for 9 months and then all of a sudden you're thrown into a bright and noisy world where you are then subjected to wearing tight and uncomfortable pants?!
10. Bedtime Bath Wash and Lotion
Lavender scents are proven to be calming and relaxing that help you drift off to sleep…the same is true for baby. Now, we don't bath Little Miss Jellybean every night because you don't want to strip the essential oils that babies need to keep their skin soft but on nights we don't bath her we use the lotion. This girl LOVES having her nightly massage with this bedtime lotion….and she sleeps great!
So there you have it….my list of the Top 10 MUST HAVES for Baby. When you head over to Walmart and make your own baby registry make sure you check out their Baby Registry Checklist to help you get organized and decide what you need for baby. Plus read tons of new mom stories and tips while you're browsing around !Pampers Baby Basics for Any Mom on Walmart.com's Parent & Baby Center
What's your MUST HAVE for a new baby? Share in the comments below!