These easy patriotic ice cream sandwiches make the perfect summer treat for this fourth of July weekend! It just takes a minute to put these together but they add so much flair to your festivities…..and the kids will love them!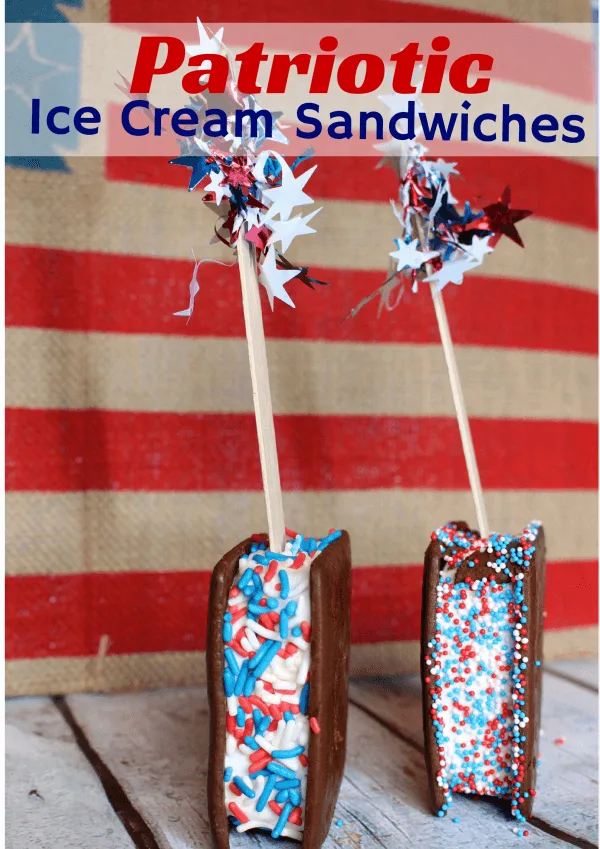 Easy Patriotic Ice Cream Sandwiches
With Independence day being this weekend there's red, white, and blue everywhere! It's a time for us to celebrate as a nation and really reflect on all of the advantages and freedoms that come along with being in this great country.
Unfortunately, I've been so busy planning Food Blog University the last few weeks that I've been a major slacker in making plans for the holiday weekend. But that doesn't mean I can't muster up some last minute holiday fun! These easy patriotic ice cream sandwiches are absolutely perfect for this weekend and Little Man is going to have a blast making his own!
Supplies Needed:
Red and blue sprinkles
Wooden craft stick
Red, white and blue foil garland

DIRECTIONS
Sprinkle red and blue sprinkles on all 4 sides of an ice cream sandwich.
Place back in freezer for 10 minutes.
Meanwhile, wrap foil garland around the top of wooden craft sticks.
Before serving, insert the decorated sticks into the middle of each sandwich.
ENJOY!​
If you're hosting a cookout these would be a great treat to let the kids make up ahead of time and surprise your guests with them.
How are you celebrating the holiday weekend? Share in the comments below!