Fresh vegetables make this delicious stewed tomatoes and corn recipe a perfect summer dish. This is a summertime favorite! The flavors of fresh corn and tomatoes blend perfectly to make a unique vegetable side dish. Even the kids gobbled this up!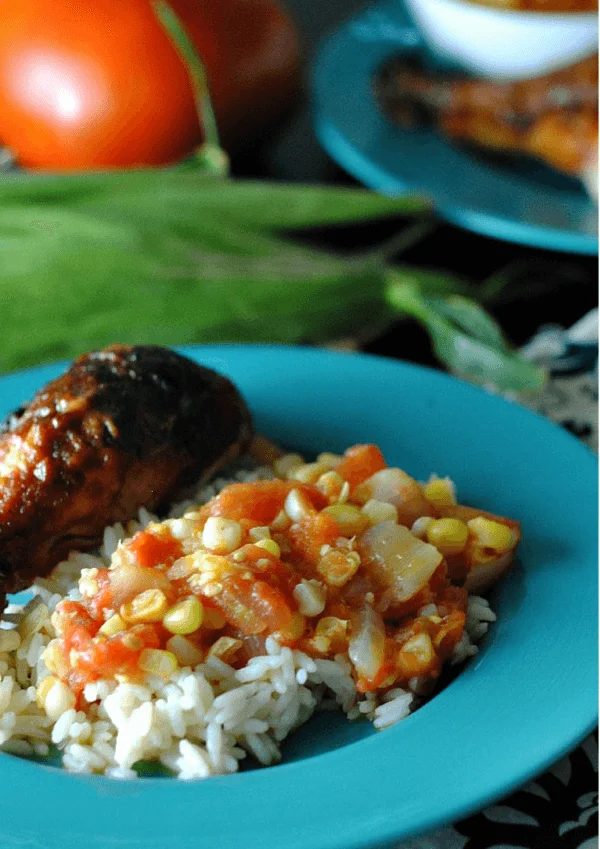 Stewed Tomatoes and Corn Recipe
Yesterday I was craving my Stewed Okra and Tomatoes so Miss Jellybean and I took a trip over to the local farmers market while Little Man was at camp. I love making stewed okra and tomatoes during the summer months when okra is in season…..it's so good….it tastes just like fried okra but is so much healthier and flavorful.
So, to the farmer's market we went. The owner of the farmer's market is this sweet woman a little older than my mom. She's so friendly and always talking to customers about what they plan on making for dinner– she's full of suggestions and constantly recommending new veggies with instructions on how to make them.
Miss Jellybean and I went down every aisle looking for the okra but couldn't find any. So I asked Mrs. Farmer if they had any okra in stock. Unfortunately because of the heat wave we're experiencing (Florida is getting cooler weather than we are in North Carolina!!) the crops are taking a beating. Mrs. Farmer asked what I planned on making with the okra and I told her about my stewed okra and tomatoes recipe….she suggested I try using corn.
Well corn was the PERFECT suggestion! I think this stewed tomatoes and corn recipe is my new summer favorite!!
Stewed Tomatoes and Corn Recipe
Author:
Ingredients
3 Ears of Corn
3 Large Tomatoes
1 Medium Onion
1 TBS Butter
1/4 Cup Water
Instructions
In a large skillet melt the butter.
Dice the onion and sautee in butter.
Shave corn kernels off of ear with a knife (save the juices)
Once onions start to brown on the edges add in corn kernels.
Add water to juice from corn and pour into skillet.
Reduce heat, cover, and simmer for 10 minutes.
Peal and dice tomatoes- save the juices.
Add tomatoes and juice to the skillet.
Cover skillet and simmer for 25 minutes.
Remove lid and continue simmering for 10 minutes while some of the juices steam off.
I love serving this stewed tomatoes and corn recipe over rice….it makes for the perfect vegetarian meal….or add some shredded chicken on top for a super simple dinner. Even Hubs went back for seconds….which he NEVER does with veggies!
Cooking Tip: When removing the corn kernels from the ear make sure you use a sharp pairing knife like this set and shave the kernels over a big bowl to catch the juices. Also, make sure you use a large skillet with a lid– this is my favorite.