This free printable Dr. Seuss Preschool Activity pack is perfect for celebrating Dr. Seuss Day coming up soon! We love Dr. Seuss and this Dr. Seuss activity pack keeps the kids busy while I make dinner!!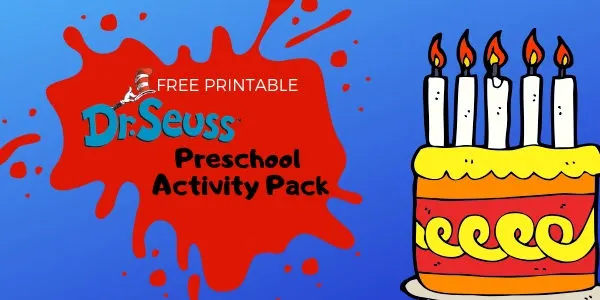 For more Dr. Seuss fun check out:
We are nuts about Dr. Seuss in our house….I mean seriously….his stories are so crazy and fun for all ages!
A while back I read an article that Dr. Seuss didn't actually like kids…which is funny since he's beloved by so many children and we even declared his birthday somewhat of a holiday for kids!
I can't remember where I saw the article but it was back at Christmas time and it was talking about how he actually fashioned The Grinch after himself. So maybe he used to not like kids and then his heart grew 3 times once his books started selling so well…who knows. What do you think?
Anyway, since we love Dr. Seuss so much I put together this 9-page activity pack for preschoolers because it's always nice to have something fun to print out to keep them busy while I make dinner. In fact, with the HP Tango Printer I can actually tell Alexa to print these for me and Little Miss can grab them herself!
At first I wasn't sure about this feature on the HP Tango….I mean seriously, I thought "when on earth would I ask Alexa to print something for me?".
Well, it just so happens that I used the feature just the other day. I was cutting up chicken for dinner and my hands were gross. The kids were running around like little maniacs and I was about to lose my mind! So I simply asked Alexa to print out two Dr. Seuss Activity Packs and told the kids they had to finish them before dinner.
I didn't have to stop what I was doing!! And the kids were finally calm!
Anyway, this isn't sponsored by HP or anything….I just wanted to share with you how amazing this printer is!
Here's the free Dr. Seuss Activity Pack
---
---