These fun Dr. Seuss Activities for preschoolers are a great way to celebrate Dr. Seuss' birthday. Dr. Seuss day is March 2 …so have some fun with these Dr. Seuss activities.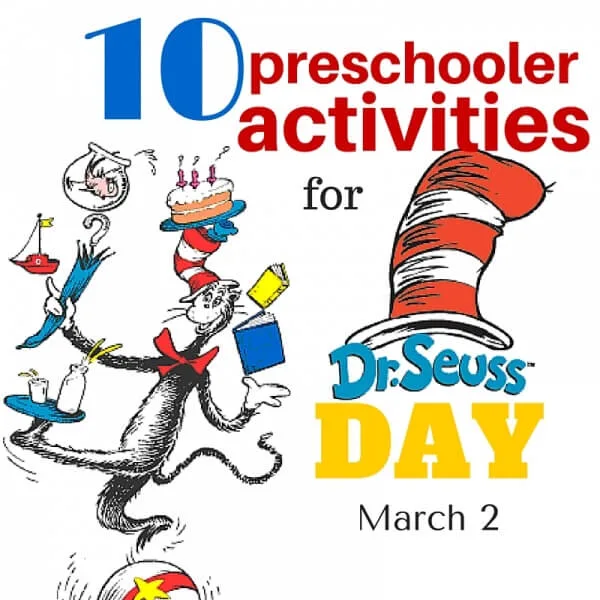 10 Dr. Seuss Activities for Preschoolers
Celebrate Dr. Seuss Day on March 2
One fish, two fish, red fish, blue fish…. ah, the love of Dr. Seuss! We all grew up with his fun adventures and wacky tales so it's no wonder that we celebrate Dr. Seuss day as National Read Across America Day.
The importance of reading and learning come to light in these fun Dr. Seuss activities for preschoolers. Check out how YOU can celebrate with your kids and have a blast with these crafts and games.
Plus, don't miss out on 10 Dr. Seuss Inspired Healthy Snack Recipes, Dr. Seuss Free Printable, and Is the Early Moments Dr. Seuss Book Club worth it?
The Shape of Me and Other Stuff Activity by Cutting Tiny Bites
Red Fish, Blue Fish, ABC Match Game from Growing Book By Book
Yarn Truffula Trees by 3 Dinosaurs
Dr. Seuss Felt Art Board from Mini Monets and Mommies
What Pet Should I Get Learning Game
Cat in the Hat Slime from Little Bins for Little Hands
10 Apples on Top Preschool Game by Homeschool Preschool
How to Make Ooblek from Raising Little Superheros
Things in Our House Board Game by Betsy Finn
Hop on Pop Gross Motor Learning Game from Cutting Tiny Bites
What's your favorite Dr. Seuss book? Share in the comments below!
Other Dr. Seuss articles:
Dr. Seuss Inspired Healthy Snacks
Green Eggs and Ham Snack with Free Printable
Follow Melissa @Serendipity and Spice's board Dr Seuss Fun on Pinterest.