Do you ever just get tired of eating the same stuff for breakfast all the time? These ham, egg, and cheese breakfast boats are a delicious and unique breakfast recipe that's a crowd pleaser!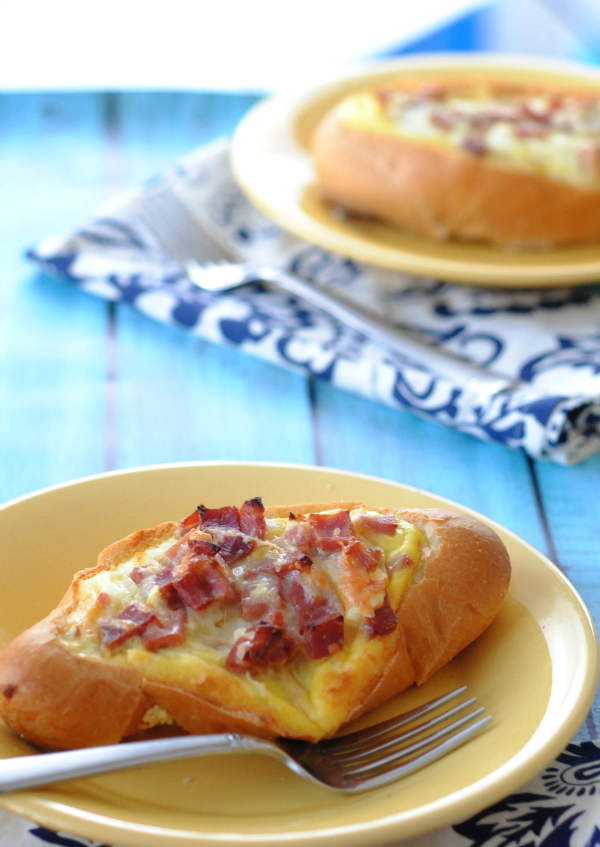 Ham, Egg, and Cheese Breakfast Boats Recipe
I know there's plenty of breakfast choices: cereal, eggs & toast, pancakes, waffles, french toast, breakfast casseroles, biscuits, etc.  But I feel like it's harder to come up with unique breakfast ideas compared to dinner ideas!
Well these Ham, Egg, and Cheese Breakfast Boats put a nice new spin on the typical eggs and toast!
 I LOVE french bread but never thought about making it for breakfast till I saw this recipe on Pinterest from Spoon Fork Bacon.
Of course I had to make my own spin…. I mean, let's face it, we're simple folk and I have no idea what pancetta is or what gruyere cheese tastes like!
Ingredients:
2 French Hoagie Rolls
4 Eggs
1 cup Diced Ham
1 Cup Shredded Cheese (your choice- I use mozzarella)
1 small onion
1/4 cup milk
Directions:
Hollow out your hoagie rolls.
I saved the tops and covered them with cheese for dinner that night.
Mix all ingredients together.
Pour into your french bread boats.
Bake at 350 degrees for about 35 minutes or until your eggs are fully cooked.
The french bread soaks up some of the egg mixture making these breakfast boats so soft and delicious….it's like french toast but so much more savory and delicious!  I also love that you can easily mix these up to taste completely different just based on what ingredients you use.  Some of my favorites ingredients to add are spinach, tomatoes, artichokes….the choices are endless.
Up Next:
Thrive Market
- It's like the Costco of organics...this is where I get all of my sugar, flour, baking supplies, kids snacks, etc.
Zaycon Foods
- This is where I buy most of my meat products in bulk.  The quality is amazing and the prices just can't be beat!  I mean, $1.89 a pound for boneless all-natural chicken breasts!!  It is bulk but you can always split with a friend or make up a bunch of freezer meals like I do!