The Gift of Lights at Atlanta Motor Speedway
An affordable night of Holiday Fun for the whole family!
Disclosure: I received complimentary tickets to The Gift of Lights for this review. However, as always, all opinions are true and 100% my own.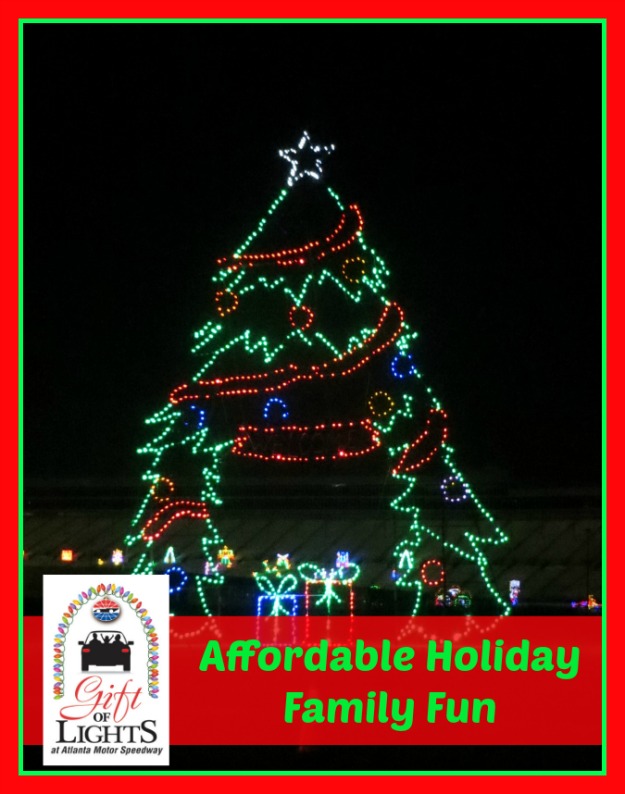 I don't think there's anything better this time of year than piling family and friends into the car to go see some twinkling Christmas lights! I remember as a child we would drive from neighborhood to neighborhood to check out the lights– unfortunately these days there's not as many people that decorate like they used to. Luckily there's places like the Atlanta Motor Speedway that have put together their own light show and the memories of peering out the back window to capture a glimpse of the twinkling magic can be passed down to my own children.
For starters I'm thrilled at how affordable The Gift of Lights at Atlanta Motor Speedway is– I mean $20 for a carload is a great price– and that's their weekend price– it's only $15 a carload during the week. Although I do recommend going on a Friday or Saturday night when they have the Christmas Village open– it makes for a night full of Christmas joy!
So, I must admit, I've never been to the Atlanta Motor Speedway so I was shocked at how big it was….everything looks so much smaller on TV. Anyway, it's huge and the lights are spectacular!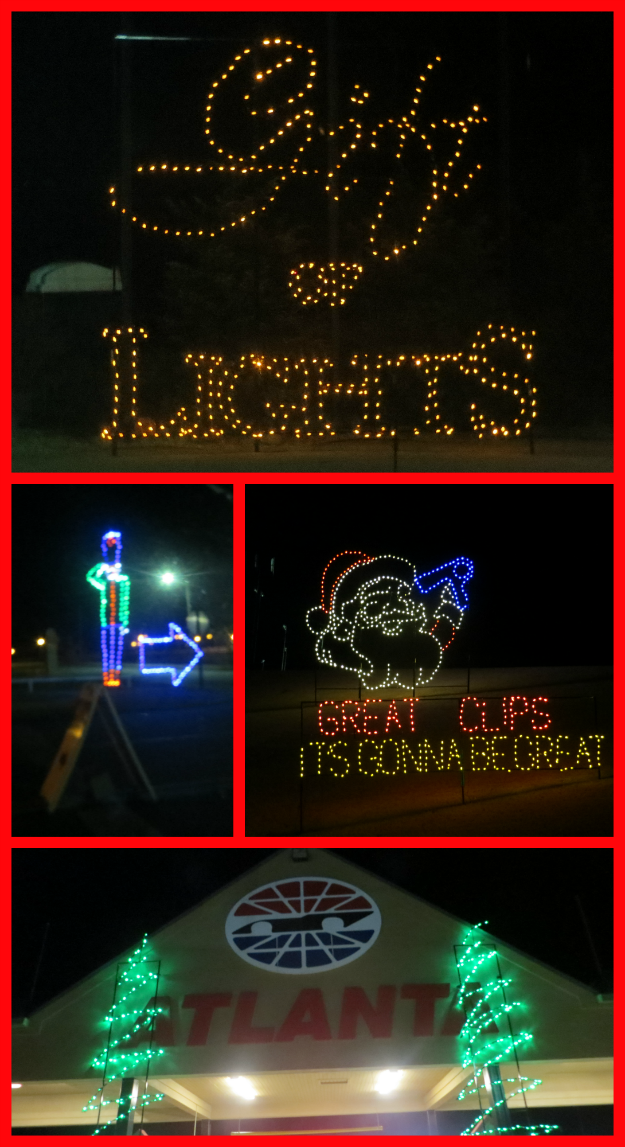 When we drove up to the entrance I took Little Man out of his carseat so he could ride on my lap to see the lights….do this at your own discretion– I'm not advising or condoning removing your child from their restraints…it was just a personal choice because I felt comfortable with my husband's driving and I felt like his big carseat was blocking his view.
So with Little Man snuggled into my lap and the Christmas music playing on the radio we began our journey into a Winter Wonderland.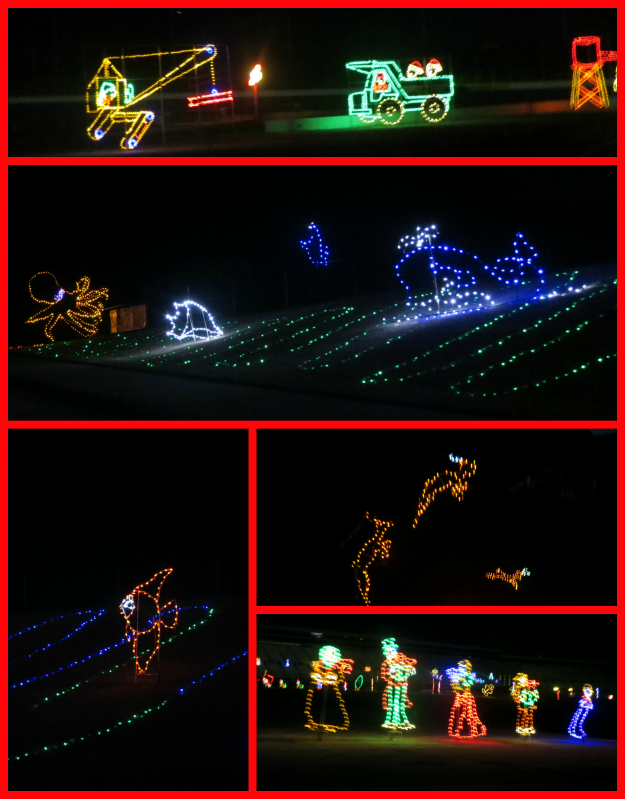 The lights were beautiful and put us in the Christmas Spirit…..Little Man was oohing and ahhing the whole way.
I think Hubs was most excited about getting to drive on the actual racetrack….I mean it was pretty cool to imagine how the racecar drivers feel with all the fans in the stands and them zooming around the track– which is HUGE by the way– oh did I already mention that?!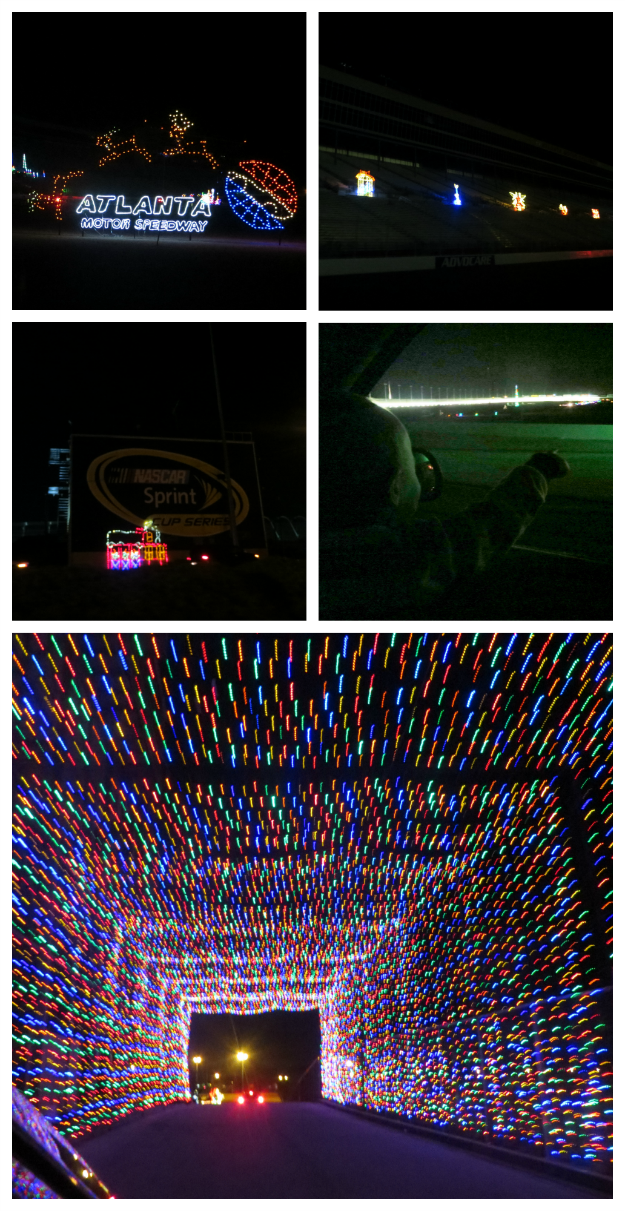 Anyway, the most exciting part for Hubs and I think all of the other daddy's that were driving was the incline– yep, they had it open to where you could drive on the beginning portion of the incline….and when I say the incline was steep I'm not even kidding– I was amazed…I have a whole new respect for those drivers! But you could see the cars ahead of us, each one trying to see how far up the incline they could make it before the wives started yelling "You better not go any further- The car is going to flip over!"….at least that's what was being yelled in my car! 😉
Once you think the Winter Wonderland of lights is over— there's a whole other portion that goes behind the stands! We were pleasantly surprised to go through even more lights before arriving at Christmas Village.
Christmas Village
I figure Christmas Village deserves a title of it's own– The Atlanta Motor Speedway did a great job of putting together even more family fun available on the weekends.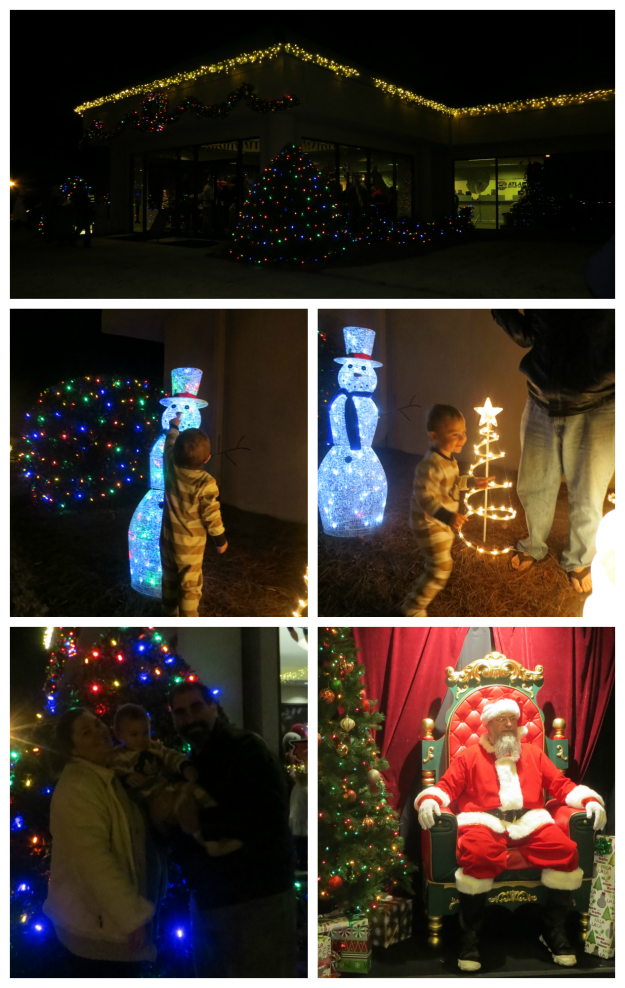 Christmas Village is located right inside the lobby where the gift shop is located. The gift shop is open for shopping– so you can pick something up for that race fan in your life, and they serve hot cocoa, s'mores packets, and you can even meet Santa Clause himself!
Right outside the lobby is a fire pit where visitors can warm themselves and roast the marshmallows from their s'more packets. Again everything was VERY affordable– Hot Cocoa was only $1 a cup and the S'mores packets were just $2….so bring some cash so you can partake in all the Winter Fun!

There's even several great spots for taking family pictures…there's several lighted Christmas trees, Santa's sleigh, a sunroom with a fire place….this is a good place to sit and relax while warming up from the cool night air!
My family had a fantastic evening and we will totally do it again. It truly is the most affordable Holiday fun around Atlanta!
What's your favorite thing to do during the Holidays?