Check out these gifts for someone who has everything….you know you have that person in your life. They always just buy whatever it is that they want and you never know what to get them! Well, check out these gifts for someone who has everything and get them a unique gift they'll love!

This post is brought to you by Minted.com. As always, all opinions are 100% my own.
Gifts for Someone Who Has Everything
The Perfect Gift for the Hard to Shop for Person in Your Life!
So let's face it…you know you have that person on your list…you know the one….they mention something that they'd really love and you jot it down on your Christmas gift list only to see them the next time and they've already bought said item. It's so frustrating….you know you want to tell them what you tell the kids "let's wait and see what you get for Christmas before buying anything".
For me, that person is multiple people….it's my mother, my grandmother, my in-laws, even my husband. That's why I'm doing a majority of my holiday shopping at Minted.com. Minted has some really cute items that can be personalized for the recipient creating a truly unique gift.
I ordered this adorable heart photo keepsake and filled it with photos of our recent Disney trip. It has gold foil accents that create the perfect little bit of flair for our fond memories.


Heart Snapshot Mix Foil Pressed Photo Art Print
These silhouette art pieces make the perfect gift for grandparents. I remember, as a kid, my grandmother had silhouettes of my mom and uncle hanging up over her bed and I always thought they were so beautiful. Now, she can have a set of her great grandchildren to go with them!

Custom Silhouette Letterpress Art Silhouette Letterpress Art
My sister loves drawing and makes beautiful pictures like those you find in adult coloring books so this notebook makes the perfect gift for her. I love that you can customize the notebooks with whether you want lined pages, blank pages, graph pages, address book pages, etc. And the personalization on the cover just adds a little bit more perfection to this gift.
These notebooks also make great teacher gifts….I got one for each of Little Man's teachers…it makes a great gift for less than $20!

Full Bloom Day Planner, Notebook, or Address Book
This Children's stationary makes the perfect little stocking stuffer to encourage little ones to write thank you notes for all of their gifts this year!

Minted has a ton of cute items for the holidays and beyond. So definitely go check them out and find an awesome gift for that person on your list who is difficult to buy for! They also sell Christmas cards….I can't wait to get mine….I ordered Christmas cards that double as ornaments! I'm going to do a Facebook Live once they arrive to show you the quality…so make sure you're following me on Facebook so you don't miss out!
Now, how would you like to WIN a $100 gift card to Minted.com?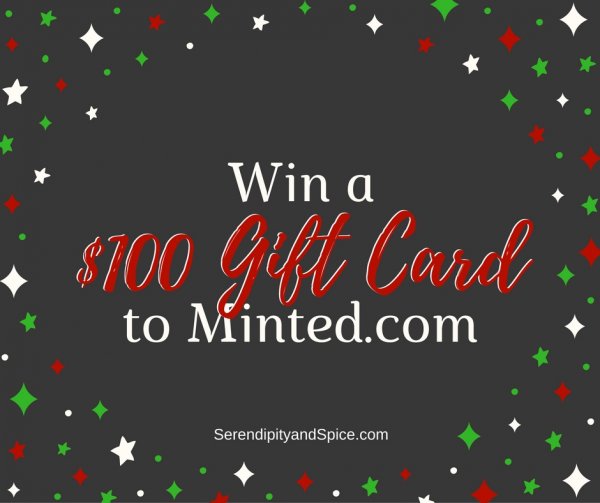 Leave a comment below telling me about the hardest person to shop for on your holiday gift list! I'll be giving a $100 gift card to THREE lucky winners!! Giveaway ends 11:59pm EST 12/6/16.