This easy and delicious ground turkey spaghetti recipe is perfect for dinner! Swapping out ground beef for ground turkey is a healthy choice that no one will even notice in this spaghetti with ground turkey recipe.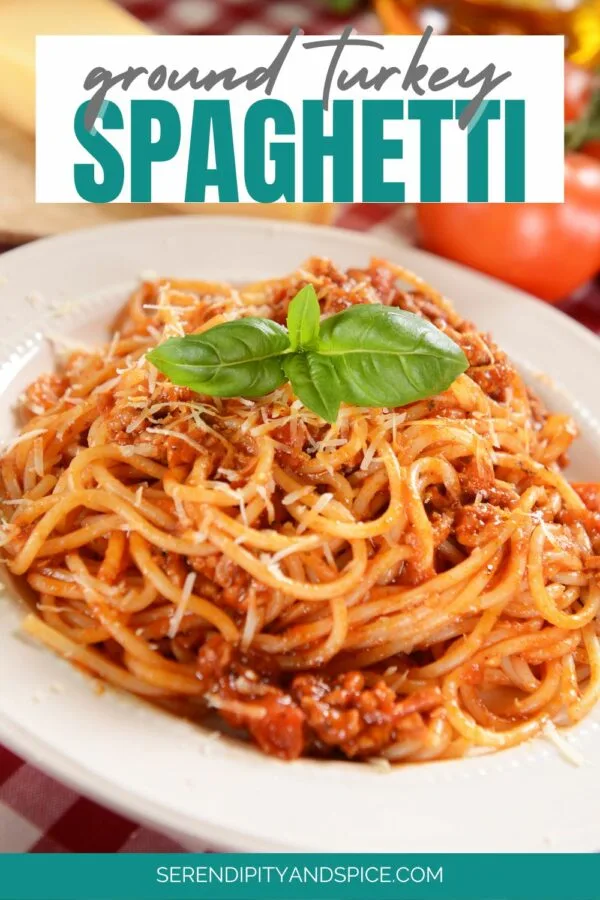 One of the easiest health swaps to make when it comes to dinnertime meals is to swap red meat for turkey! Seriously….no one will know!
A few years ago my dad had open heart surgery and we were given strict instructions for him to cut out red meat. Well, my dad is a typical boomer and completely set in his ways. He doesn't deviate far from his dinner rotation of about 10-12 recipes….most of which consists of some type of red meat.
My dad is a man of habit. Every morning he starts his day with a cup of Cafe Vienna (I didn't even know they still made this), he eats a bowl of cereal for breakfast, makes a sandwich for lunch, and has a meat, a veggie, and a potato for dinner.
Well, after his surgery, I went to stay with him for a few weeks and this gave me a chance to overhaul his eating habits. My dad was less than thrilled with this change.
The first few days he hated everything I made. He constantly complained that "healthy food is flavorless".
So, I knew I had to do some stealth cooking and work with simple swaps that he wouldn't notice.
Now one thing you should know is that my dad is ANTI ground turkey. He's told me on multiple occasions that the only turkey he eats is "the full turkey at Thanksgiving because ground turkey is gross".
"Okay, dad….no ground turkey burgers for you."
But, what he doesn't realize is that when you mix ground turkey into sauces you can't tell the difference between ground turkey and ground beef.
So one night I decided to make his favorite dinner….spaghetti. But this time I made the spaghetti sauce with ground turkey instead of ground beef.
My dad gobbled up the spaghetti and even asked for seconds. He raved about how delicious it was!
It wasn't until he finished his second bowl that I revealed he had just eaten ground turkey spaghetti.
Needless to say, he was speechless!
So, if you have some picky eaters that aren't thrilled with the idea of ground turkey…make this spaghetti with ground turkey and they'll never know!
Printable Ground Turkey Spaghetti Recipe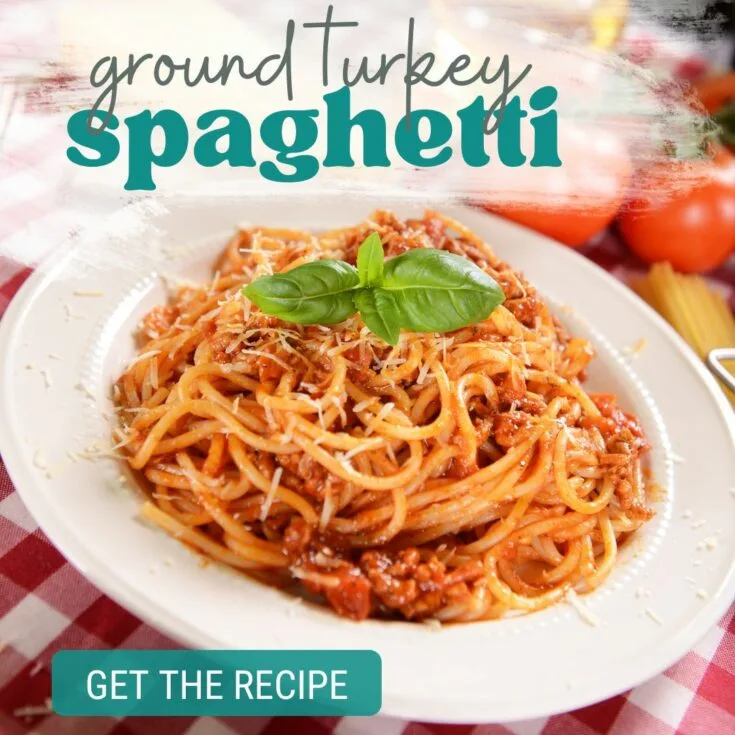 Amazing Ground Turkey Spaghetti Recipe
This ground turkey spaghetti recipe is a family favorite! Add in diced zucchini and carrots for a chunky sauce.
Ingredients
1 TBS Butter
1 Vidalia Onion (diced)
3 Cloves of Fresh Garlic
1lb Ground Turkey
1 Zucchini Diced
1 TBS Italian Seasoning
1 24oz Jar Marinara Sauce
1lb Spaghetti Noodles
Instructions
Melt butter in a large stock pot.
Add in onions and garlic.
Sautee until onions are transparent.
Add in ground turkey, zucchini, and Italian seasoning.
In a separate pot, cook your pasta according to directions.
When ground turkey is fully browned, add in marinara sauce.
Drain your pasta...but save, 1 cup of pasta water.
Pour 1 cup of pasta water into sauce and mix well.
Serve hot!
Note: I like to combine my pasta and sauce together, but some people prefer to serve the pasta and spoon the sauce on top....the choice is yours!