This Gingerbread Chai Latte Recipe will warm you up from the inside out…it's the perfect warm drink for a cold winter day.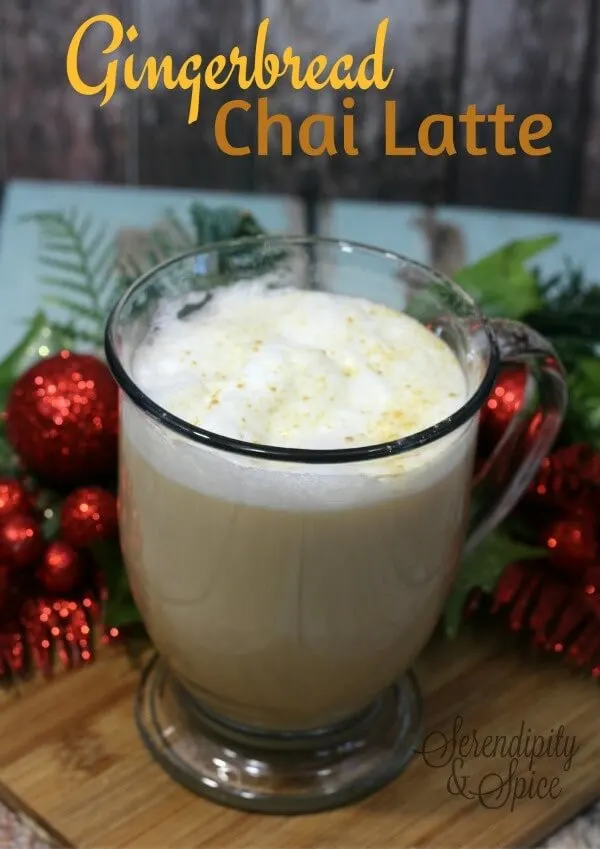 Gingerbread Chai Latte Recipe
Okay, so if Christmas had a specific flavor then this Gingerbread Chai Latte Recipe would be that flavor. This is my new favorite hot drink of the holiday season as all of the flavors just meld together perfectly and make you long for a snowy day, a good book, and an oversize fluffy blanket….and miraculously the kids take a trip to grandma's before the snow hits.
Oh the joys of daydreams!
As a busy mom of 2 under 5 I don't get the luxury of sipping a hot chai latte while cuddled under a big blanket….usually I'm fighting for that blanket that my son just "NEEDS" for the fort he's making…even though he already has 3 other blankets stretched across the living room. So I usually concede and let him have my snuggly blanket since Miss Jellybean is typically clambering at my leg wanting to be picked up and put down at the same time….the life of an almost 1 year old.
But, I can make this Gingerbread Chai Latte recipe in a matter of minutes and have a sweet little escape to my daydream of snowy quiet and fluffy blankets. Wanna join me for a moment or two?
Gingerbread Chai Latte Recipe
Author:
Prep time:
Total time:
Ingredients
1 cup almond milk
½ tsp. cinnamon
½ tsp. ground ginger
½ Tbsp. pure maple syrup
1 tsp. [url href="http://www.mywildtree.com/Pws/SerendipitySpice/store/AM/product/Chai-Tea-Mix,1894,1.aspx" target="_blank"]Wildtree Chai Tea Mix[/url]
Instructions
Boil 1 cup of water in tea kettle or stovetop (or just use [url href="http://amzn.to/1LZ41fC" target="_blank"]your Keurig[/url] like I do to make a cup of hot water)
Let tea mix steep for about 8 minutes
Blend almond milk, cinnamon, ginger and maple syrup in a mixer for 3-4 minutes.
Pour the gingerbread milk mixture into your favorite holiday mug, filling the mug about ¾ full.
Then fill the rest of the mug with the hot chai tea.
You can play with more or less of the chai tea and mixture to see what you prefer.
Make sure you check back shortly as I'll be sharing some delicious Chai Snickerdoodle Cookies that go perfectly with this Gingerbread Chai Latte recipe!