This Girl Scout Samoas Cupcake recipe is so delicious and the perfect way to use up some of those Girl Scout Cookies.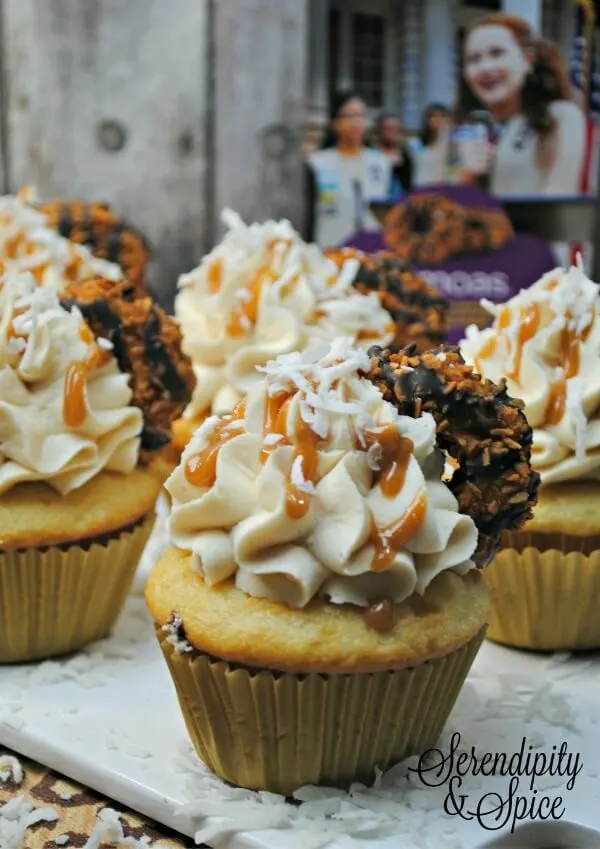 Girl Scout Samoas Cupcakes Recipe
A delicious dessert using Girl Scout Cookies!
Call them Caramel Delights….Call them Samoas….no matter what part of the country you're from you know what delicious little delights I'm talking about. Those crunchy cookies covered in caramel, coconut, and chocolate….seriously, it's the BEST combination EVER!
I was a Girl Scout when I was a little girl and I remember the excitement when it came time for cookie season. Back then the ultimate goal was to sell 300 boxes….if you made it to 300 boxes then you would get the best prizes. I don't know what it is now….but I'm sure you have to go MUCH higher than 300 boxes. I remember one year there was a Girl Scout boom box that I just HAD to have…..luckily my dad worked in a large office with plenty of employees eager to load up on cookies!
Samoas aka Caramel Delights were always one of my favorites….those and Tag-a-longs (I have a copy cat Tag-a-long recipe you've got to try!!) If you're a fan of Samoas Girl Scout Cookies as much as I am then you definitely need to grab a box and try this Girl Scout Samoas Cupcake Recipe!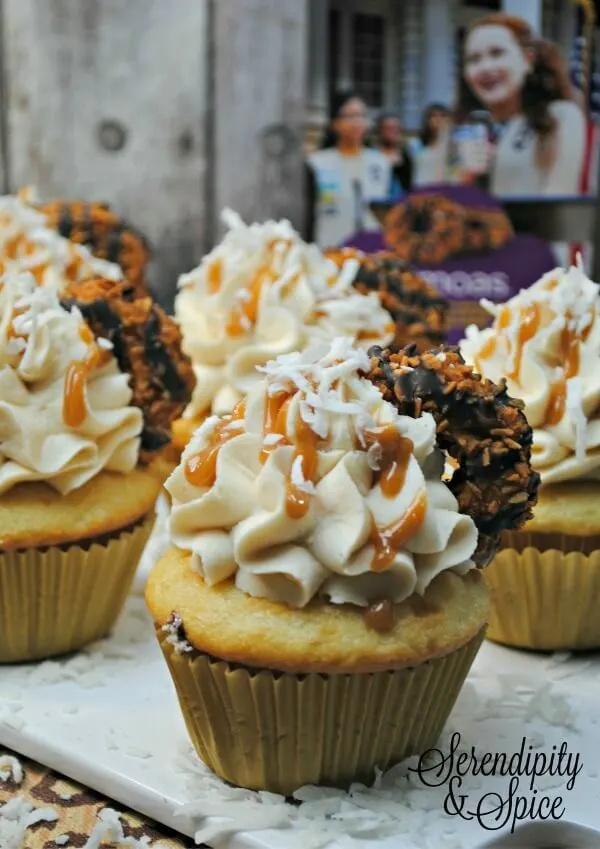 Girl Scout Samoas Caramel Coconut Frosting Recipe
Ingredients
1 C unsalted sweet cream butter
3 C powder sugar
1/4 C coconut
5 TBS heavy whipping cream
2 tsp caramel
Instructions
Add in all ingredients into a standing mixer and mix until combined and stiff peaks form.
If powder sugar pebbles form, add in 1-2 more tbsp heavy cream
if thin add in 1/2 C powder sugar.
mix until stiff and doesn't fall off a spoon.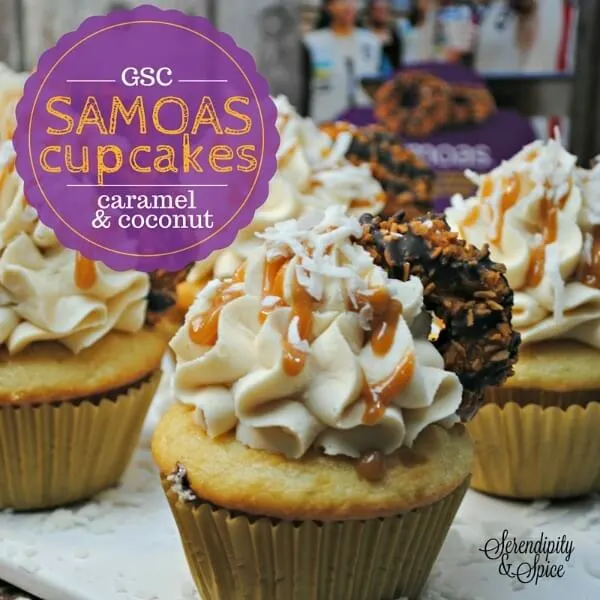 Quick Tip: This is my favorite icing set because it has every tip I could possibly need to make beautiful cupcakes…and the price is awesome!
What's your favorite Girl Scout Cookie flavor? Share in the comments below!
You May Also Like:
Copycat Tagalongs Girl Scout Cookies
Copy Cat Girl Scout Cookies Recipes
Ferrero Rocher Chocolate Cupcake Recipe