This green bean casserole in individual servings makes a delicious side dish for your holiday gathering. Sarani is sharing her delicious version of the classic green bean casserole.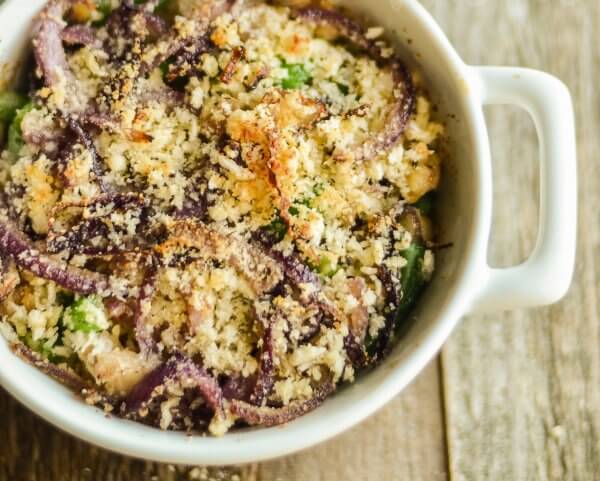 Green Bean Casserole from Sarani
A Classic Holiday Side Dish in Individual Servings
Before we know it, we are in the 11th month of the year and gearing up for Thanksgiving and then the Holiday break. The part of India that I hail from believes in celebrating everything – our own festivals and then some. Growing up, we did not know about Thanksgiving but we did celebrate Christmas on the big scale. After moving to this country, we have embraced all the new holidays and enjoy celebrating the day in a way everybody else does. So now it is time to whip up some Fall flavors, and I knew that I was definitely try my hands at this individual Green Bean Casserole before I moved on to Holiday goodies.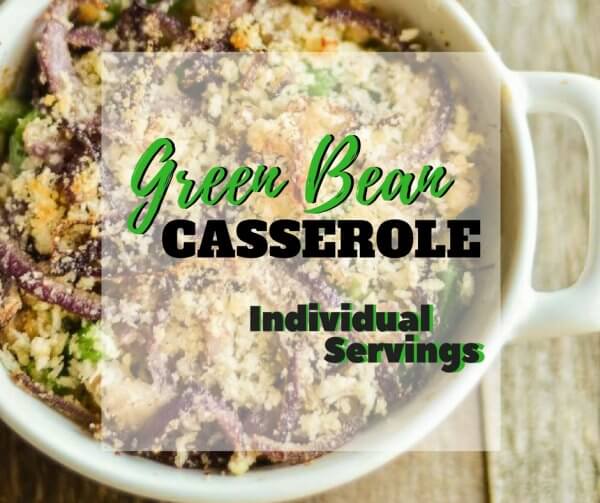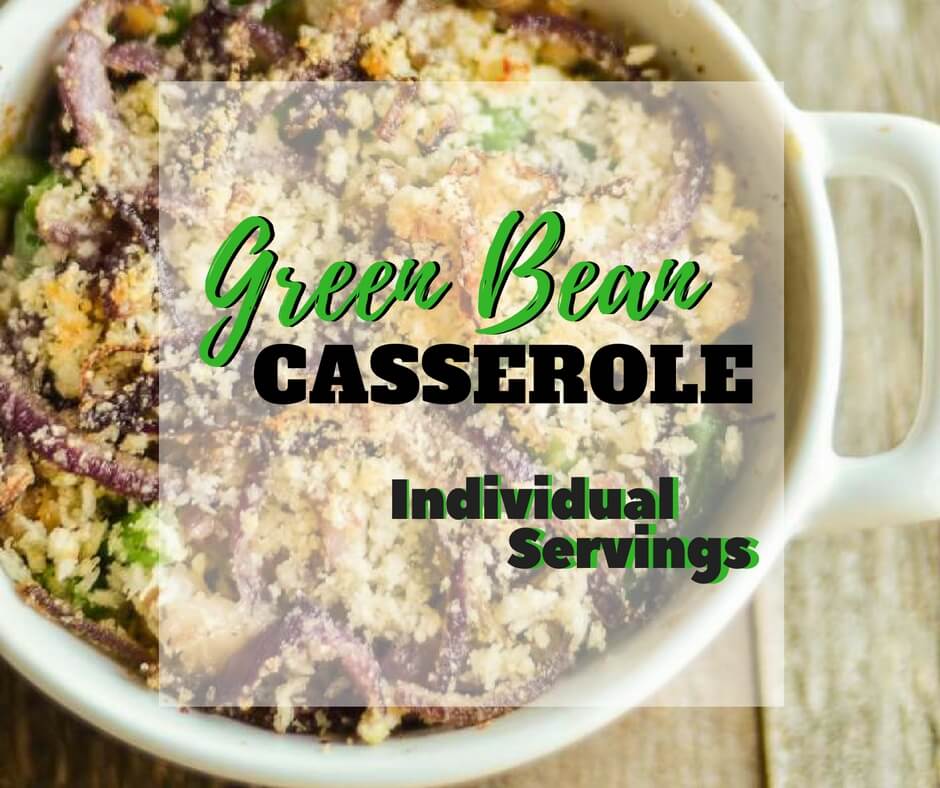 Hi! This is Sarani and I back with yet another yummilicious recipe! We have been in this country for roughly 10 years. In that 10 years we have started a few traditions of our own as a family. During Thanksgiving break, we prefer staying home, recuperating from the madness of summer and early fall and bracing ourselves for the harsh winter months ahead. The day is usually spent with friends, eating and drinking. Couple of years, we took it slow and cooked a Thanksgiving dinner for just the three of us. We usually get a whole chicken. And there is always a side of green beans. And most importantly, dessert!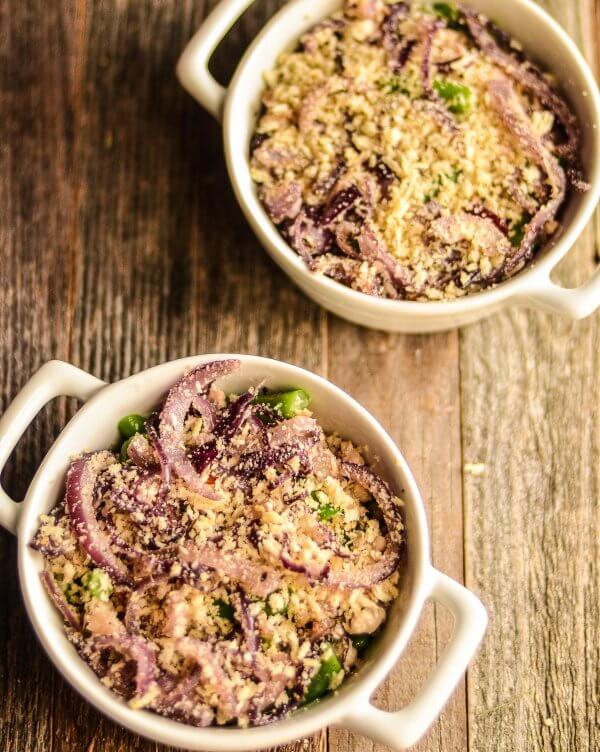 This year, I have my heart set on making green bean casserole that I plan to serve in individual ramekins.
For our Thanksgiving dinner I plan to make this Green Bean Casserole with Ground Chicken but I might just switch out ground chicken with ground turkey. And I will most definitely throw in some cranberries to add just the right amount of tartness.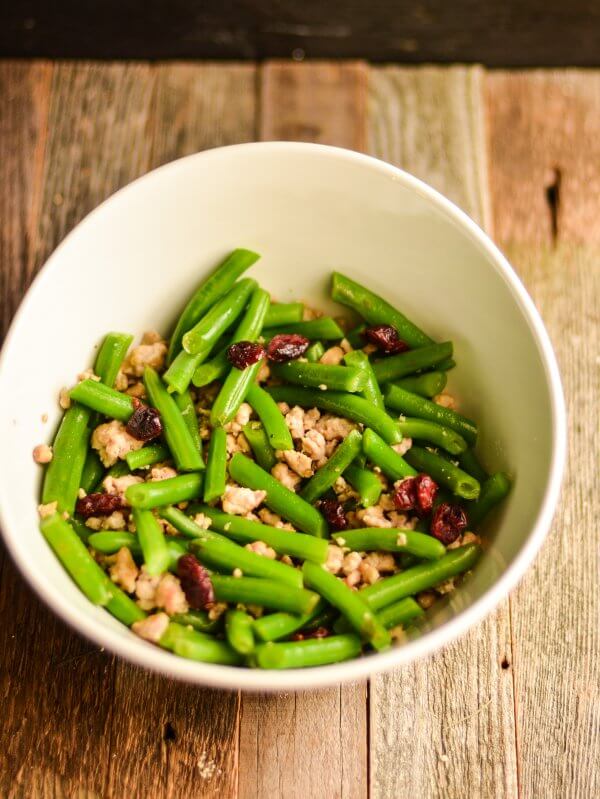 Ingredients: Green Bean Casserole with Ground Chicken and Cranberries (Serves 4)
Ground Chicken – 3/4 lb (or you can use ground turkey)
Green Beans – 1 lb, trimmed and cut into bite-sized pieces.
Couple of handfuls of dried cranberries (about 1/4 Cup)
Onion – sliced into half moons, I used a medium red onion
Cream of chicken soup – 1 Cup (you can use cream of mushroom soup, if you prefer)
Grated Parmesan – 1/3 Cup
Dried Oregano – 1 tsp
Garlic Powder – 1/2 tsp
Panko Bread Crumbs – 3/4 Cup (I used pre-seasoned Panko, if you are using regular, do season your panko bread crumbs with some salt and freshly cracked black pepper.
Milk – 2-3 tablespoons
Butter – 1/2 tbsp + 1 tbsp, divided
Salt and freshly cracked black pepper to taste

The process of making Green Bean Casserole with Ground Chicken and Cranberries (individual) –
Preheat oven to 375 F. Grease your ramekins and keep it aside. You can use a baking pan instead. Just bake it for 5 extra minutes.
Now let us start making the Green Bean Casserole.
First of all, bring a pot with water to boil. While the water is boiling, keep a large bowl ready with ice water. Once the water comes to a boil, add the beans to boiling water and let it cook for about two or three minutes. Using a slotted spoon, transfer the beans to the ice water and stir them in. Strain and keep aside. Blanching the greens beans will help keep it crisp and give it a gorgeous color.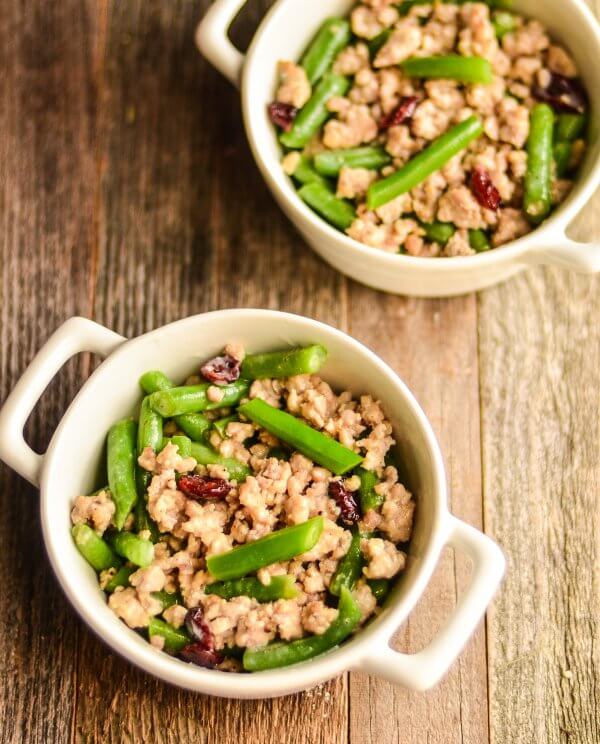 Next, fry the sliced onions in a pat of butter in a skillet till they caramelize. Mix it with Parmesan cheese and seasoned Panko bread crumbs and set aside. Once that is done, melt 1 tbsp of butter in the same skillet. Then add the ground chicken to it and fry till the chicken browns. Use your wooden spatula to break down the clumps of chicken as you go. Keep it aside.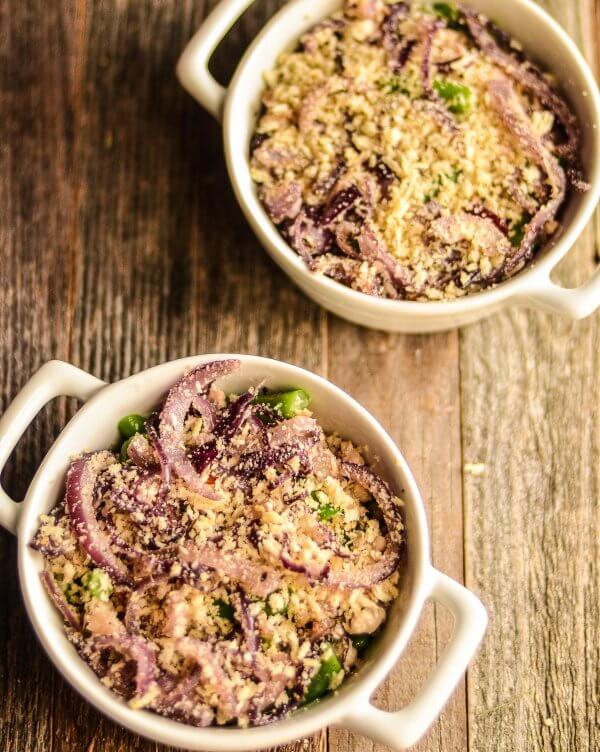 In a large bowl, mix together the green beans and browned ground chicken along with the milk & soup mixture. Season it with salt, freshly cracked black pepper, dried oregano and garlic powder.
Lastly, spoon it into the greased baking pan. Sprinkle the onion topping evenly. Bake for about 20 minutes. It is best enjoyed warm.

The 7 yo gobbled up his share of Green Bean Casserole and asked for more.
---
Thanks to Sarani for visiting today! Make sure you check out her bio page and follow along with her blog for more delicious recipes!
You may also like:
Roasted Garlic Parmesan Simple Quinoa Recipe
Roasted Sweet Potato Salad with Apple and Black Beans in Chipotle Dressing