This Hershey's Kisses Blondie Recipe is the perfect holiday treat to make with the kids! The most delicious holiday treat you'll eat! Perfect for cooking with the kids- try this Hershey's Kisses Blondie Recipe today!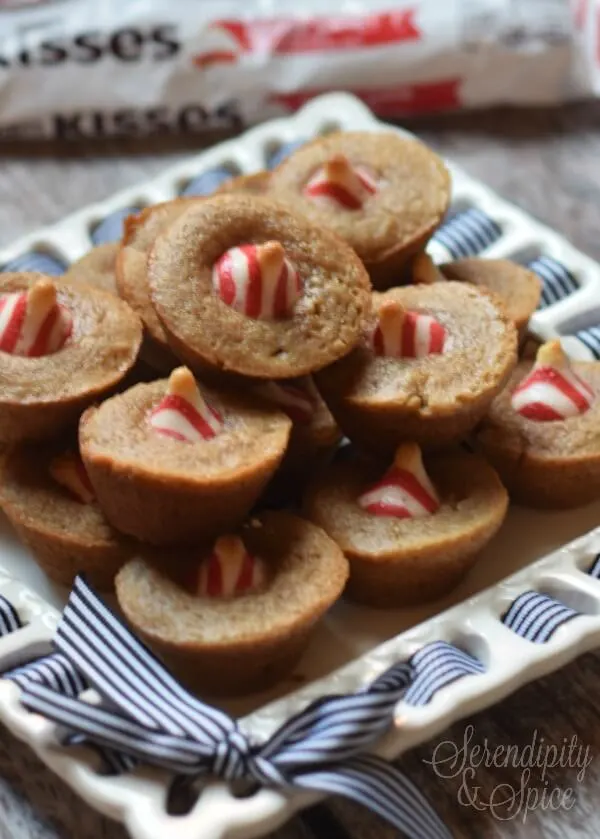 Hershey's Kisses Blondie Recipe
A Sweet Treat Full of Holiday Bliss!
There's nothing better during the holidays than taking time out and just having fun in the kitchen with the kids! Little Man adores helping out in the kitchen…especially during the holidays when there's so many delicious treats to make!
As a kid I loved helping my mom bake up delectable cookies, cakes, and all sorts of treats. We would make homemade gifts for all of our friends and family that consisted of fresh baked cookies, made from scratch cakes, chocolate covered peanuts and pretzels, and so much more.
We were always welcome at anyone's house during the holidays because friends knew we would be bringing a plate full of delicious holiday treats we made from The Hershey Company!
So now, I'm passing that tradition on to my own children. One of my favorite treats as a kid were Hershey's Kisses Peanut Butter Cookies….I don't know what was more fun….making them or devouring them!
We still make them for family but this year I decided to try something new and it's a total hit.
Taking the same basic idea behind the Hershey's Kiss Sugar Cookies I decided to make Hershey's Kisses Blondies….you know….changing with the times.
That's the great thing about Hershey's products…they are so easily adaptable….and now with the new flavors you can play and experiment in the kitchen. Well these Hershey's Kisses Blondie Bites are THE BOMB!!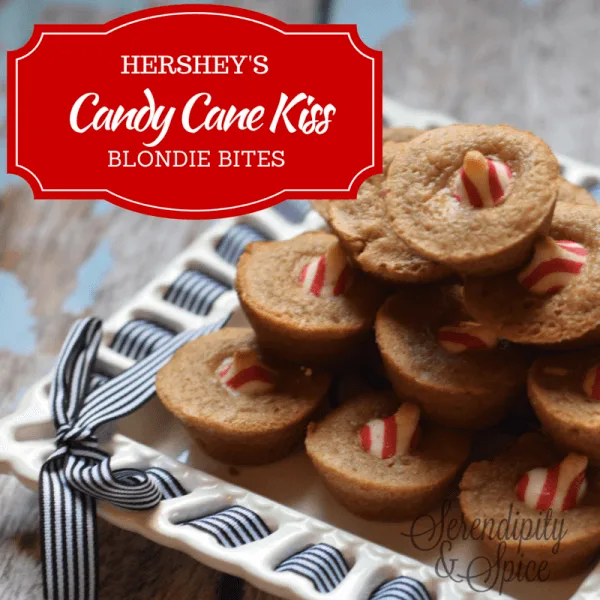 So we LOVE blondies in our house. They're basically like vanilla brownies….so yummy and something just a little bit different for when we go to parties and bake sales. I always like mixing things up a little bit!
Anyway, these are so SUPER easy to make! You just need 6 ingredients which I'm sure you probably already have on hand in your pantry. Watch this quick video and see how easy they are:
I challenge you to get in the kitchen with your kids and make some fun holiday memories with Hershey's! There's so many simple recipes you can make and bask in the holiday spirit!
Ready for this Hershey's Kiss Blondies recipe?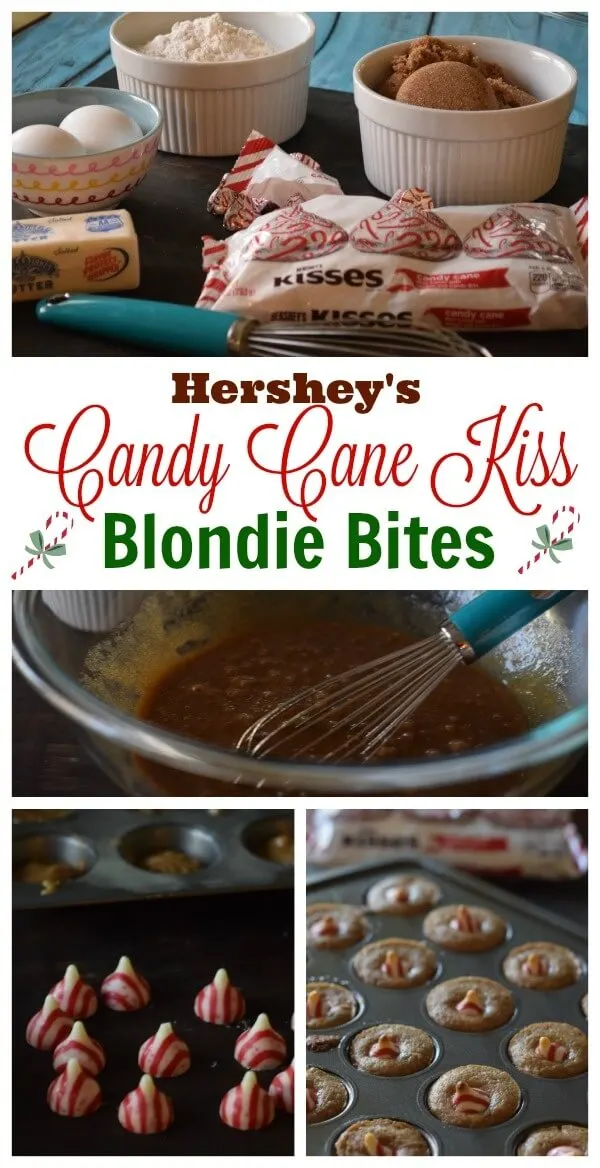 Hershey's Kisses Candy Cane Mint Chocolates Blondie Bites Recipe
Hershey's Candy Cane Kiss Blondie Bites Recipe
Author:
Prep time:
Cook time:
Total time:
Ingredients
1/2 Cup (1 Stick) Melted Butter
1 1/2 Cups Brown Sugar
1 TBS Vanilla Extract
1 1/2 Cups Flour
24 Hershey's Kisses Candy Cane Mint Chocolates
Instructions
Preheat oven to 350 degrees.
Melt the butter.
Mix in brown sugar.
Add in the vanilla extract.
Slowly mix in flour until blended.
Pour into greased mini muffin pans.
Top with Hershey's Kisses Candy Cane Mint candies.
Bake at 350 degrees for 10 minutes or until done. (Test doneness by inserting a toothpick- if it comes out clean they are done).
What's your favorite holiday treat to make? Share in the comments below!