This creamy baked corn casserole recipe is a staple at Thanksgiving dinner! Everyone always asks for seconds when we show up with this recipe. It's simple to make and packed full of flavor!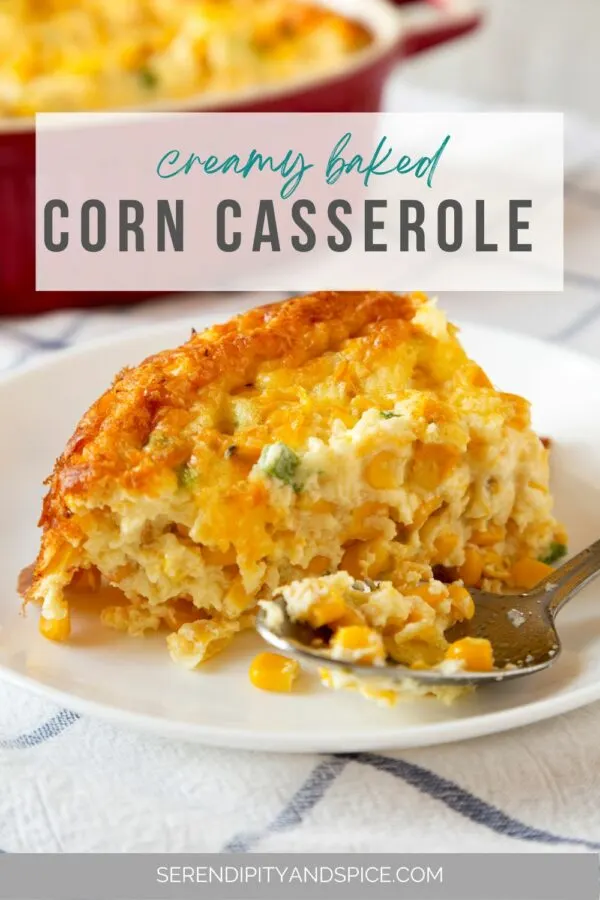 Cheesy Corn Casserole Recipe
The BEST side dish for Thanksgiving dinner!
Every year Thanksgiving is a HUGE production at my grandma's house! There's enough food to feed the entire neighborhood and their families….to say my mom and grandma go overboard is a bit of an understatement.
I remember as a kid, we would have about 30 people come through my grandma's house for Thanksgiving. All my Aunts and Uncles would be there, cousins would stop by to mingle and have a plate or two, neighbors would drop by, etc.
We always had ham, turkey, stuffing, potatoes, deviled eggs, butter peas, sweet potato casserole, green beans, black eyed peas, squash, potato salad, and this delicious corn casserole. Not to mention all of the yummy desserts for afterwards!
When grandma made this southern creamy baked corn casserole she did not add the cheese but Hubs' LOVES cheese and we decided why not add some Sargento Shredded Cheese to top it off. I chose to add some cheddar jack because I knew it would add a ton of flavor….cheddar jack is my go to casserole cheese because it makes everything even more delicious.
Well, let me tell you…adding some delicious shredded cheese to my grandma's made it even more incredible.
Now, I know what you're thinking……cheese on corn?! Um, YES…..it is AWESOME! You have to give it a try just once and you'll be hooked!
Anyway, this creamy corn casserole recipe is not just for Thanksgiving. I make it throughout the year as well because it's a simple dish that I can easily throw together….in fact….sometimes I add some cooked chicken so that it's a one dish meal during the week.
Whenever I make this corn casserole recipe we rarely have any leftovers….but when we do they heat up even better the next day!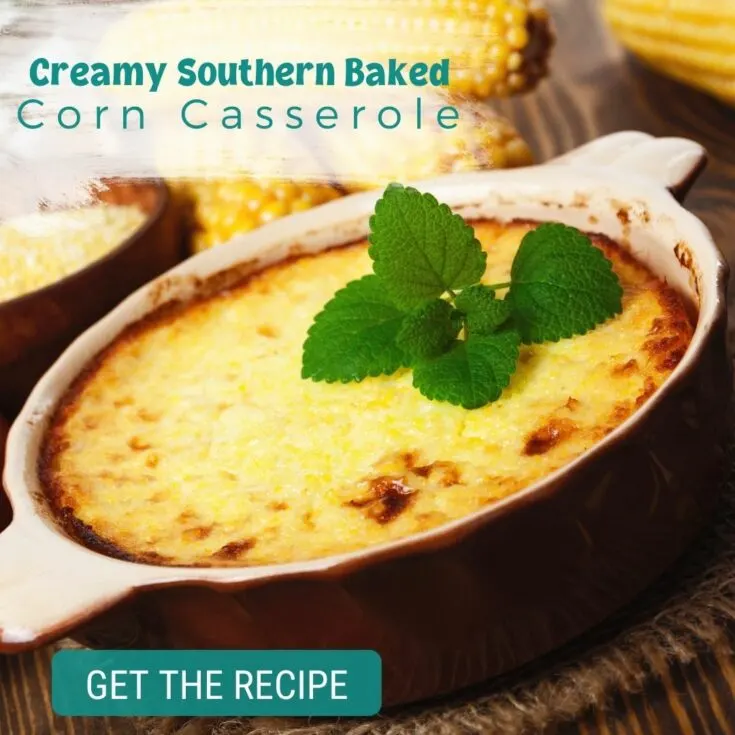 Yield:

6
Southern Creamy Baked Corn Casserole
Additional Time:
10 minutes
Total Time:
1 hour
5 minutes
This southern creamy baked corn casserole recipe is a staple at Thanksgiving dinner. It's the perfect blend of sweet and savory!
Ingredients
1 15oz Can Cream Style Golden Corn
1 15oz Can White Corn
1 Box of Corn Muffin Mix
1 8oz Container of Sour Cream
2 TBS Melted Butter
8 oz Sargento Natural Cheddar Jack Shredded Cheese
Instructions
Preheat oven to 350 degrees.
Spray a 9x12 casserole dish with non-stick cooking spray.
Mix together butter, sour cream, and corn muffin mix.
Add cream style corn to mixture.
Drain white corn completely and add to mixture.
Pour ingredients into casserole dish and bake at 350 degrees for 45 minutes.
Sprinkle Sargento Natural Cheddar Jack Shredded Cheese on top of casserole.
Return to oven and bake for additional 10 minutes or until cheese is completely melted.
Notes
Spice this dish up by adding sliced jalapenos to the mix.