This Strawberry S'more Parfait with Homemade Chocolate Pudding Recipe is so delicious and simple to make. What goes better than chocolate and strawberries? Strawberries, cream, and homemade chocolate pudding!

Strawberry S'more Parfait with Homemade Chocolate Pudding Recipe
A Simple and Delicious Dessert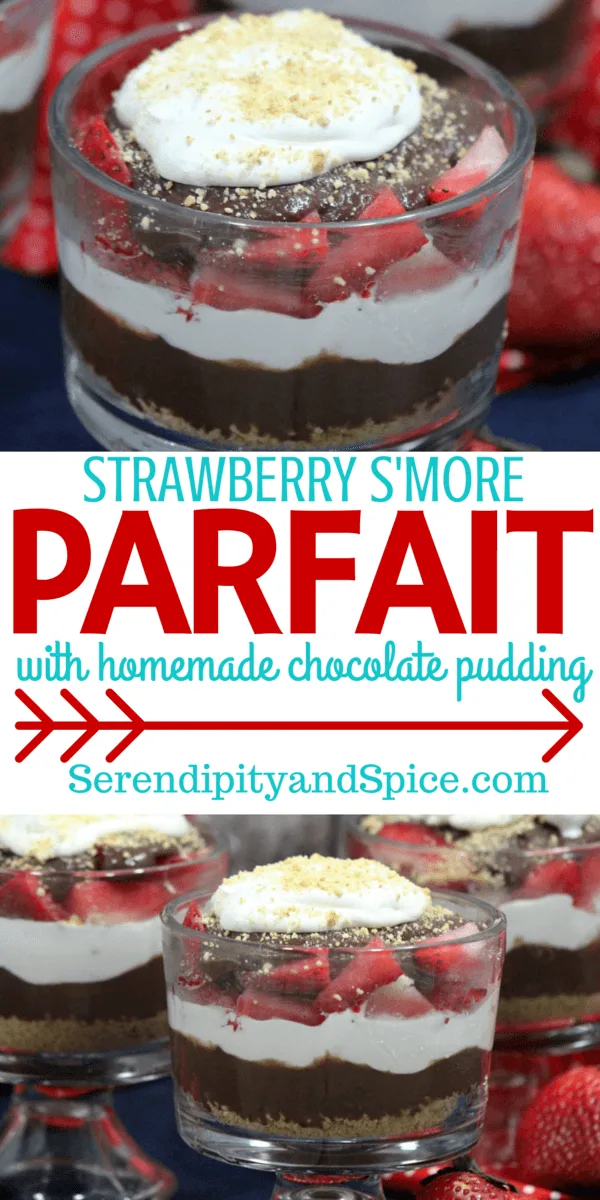 I can't believe it's already Valentine's! I feel like Christmas was just last week– this year is just flying by! So I was listening to the radio this morning taking Little Man to preschool and the DJs were talking about WHY time seems to go faster the older we get….and it makes a lot of sense.
Apparently some college did a study and found that the reason children experience time differently than adults is because everything they experience is new and they are in awe. As adults we don't experience as much new stuff and are basically on auto-pilot all of the time.
Another study said adults experience time as a much shorter duration because it's a smaller percentage of our life so far. So, a year in a 4 year old's life is 25% of their life so it seems sooooooooo long….where as a year in 20 year old's life is just 5% and it just gets smaller from there.
What do you think?
Anyway, on to the deliciousness you're here for…..this Strawberry S'mores Parfait with Homemade Chocolate Pudding is a perfect Valentine treat. Well, let's be honest….it's the perfect ANYTIME treat! The homemade chocolate pudding recipe is AMAZING! You've got to try it– and it's a super easy recipe…perfect for dessert!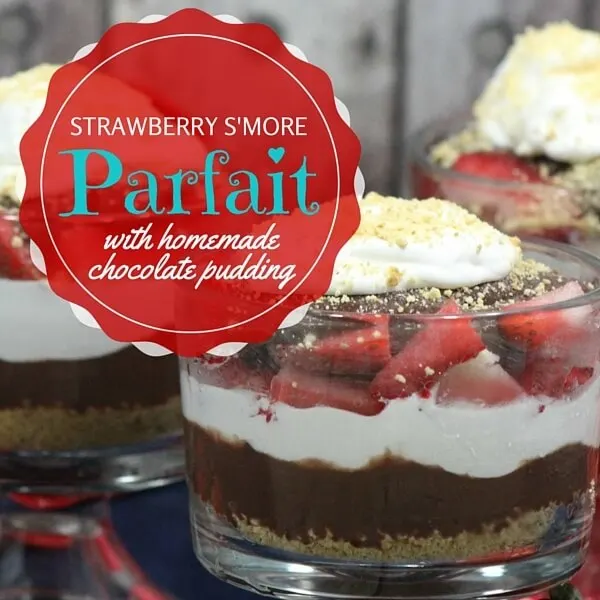 Strawberry S'more Parfait with Homemade Chocolate Pudding
Strawberry Smore Parfait with Homemade Chocolate Pudding
Author:
Ingredients
Graham cracker:
16 graham crackers, finely crushed (2 cups)
Chocolate Pudding:
2/3 C sugar
1/4 cup Powdered Cocoa
3 TBSP cornstarch
1/4 tsp salt
2 1/4 C whole milk, room temp
2 TBSP unsalted butter, room temp
1 tsp vanilla
Marshmallow Cream:
1 egg white, room temp
3/4 C light corn syrup
1/4 tsp salt
3/4 C powdered sugar
2 1/4 tsp vanilla
Strawberry:
1 basket of fresh strawberries, hulled and sliced
Whipping cream:
1 cup heavy cream
3 tablespoons powdered sugar
2 Tbsp sugar
1/2 tsp vanilla
Instructions
Chocolate Pudding:
Add sugar, cocoa, cornstarch and salt in a saucepan.
Stir to mix ingredients
Slowly stir in milk.
Continue to cook on medium heat, stirring constantly, until mixture boils.
Allow to continue to boil, stirring for 1 minute.
Remove from heat; add in butter and vanilla.
Place cling wrap on top of the pudding to eliminate skin from forming on the top
Marshmallow Cream:
Using an electric mixer beat egg white, corn syrup, and salt on high speed for 5 minutes or until mixture is thick and doubled in volume.
Lower the speed to low, beating in powdered sugar until combined.
Add vanilla beating just until incorporated.
Store in the refrigerator for up to 2 weeks.
Whipping Cream:
Add all ingredients in a chilled bowl.
Beat on medium speed with an electric mixer until the cream holds soft peaks.
Building the parfait:
Bottom layer: Spoon crushed graham crackers just enough to lightly cover the the bottom of the parfait dish.
Second layer: A thick layer of chocolate pudding
Third layer: A thinner layer of marshmallow cream.
Fourth layer: Freshly sliced strawberries
Fifth layer: A layer of chocolate pudding
Sixth layer: A large scoop of whipping cream
Topping: Sprinkle of crushed graham crackers
Other delicious recipes to try:
Copy Cat Tagalongs Girl Scout Cookies
5 Minute Gingerbread Mousse Recipe
Follow my "Just Sweets" board for more delicious treats!
Follow Melissa @Serendipity and Spice's board Just Sweets on Pinterest.