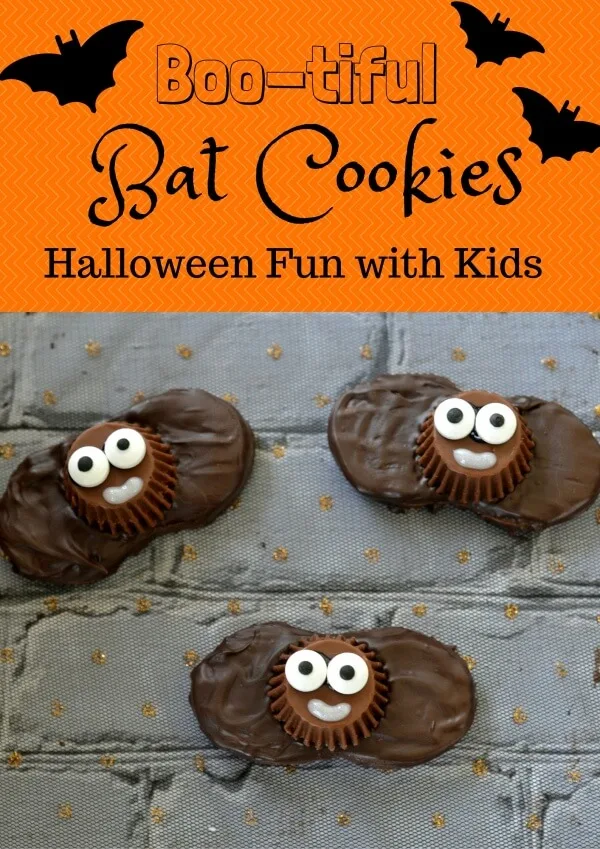 How to Make Boo-tiful Bat Halloween Cookies
Fun Halloween Treats to Make with the Kids
Now that Little Man is in preschool we have hit the age where it's just so much fun to get into the kitchen and make delicious treats. The joy that he exudes when making and sharing fun holiday goodies with friends and family is priceless. I like to keep what we're doing in the kitchen simple so that he doesn't get frustrated but challenging enough so that he stays engaged and excited.
These Boo-tiful Bat Cookies are the perfect treat to make for Halloween. You simply take a few store bought ingredients and combine them to make the bats. They are great for taking to parties and playdates– they are always a hit with the kids and parents too!
Ingredients & Supplies:
Dark brown candy melts (I like to use Wilton Candy Melts because it melts beautifully and coats smoothly)
Double Boiler
Nutter Butter cookies
Miniature Reeses Peanut Butter Cups
White Decorating Gel
Parchment Paper
Instructions:
Melt the brown candy melts according to package instructions. I like to use this silicone double boiler because it doesn't get too hot if little fingers accidentally touch it.
Prepare your area by placing a sheet of parchment paper on your counter. Parchment paper is vital as it makes sure the cookies won't stick!
Unwrap the Reese's Cups. This is a great job to keep little fingers busy while you melt the chocolate!
Using the decorating gel, place a dot on the back of the candy eyes.
Attach two candy eyes to the Reese's Cup. Set aside.
Dip the cookies into the brown candy melts and evenly coat. I let Little Man dip the cookies using these tongs so he doesn't burn his fingers or make a crazy mess….you don't want the chocolate to be too hot or else it will scorch…just melted. This is a great fine motor skill action for young kids!
Lay the covered Nutter Butter cookie on the parchment paper.
Working quickly, place the Reese's Cup on the middle of the cookie before the candy hardens.
Add a smile using the decorating gel.
Let sit and the candy to harden.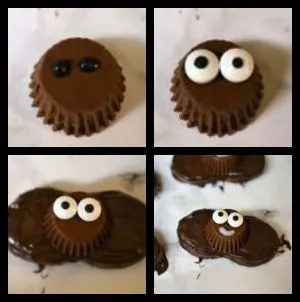 So there you go…a simple and fun Halloween treat to make with the kids! Tomorrow I'm going to share with you some Spooky Ghost Cookies that are just as easy!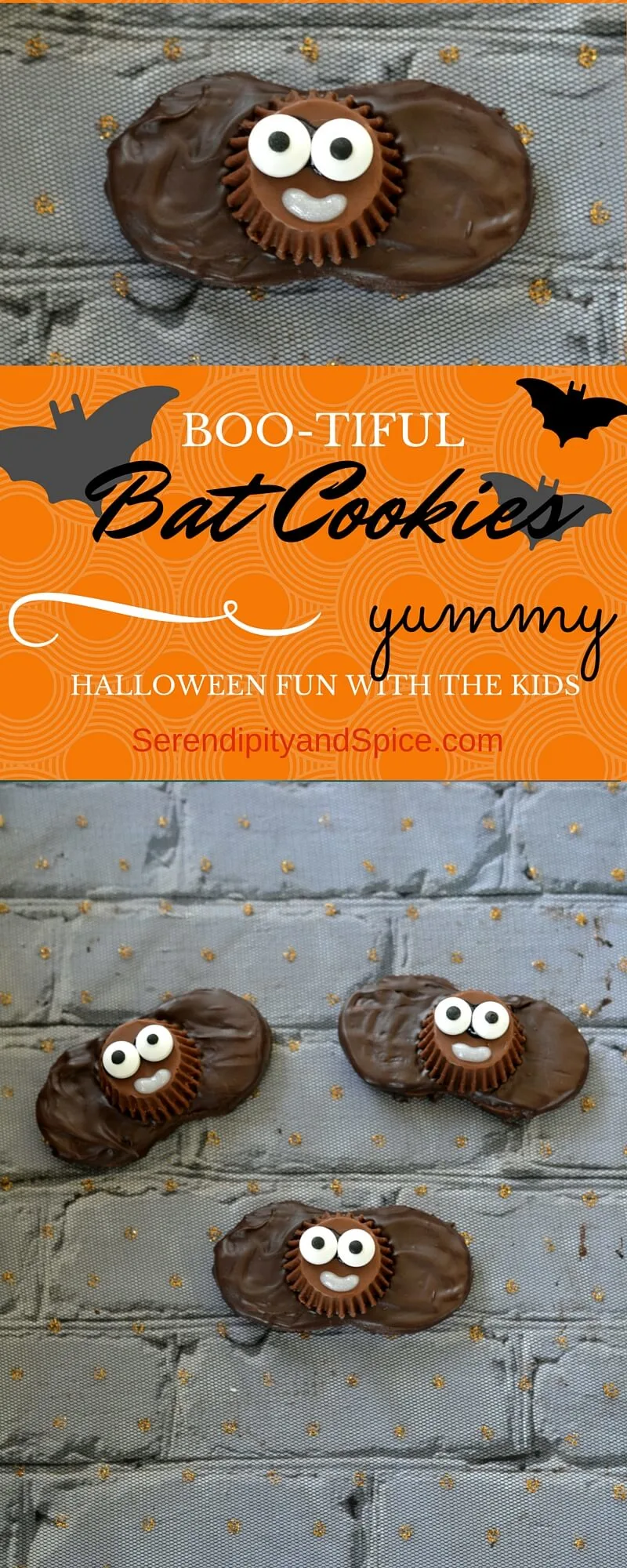 You May Also Like:
The BEST No Carve Pumpkin Ideas
Toddler Halloween Door Decor Craft
Simple Pumpkin Craft for Toddlers