Looking for a delicious snack using Chiquita bananas? Well these Loaded Banana Boats are sweet, salty, and oh so yummy– the kids LOVE them!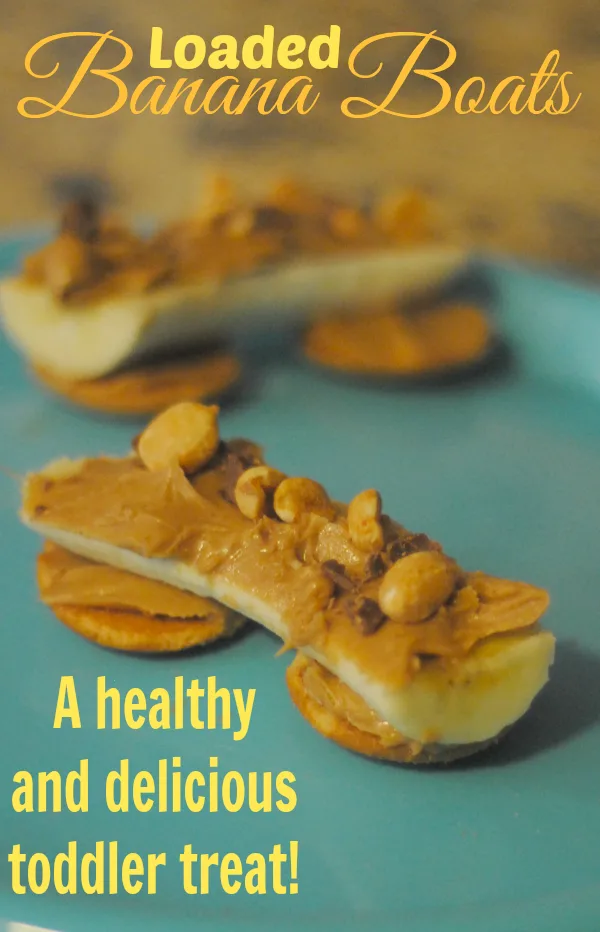 Loaded Banana Boats
A Delicious and Healthy Recipe for Toddlers!
So I'm always trying to find new recipes for Little Man and Miss Jellybean….it seems like what they like one day they don't like the following week…so I have to keep changing things up! If you're a parent of a toddler then you probably recognize the instant switch from LOVING a food one day to the complete and total meltdown when you try to feed them the same food a few days later "no, no, no, no, no, NOOOOOOOO!" and the crying, kicking, and screaming commences!
Oh what fun it is to be the mom of a 4 year old and 1 year old!
Part of the problem is trying to make "healthy" stuff look like junk food….because they recognize immediately anything that's junk food. It must be something just innately in us that recognizes junk food. I mean it's like they instinctively know that if it comes in a crinkling cellophane bag then it's got to be good!
There's stuff that Little Man grabs and demands to have even though he's never tasted it before in his life….hence the Twinkie incident. Yep, those delicious little treats that supposedly went extinct a few years ago….they're back! I received a box in the mail the other day and Little Man looked at his sandwich (that he usually LOVES) and then looked at the little cellophane bag holding the Twinkies….well, you can imagine what happened next! The sandwich was tossed on the floor and he grabbed the Twinkie bag yelling "I want THIS!!!!". Um, "HELLO….Twinkies didn't exist when you were born so how do you know they don't taste like poop?!"
So I'm on a new mission to make healthy food look devilish….and boy did this work. Now, the trick is that you have to pretend that you're preparing the food for yourself and that they can't have any….that makes them want it even more! 😉
These banana boats were super simple to make and one banana actually makes enough for 2-3 children– depending on how hungry the kids are. This recipe made enough for Little Man and Miss Jellybean to share. 😉 So if you're looking for a healthy recipe for toddlers check this out:
Loaded Banana Boats Recipe for Toddlers
Author:
Prep time:
Total time:
A delicious toddler treat….it's healthy and tasty!
Ingredients
1 Banana
2 TBS Peanut Butter
1/8 cup crushed peanuts
1 TBS Chocolate bar shavings
8 Vanilla Wafers
Instructions
Slice the banana in half lengthwise and again into quarters.
Spread peanut butter on Vanilla Wafers and place banana on top.
Spread peanut butter on top of banana.
Sprinkle top of banana with peanuts and chocolate shavings.
Feel free to mix up your toppings with other delicious treats like raisins, dried cranberries, mini marshmallows, etc. Make it fun!
Have fun with this recipe….add whatever toppings your Little One enjoys….or better yet…get them involved in helping make these delicious toddler treats!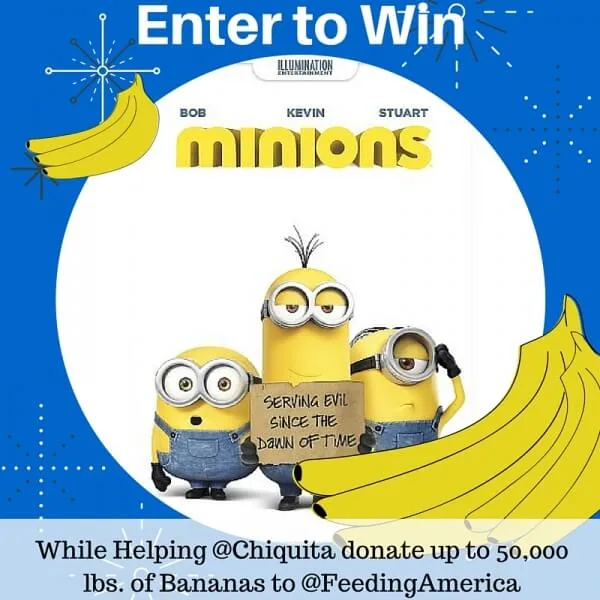 Now, for some fun! Chiquita Bananas reached out to partner with an AWESOME giveaway for you guys! Who loves the minions– yeah, they remind me a lot of my own kids– always getting into stuff and whatnot. Well, Chiquita Bananas has partnered with Feeding America to donate up to 50,000 pounds of bananas in the Banana's for Likes campaign– that's a LOT of bananas!
So, how can you help Chiquita donate a TON of bananas to @FeedingAmerica? There's several ways:
Alrighty….so what about the Minions DVD giveaway? Well, I'm giving away the NEW Minions DVD to 5 lucky readers! Just enter the giveaway through the Rafflecopter form below.
What food has your toddler gone nuts over one day and despised the next?