The 25 MUST HAVE Christmas Cookie Supplies to make holiday baking a breeze! Christmas is the most popular time to make cookies to share so make sure you're prepared with these MUST HAVE Christmas Cookie Supplies!

MUST HAVE Christmas Cookie Supplies
Make Your Christmas Cookie Baking a Breeze with These Christmas Cookie Supplies!
Okay, so if you can't tell….I LOVE making Christmas cookies! I mean I've been sharing a TON of cookie recipes with you…don't worry…I'm going to make it easy and create a round up post tomorrow of all the decadent cookie recipes!
Anyway, with all of this cookie baking I realized there a few MUST HAVE Christmas Cookie Supplies that makes baking so much easier. So if you're ready to go on a Christmas cookie baking spree like me then you'll want to pick up some of these handy supplies as well!
The TOP 25 MUST HAVE Christmas Cookie Supplies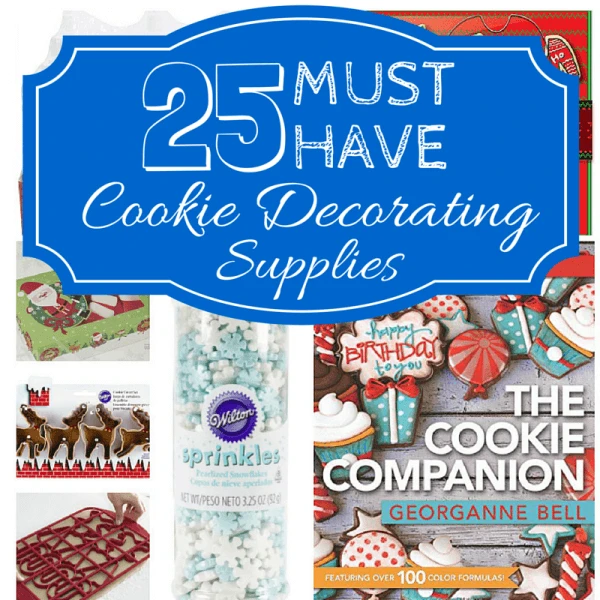 For starters you can't make Christmas Cookies without some adorable Christmas Cookie Cutters! Whether you like traditional shapes, ornately decorated shapes, or fun contemporary shapes– there's a cookie cutter for every style!
Fox Run Brands Ugly Sweater Cookie Cutter Set
National Lampoon's Christmas Vacation Plastic Moose Cookie Cutter
Wilton Penguin/Reindeer Comfort Grip Cookie Cutter
Fox Run 17 Piece Nativity Cookie Cutter Bake Set
Wilton Comfort Grip Candy Cane
Wilton Disney Frozen 2-Piece Olaf Cookie Cutter Set
Wilton Gingerbread Boy Comfort Grip Cookie Cutter
Wilton 3-Piece Christmas Cookie Cutter Set
Wilton 2-Piece Christmas Melted Snowman Metal Cookie Cutter Set
Wilton 2-Piece Christmas Santa Face Cookie Cutter Set
Wilton 4-Piece Christmas Reindeer Metal Cookie Cutter Set
Now, I don't know about you….but when I bake Christmas cookies I need to be fully submerged in the Christmas season. Yep, I need my surroundings to look like I stepped into Mrs. Claus' Kitchen! Therefore I get all of my baking needs in a Christmas theme!
My #1 MUST HAVE is this reminder that "Christmas Calories Don't Count!"
Little Man loves making Christmas cookies with these little cookie stampers…..I even buy extra to go in his play-doh bin because they're perfect for making cute cookies that are easy for little hands!
Classic Holiday Cookie Stamper Set
If Pinterest doesn't provide enough inspiration or details then pick up a few cookie decorating cookbooks. These are 2 of my favorites…and they make great gifts!
The Cookie Companion: A Decorator's Guide
Cookie Craft Christmas: Dozens of Decorating Ideas for a Sweet Holiday
My favorite non-stick baking mat! These are so much better than using parchment paper because you can use them over and over again!
Artisan Non-Stick Silicone Baking Mat – 2 Pack
A cooling rack is a MUST when you're making a lot of cookies!
Baker's Secret 10-by-16-Inch Nonstick Cooling Rack, Set of 2
Wilton Excelle Elite 3-Tier Cooling Rack
Make sure you get plenty of fun decorations….this is Little Man's FAVORITE part of baking cookies….the fun of decorating. I like to have several different sprinkle sets to add a bit of variety to the cookies…plus, it keeps Little Man focused and he doesn't get bored!
Wilton Christmas Cookie Icing 3-Pack: Red, Green & White
Wilton 4-Pack Holiday Mega Sprinkle Set
Wilton 6 Color Christmas Sprinkle Mix
Wilton Sprinkles Pearlized Snowflakes Sprinkles
Wilton Sprinkles Peppermint Crunch
Wilton Sprinkles Christmas Tree Mix
AmeriColor Student Soft Gel Paste Food Color, 0.75 Ounce, 12 Pack Kit
Wilton Holiday Sprinkle Sugars Mix
Fox Run Set of 3 Icing Bottles
In addition to decorations make sure you get some decorating pens…these are perfect for drawing on faces and doing more intricate details!
Bakerpan Food Coloring Markers, Fine Tip, Black, Set of 3
Gourmet Writer Food Decorator Pens, Assorted Colors, Set of 10
And, of course, you need the packaging to share your cookies with friends and family! I love getting fun holiday boxes and bags to make cookie sharing even more festive!
Wilton 4-Pack Sharing Cookie Tray Kit
Creative Converting Cookie Box with Carry Handle, Snowman, 4 Boxes
Wilton 2-Pack Sharing Cookie Box, Large
Wilton 3 Count Christmas Holiday Sweet Swap Treat Boxes with Handles
Dozen Gingerbread Cardboard Treat Boxes
Wilton 3-Pack Merry and Sweet Medium Cookie Box
Okay, so I definitely went over the 25 item mark…but what can I say….I LOVE making Christmas cookies!
What's your MUST HAVE Christmas Cookie Supply? Share in the comments below!
You May Also Like:
Mickey Mouse Snowman Sugar Cookie Recipe
Peppermint Crunch Chocolate Chunk Cookies Recipe
Cranberry Upside Down Cake Recipe