This Cranberry Upside Down Cake recipe makes a festive treat for the holiday season.  It's so simple to make and there's never any leftovers!  You know you want to make this cranberry upside down cake recipe for your next holiday get together!
Cranberry Upside Down Cake Recipe
A Delicious Holiday Dessert Recipe
Isn't is funny how particular foods just come to represent certain holidays.  I mean, pumpkin is totally Halloween, stuffing and turkey are Thanksgiving, and Christmas is represented by peppermint and cranberries…although not together.
Anyway, this Cranberry Upside Down Cake Recipe is a fun and unique twist on the typical pineapple upside down cake.  The cranberries give a delicious sweet yet tart combination and look so festive.  This is a great cake for holiday parties and is so crazy simple to make!
You know how Little Man loves getting in the kitchen and helping me out…well, this cake is perfect for cooking with kids.  He totally gets into all of the measuring and scooping the ingredients…it's so cute!  And he ALWAYS insists on wearing his chef hat and apron…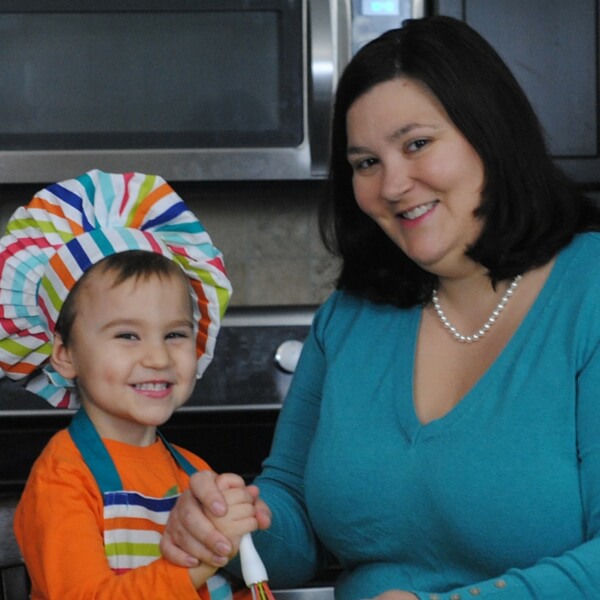 Oh and you're going to LOVE how moist thisCranberry Upside Down Cake is….the secret is using the Greek yogurt….oh, it's so delicious!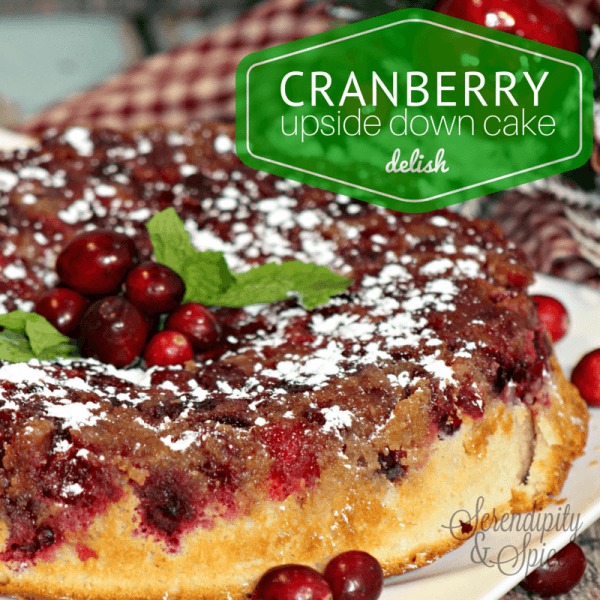 Cranberry Upside Down Cake Recipe
Cranberry Upside Down Cake Recipe
Ingredients
Cranberry Topping:
¾ cup firmly packed brown sugar
¼ C of unsalted butter
1 bag of fresh cranberries
Cake:
1¾ C flour
2 tsp baking powder
½ tsp salt
½ tsp ground ginger
¼ tsp cinnamon
Pinch ground cloves
1½ C sugar
½ C unsalted butter, room temp
3 eggs, room temp
½ C Greek yogurt
¼ C whole milk
Pam baking spray
9-inch cake pan with a 2-inch high sides.
Instructions
Topping Directions:
Preheat oven to 350 degrees. Prep cake pan with Pam spray.
Combine the butter and brown sugar into a small sauce pan.
Using medium heat, continue to stir the sugar as the butter melts. Mix well.
Stop stirring once the butter and brown sugar have blended.
Allow the mixture simmer for around 15 seconds.
Spoon that mixture into the cake pan.
Spread the cranberries on top of the mixture.
Cake Directions:
Whisk the flour, baking powder, salt, cinnamon, ginger, and cloves.
Use an electric mixer beat the butter until light in another bowl.
Slowly add in the sugar, beating the sugar and butter until fluffy.
Beat in the eggs one at a time.
Gradually mix in a third of the dry ingredients into the sugar, butter and egg mixture.
Mix in half of the yogurt. Fold in the second third of the dry ingredients. Add in the rest of the yogurt.
Scoop in the rest of the dry ingredients and then pour in the milk, mixing well to blend.
Spoon the batter over the cranberries in the cake pan, and using a spatula smooth the surface of the batter.
Bake at 350 degrees for 55 minutes or until a toothpick comes out clean.
Place the cake on a wire rack to cool for 10 minutes.
Using a knife around the inside rim of the cake pan to loosen the cake from the sides of the pan.
Place a cake over the cake side of the pan. Flip it over and carefully move it onto a cake platter.
What's your favorite cake during the holidays? Share in the comments below!
You May Also Like:
Pineapple Coconut Macaroon Cake – Easy Recipe
Ferrero Rocher Chocolate Cupcake Recipe
Chai Latte Snickerdoodle Cookies
Peppermint Kiss Blondie Bites Recipe
Bourbon Glazed Peppermint Cookie Recipe

Thrive Market
- It's like the Costco of organics...this is where I get all of my sugar, flour, baking supplies, kids snacks, etc.
Zaycon Foods
- This is where I buy most of my meat products in bulk.  The quality is amazing and the prices just can't be beat!  I mean, $1.89 a pound for boneless all-natural chicken breasts!!  It is bulk but you can always split with a friend or make up a bunch of freezer meals like I do!