Looking for a classic deviled egg salad recipe the whole family will love? Using eggs, mayo, Dijon mustard, Vidalia onions, and dill pickles…you'll love this super simple deviled egg salad recipe.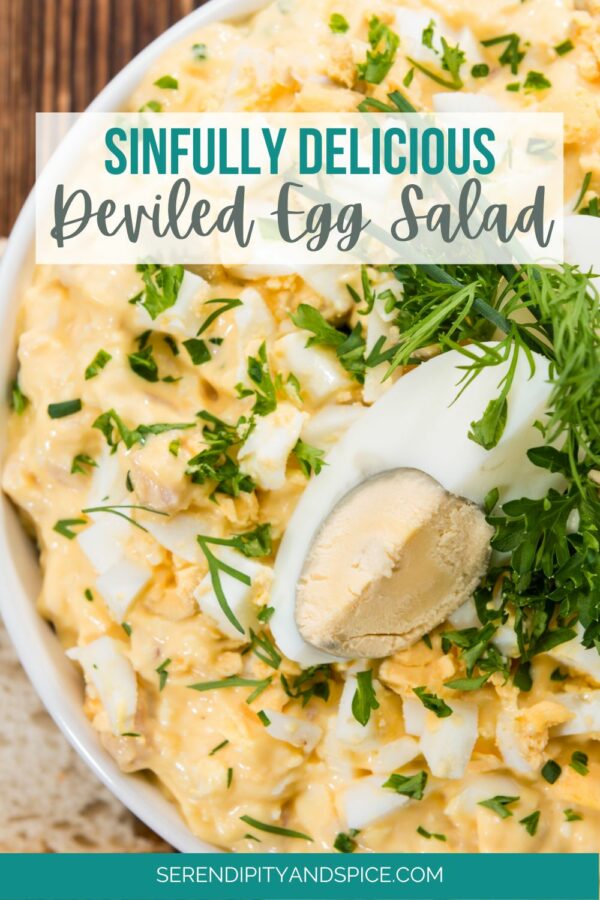 This deviled egg salad recipe is sinfully delicious and perfect for hot summer days! Make this deviled egg salad recipe for sandwiches or spread on crackers for a protein packed snack.
When I was younger, as soon as school let out for the Summer I would head to Florida and spend several weeks with my Nana and Grandaddy.
My Nana would spoil me rotten during my weeks there. Upon arrival there were always freshly made cupcakes (vanilla and chocolate) waiting for me.
We would go to the pool everyday.
She would cook my favorite meals.
And every year we always went out on the lake several times. Whenever we would go boating on the lake she would always make deviled egg salad sandwiches in the cooler.
This deviled egg salad recipe is simple to make…I usually have the kids help out…they love peeling the boiled eggs.
How to easily peel hard boiled eggs? Place eggs in a pot and fill with room temperature water. Make sure you add enough water to cover the eggs completely. Place the pot on a stove burner and bring the water to a boil. Once boiling, set a timer for 8 minutes. Let the eggs boil for 8 minutes and then remove from heat. Drain hot water from pot. Rinse eggs with cool water and peel while still warm. The egg shells will peel right off without tearing up your egg whites.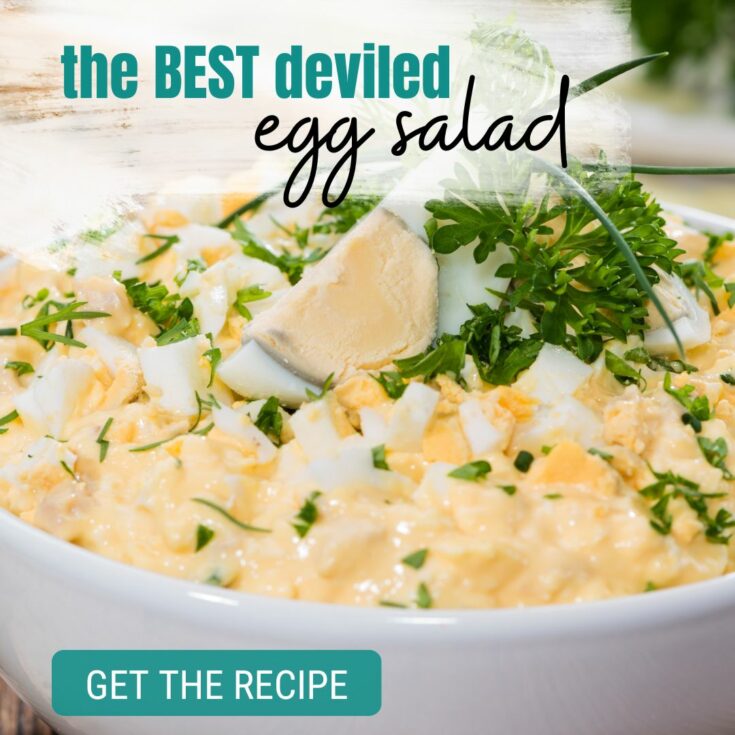 Yield:

4
Deviled Egg Salad
This sinfully delicious deviled egg salad recipe uses just a few ingredients and is ready in under 15 minutes.
Ingredients
Ingredients:
6 hard boiled eggs
1/4 Cup Mayo
2 TBS Dijon Mustard
1/8 Cup Vidalia Onion- minced very small
4 Dill Pickle Slices- minced very small
1/2 tsp garlic powder
Salt, Pepper, and Paprika as desired for your taste.
Instructions
Boil and peel your eggs.

Cut eggs in half.

Scoop out egg yolks into a small bowl.

Place egg whites in another bowl.

Dice egg whites.

Mash up egg yolks.

Add mayo, mustard, onion, pickles, and garlic powder to egg yolks and mix well. Add more mayo if you prefer a creamier consistency.

Mix together egg yolk mixture and egg whites.

Add salt, pepper, and paprika as desired.

Refrigerate and serve cold.
Recommended Products
As an Amazon Associate and member of other affiliate programs, I earn from qualifying purchases.