Looking for a crowd-pleasing appetizer that requires minimal effort but delivers maximum flavor? Look no further!
This Slow Cooker Spinach Artichoke Dip Recipe is the perfect solution for your next gathering or game day party. With creamy, cheesy goodness combined with nutritious spinach and artichokes, this dip is sure to be a hit with your guests.
Get ready to wow your friends and family with this simple and delicious appetizer that will leave them asking for more.
Table of Contents
Why Slow Cooker Spinach Artichoke Dip?
I love that this dip is made in the crock pot instead of the oven….nothing's worse during the hot summer months than heating up the kitchen cooking….but spinach artichoke dip is my go to when we have company…it's always a crowd pleaser!
Using a slow cooker for this recipe has several advantages. It saves you time and effort in the kitchen. The slow cooker does all the work for you, allowing you to focus on other party preparations. Slow cooking allows the flavors to meld together, resulting in a rich and satisfying dip. Since everything is just tossed in, clean up is a breeze!
What to Serve with this Spinach Artichoke Dip
This Slow Cooker Spinach Artichoke Dip pairs wonderfully with an array of dippers that complement its creamy and cheesy texture. Here are some delicious options to serve alongside the dip:
Tortilla Chips:

Classic and crunchy, tortilla chips are a popular choice for dipping into the rich spinach artichoke dip.

Pita Wedges:

Toasted or fresh pita wedges offer a slightly thicker and more substantial option for scooping up the dip.

Sliced Baguette:

Thinly sliced and toasted baguette slices provide a delightful contrast to the creamy dip.

Vegetable Sticks:

Offer an assortment of raw vegetable sticks like carrots, celery, bell peppers, and cucumber for a healthier and refreshing option.

Crackers:

Choose an assortment of crackers, such as whole wheat, multigrain, or flavored varieties, to add a different texture and taste to the dip.

Pretzel Bites:

Soft pretzel bites or pretzel sticks can be a fun and unique way to enjoy the dip.

Toasted Pita Chips:

Store-bought or homemade toasted pita chips add a delightful crunch to the creamy dip.

Breadsticks:

Long, thin breadsticks provide an elegant and easy-to-handle option for dipping.

Taro Chips:

For a more exotic choice, try taro chips, which offer a slightly nutty flavor that pairs well with the dip.

Cauliflower Florets:

Roasted or raw cauliflower florets add a healthy twist and a lovely mild flavor to the mix.
Slow Cooker Spinach Artichoke Dip Recipe FAQs
Can I use fresh spinach instead of frozen?
Yes, you can use fresh spinach instead of frozen. Just make sure to blanch and chop the fresh spinach before adding it to the recipe.
Can I substitute the mayonnaise and sour cream with Greek yogurt?
Yes, you can substitute mayonnaise and sour cream with an equal amount of Greek yogurt for a healthier twist. The dip might have a slightly tangier flavor, but it will still be delicious.
Can I make this dip ahead of time and reheat it later?
Absolutely! This dip can be made ahead of time. After cooking, let it cool completely, then store it in an airtight container in the refrigerator. When you're ready to serve, reheat it in the slow cooker on the low or warm setting, stirring occasionally until heated through.
How long can I keep the leftover dip?
Leftover dip can be refrigerated in an airtight container for up to 3-4 days. Make sure to reheat it thoroughly before serving.
Can I freeze the spinach artichoke dip?
Yes, you can freeze the dip for up to 2-3 months. Allow it to cool completely, transfer it to a freezer-safe container, and label it with the date. To reheat, thaw it in the refrigerator overnight and then warm it up in the slow cooker or microwave.
What can I use if I don't have a slow cooker?
If you don't have a slow cooker, you can bake the dip in an oven-safe dish at 350°F (175°C) for about 25-30 minutes or until it's heated through and bubbly.
Can I add other ingredients to customize the dip?
Absolutely! Feel free to add your favorite ingredients to customize the dip. Some popular additions include chopped artichoke hearts, diced water chestnuts for extra crunch, or a dash of hot sauce for a spicier kick.
Is this dip suitable for a vegetarian diet?
Yes, this Spinach Artichoke Dip is vegetarian-friendly, as it does not contain any meat or animal-derived products.
Can I use different types of cheese in this recipe?
Absolutely! While mozzarella and Parmesan cheeses are commonly used, you can experiment with other types of cheeses like cheddar, Gouda, or Monterey Jack for unique flavor variations.
Printable Slow Cooker Spinach Artichoke Dip Recipe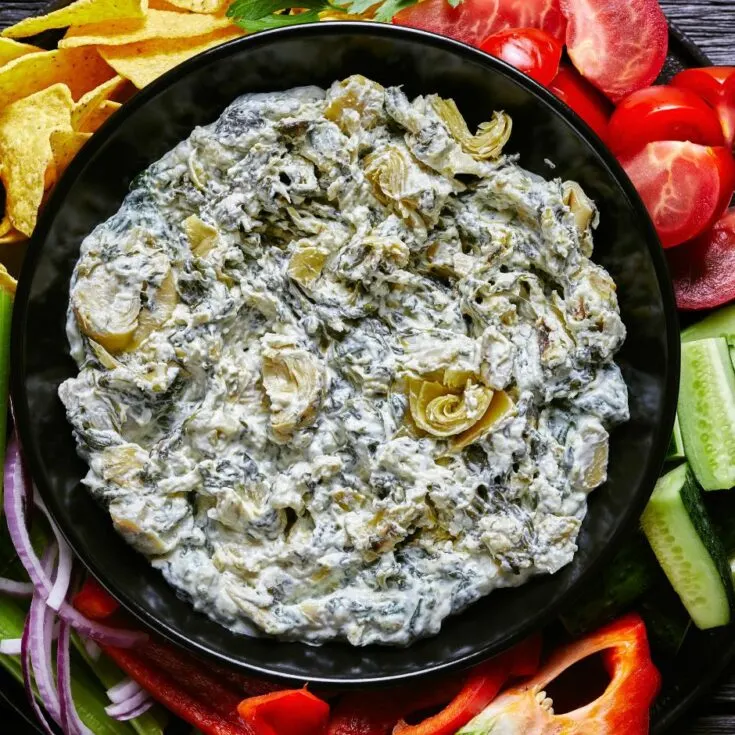 Yield:

6
Slow Cooker Spinach Artichoke Dip
Total Time:
2 hours
5 minutes
Looking for an easy and crowd-pleasing appetizer? Try our Slow Cooker Spinach Artichoke Dip Recipe! Creamy, cheesy, and packed with nutritious spinach and artichokes, this delicious dip is a hit at any gathering. Save time with the slow cooker method, and impress your guests with this flavorful and satisfying party favorite. Get the recipe now!
Ingredients
1 cup frozen chopped spinach, thawed, and excess water squeezed out
1 cup canned artichoke hearts, drained, and finely chopped
1 cup mayonnaise
1 cup sour cream
1 cup shredded mozzarella cheese
1/2 cup grated Parmesan cheese
1 teaspoon minced garlic
1/2 teaspoon onion powder
1/4 teaspoon crushed red pepper flakes (optional)
Salt and pepper to taste
Instructions
Prepare your slow cooker by greasing the inside to prevent sticking.
In a large mixing bowl, combine the thawed chopped spinach, finely chopped artichoke hearts, mayonnaise, sour cream, mozzarella cheese, Parmesan cheese, minced garlic, onion powder, and crushed red pepper flakes (if desired). Mix well until all the ingredients are evenly incorporated.
Season the mixture with salt and pepper to taste. Remember that the cheeses might already add some saltiness, so it's best to taste and adjust accordingly.
Transfer the mixture into the greased slow cooker, spreading it out evenly.
Cover the slow cooker and set it to low heat. Let the dip cook for 1.5 to 2 hours, or until the cheeses are fully melted and the dip is heated through.
Stir the dip occasionally during cooking to ensure even heat distribution and prevent any burning on the edges.
Once the dip is thoroughly heated and creamy, reduce the slow cooker's heat setting to warm or serve immediately.
Recommended Products
As an Amazon Associate and member of other affiliate programs, I earn from qualifying purchases.
More Delicious Appetizer Recipes