Breastfeeding brings with it some very sore nipples! This Nipple Survival Guide for Breastfeeding Moms will help you get through those difficult days when it feels like your nipples are going to fall off!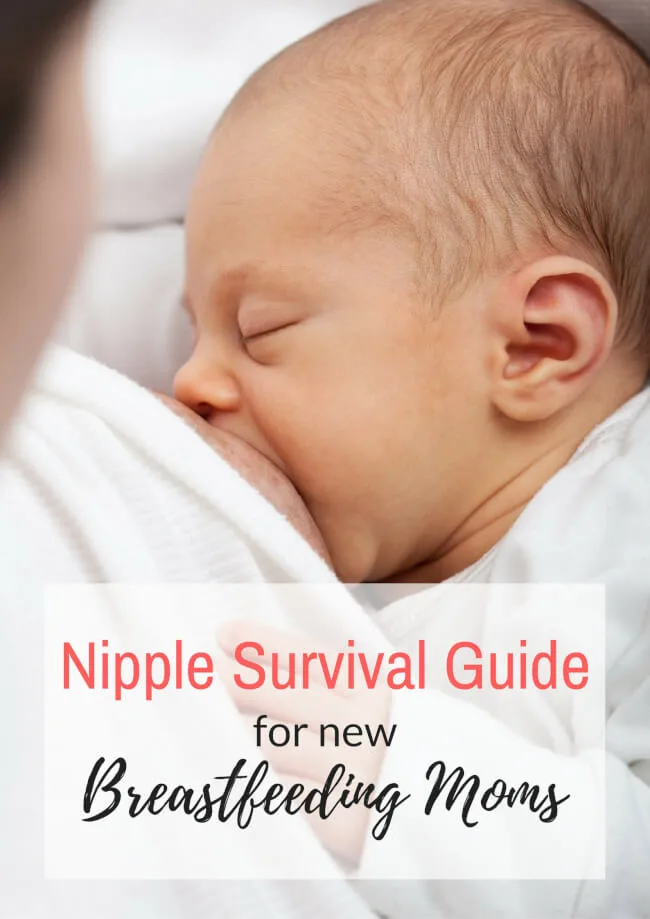 Nipple Survival Guide for Breastfeeding Moms
Soothe Nipple Pain With These Simple Tips
Dry, cracked, sore, aching, scabbed, painful nipples are no joke when breastfeeding….the pain can be truly excruciating! I know all about this because on Miss Jellybean's 3rd day of life I was in this exact predicament. She had nursed so much that my poor nipples had cracked numerous times and were completely scabbed over. I would cringe before latching her and just muster through the pain.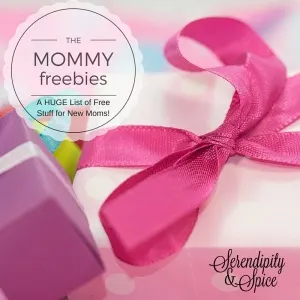 Unfortunately there's really no getting around this within the first few days of breastfeeding….your nipples are adjusting to being constantly sucked and pulled on….they will literally feel like they're going to fall off if your little one eats one more time! Luckily, there are some things you can do to help alleviate the pain and help quicken the healing process. I followed the steps outlined in this Nipple Survival Guide and my nipples were better in just a couple of days.
Now, many lactation consultants will say that if you're feeling pain then there's something wrong. But in my experience it's simply your nipples adjusting to the constant contact. Granted if you're experiencing pain while breastfeeding then you should contact a lactation consultant and work on getting a good latch– a good latch will do wonders– but it also takes time for mom and baby to learn.
These are simply tips to get you through the rough patch….trust me, this journey of breastfeeding gets better in no time and when it's time to wean you'll be sad and will have forgotten all about the beginning struggles. Just keep going mama….YOU CAN DO IT!
Nipple Survival Guide for Breastfeeding Moms
Nipple Survival Guide for New Breastfeeding Moms
These tips and tricks for healing dry and cracked nipples are a lifesaver for new moms struggling with breastfeeding. If you're a new to breastfeeding and experiencing painful nipples...these breastfeeding tips will help you soothe your nipples.
Photo Credit: www.amazon.com
I have 2 sets of these Soothies gel pads from Lansinoh and they are the BOMB! I always have one set in the fridge so that after an extremely aggressive feeding I can put them on and just bask in the cooling relief they bring. Seriously, these things are a MUST HAVE!
The best way to combat an infant trying to tear off a nipple is to get her level with the nipple....a nursing pillow is designed to wrap around you and place your little one level with the nipple. I have 3 nursing pillows....one for the bedroom for at night, one in the living room for during the day, and one in the car for on the go. It makes nursing so much easier!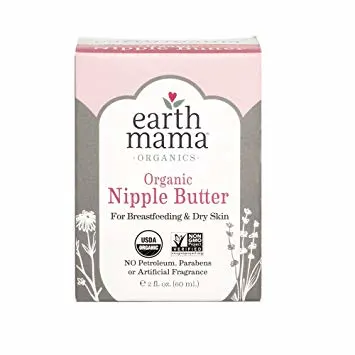 Photo Credit: www.amazon.com
This Earth Mama Natural Nipple Butter is a total lifesaver! Hubs laughs because I actually give a sigh of relief every time I apply it! It seems to immediately soothe on contact. The nipple butter helps keep your nipples soft and supple for baby but it also helps with moisturization and healing. It's completely safe for baby so keep it with you at all times. Once feeding time is over slather some on and relax!
Photo Credit: www.amazon.com
I HIGHLY recommend getting these Lansinoh TheraPearl 3-in-1 Breast Therapypads. You can use them warm or cold to help relieve pain from engorgement or worse...mastitis. I have them on hand just in case...they felt wonderful those first few days that I was plagued with engorgement from my milk coming in. Now I have them on standby just in case an awful case of mastitis comes my way.
Photo Credit: www.amazon.com
Just go ahead and invest the money into a great nursing bra! I tried to go cheap and unfortunately if you're rather well endowed, like me, then you have to find the perfect bra that will give you plenty of support....which tend to be expensive. Before I got pregnant I was a DD and now the girls have just grown out of control so I definitely need some good support. I also HIGHLY suggest going wireless...it doesn't support as well as wires do but it will be more comfortable and you'll have a lessened chance of developing a clogged duct (yes, I speak from experience).
Two fantastic nursing bras are the Anita brand and the Bravado Body Silk. These bras give great support and are very comfortable! And I LOVE that Bravado customizes in larger sizes....which is a MUST for me.
Photo Credit: www.amazon.com
Luckily at night you don't need any support but you do need something to keep the breast pads in place....unless you enjoy waking up in a puddle of breast milk...no thank you. With Little Man my milk never fully came in like it has with Miss Jellybean (check out these tips for increasing breast milk supply) so I never experienced leakage. Well, now that my milk is completely in-- it leaks-- all the time-- it's quite annoying-- but at least I'm making more than enough to satisfy Miss Jellybean-- so I deal with it. Anyway, you need a comfortable sleep bra....I personally went with these super inexpensive Hanes Cotton Pull Over bras. They're super affordable, comfortable, and do the job.
Photo Credit: www.amazon.com
Once baby is done nursing you will want to gently dry your breast of any leftover milk. I would gently clean the nipple and dry it before going on to the next step. Breast milk is a great healer but I found in those first days when you're most likely to develop thrush (yeah, that's a fun thing to deal with-- it's basically a yeast infection) it's best to dry your nipples to keep any bacteria away.
Photo Credit: Etsy
Did you know that disposable breast pads have a gel in the center to absorb milk and can actually cause an allergic reaction? Neither did I until I experienced it! Not fun....let me tell you....I had no idea why my nipples were so sore and red....they felt like they were on FIRE. I was checked for thrush, for a blocked duct, dermatitis, etc. It turns out that the gel they use in disposable breast pads is the same stuff that's used in diapers and it was causing major sensitivity issues. So I ordered these reusable breast pads and no more issues! They're made of cotton and I can wash them in my own laundry detergent that's meant for sensitive skin.
I promise...it will get better. Your nipples will toughen up and they won't always feel like they're about to fall off! Just follow these tips to relieve the pain as much as possible and before you know it, breastfeeding will be as natural as drinking a cup of coffee.
Oh, and I highly suggest getting a nursing cover for while you're out and about. I love this one from Udder Covers because…well, it's FREE when you use code "SAS15" and they have some really cute designs. Just like with the nursing pillow, you do have to pay shipping….but it still winds up being cheaper than buying one at the store.
Have you experienced extreme nipple pain from breastfeeding? What tips do you have for soothing sore nipples? Share in the comments below!