This Holiday Spiced Glazed Ham Recipe is so simple to make and tastes just like Christmas! It's the perfect blend of citrus, spices, and sweetness.
Holiday Spiced Glazed Ham Recipe
The Baked Ham That Tastes like Christmas!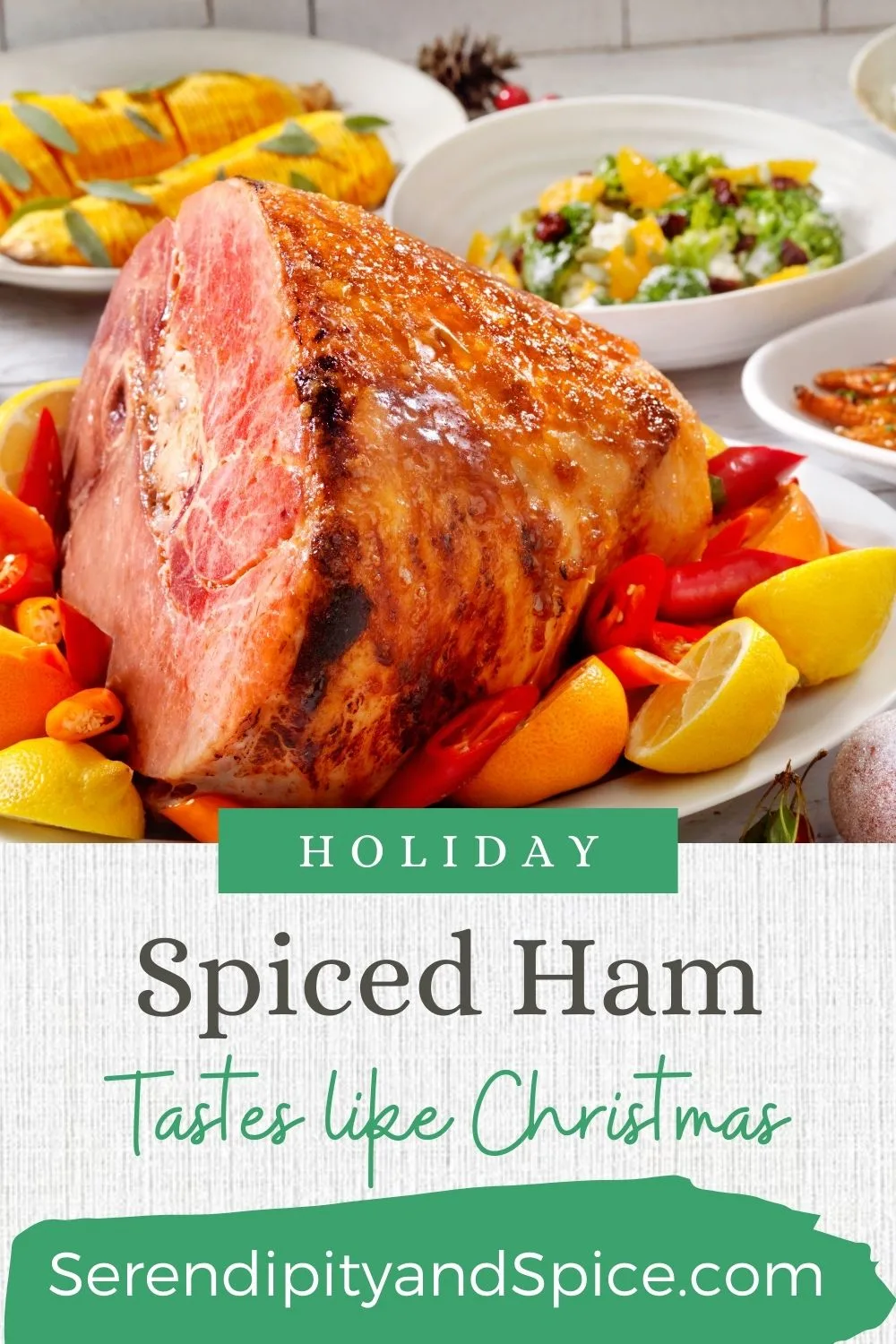 Yes, this ham tastes like Christmas! What does Christmas taste like you ask? Well, it's hard to describe…you just know it when you taste it….but, it's flavorful and sweet with hints of cinnamon, all-spice, cloves, and citrus.
Every Christmas my mom would special order a Honey Baked Ham from THE Honey Baked Ham store. I remember LOVING that ham and looking forward to the holidays because I knew that ham was on the way.
Well, that wonderfully delicious ham can get quite expensive….especially when feeding a BIG group. So I started experimenting trying to find the perfect glazed ham recipe. This is it…this Holiday Spiced Glazed Ham is so much better than the Honey Baked Hams we used to get and it costs a fraction of the price!
The only way to describe the taste of this ham is Christmas!
Seriously, that's the feeling I get when I bite into a piece of this ham!
Anyway, you can usually get a pretty good deal on spiral sliced hams during this time of year…so I always buy an extra to freeze for later….yes, you can freeze a whole ham! 🙂
I also like to buy one solely to bake, dice, freeze….and then make Ham Bone Soup with what's left.
Why bake, dice, and freeze?
Well, when I buy a spiral sliced ham for $2.49/lb I can bake it for dinner one night when it's just the 4 of us and have plenty left over to make lots of other dishes. After dinner Hubs and I will grab some cutting boards and knives and dice the remainder of the ham into bite size pieces and place them into snack size ziploc bags to freeze.
We usually wind up with about 7-8 one pound packages of diced ham. This is super convenient for Saturday mornings when I want to make breakfast boats, a breakfast casserole, stuffed breakfast peppers, or arroz con pollo for dinner. I already have diced ham ready to go….and it tastes so much better than those packages in the grocery store!
This Holiday Spiced Glazed Ham recipe is also SUPER simple to make! I love how easy it is and it's packed full of flavor!
Once you're done eating DON'T throw away your ham bone….this is packed FULL of flavor and nutrients! I like to make ham stock (perfect for soups, stews, etc…use in place of beef stock or chicken stock).
But the BEST thing to make is Ham Bone Soup with Orzo Pasta….it's incredible!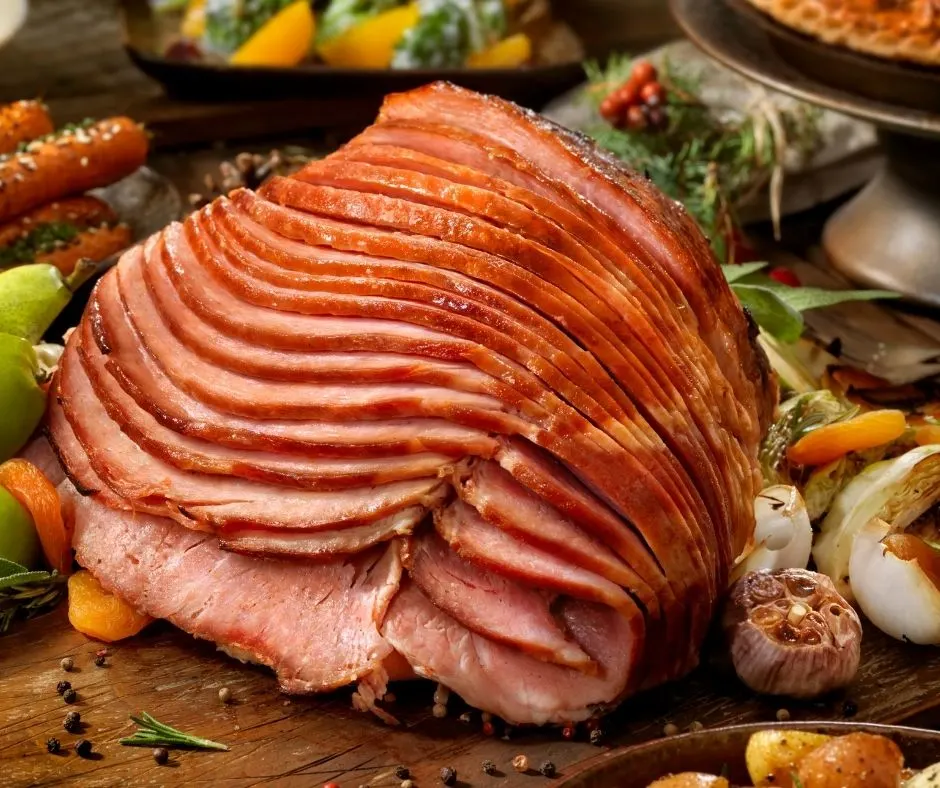 Yield:

8
Holiday Spiced Ham Recipe
Total Time:
2 hours
5 minutes
This holiday spiced ham recipe tastes just like Christmas!
Ingredients
Spiral Sliced Ham (I like to get a hardwood smoked ham that's around 8-10 lbs)
1 Cup Orange Juice
3-4 Whole Cloves
1 Cup Brown Sugar
2 TBS All Spice
Instructions
Preheat oven to 300 degrees.
Place ham in a baking dish and pour Orange Juice over the ham.
Place 3-4 whole cloves on top of the ham.
Cover in aluminum foil and bake at 300 degrees for 90 minutes.
Remove ham from oven and set to side.
Mix together brown sugar and all spice in a bowl. (if the ham comes with a premade brown sugar spice packet then just mix that together....it's the same stuff)
Add 2 TBS of juice from the ham into the brown sugar and all spice bowl.
Mix brown sugar mixture well until it's fully combined.
Microwave for 30 seconds...note: place a napkin on top of the bowl to avoid splatter.
Remove aluminum foil from ham and remove whole cloves.
Remove most of the liquid from the bottom of the baking dish.
Pour brown sugar over ham and return to oven.
Raise oven temperature to 400 degrees.
Bake for additional 15 minutes.
Enjoy!

Recommended Products
As an Amazon Associate and member of other affiliate programs, I earn from qualifying purchases.
Don't forget these yummy side dishes!