What do you do with your preschooler when they hit that in between stage of needing a nap and giving it up? You start quiet hour! Here's a great idea for making quiet hour educational busy boxes for your preschooler.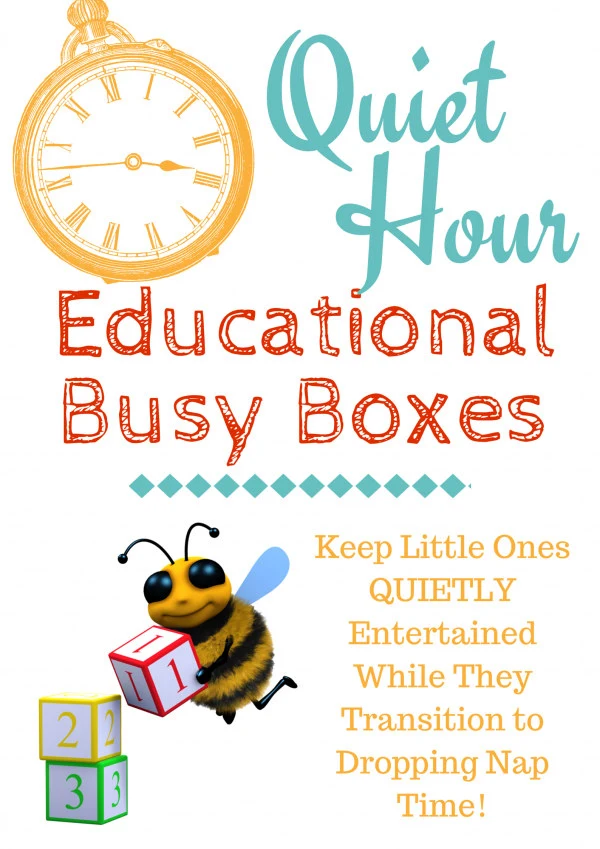 Quiet Hour Educational Busy Boxes
For Preschoolers Who Are Transitioning to No More Naps
Well, Miss Jellybean has finally joined her brother and hit that stage where she's starting to transition to giving up naptime….the problem is she really needs that rest during the day. I mean the days are LONG….she's up by about 7:30 every morning and she goes to bed between 8:30 and 9 every night. Thirteen hour days can be quite the haul for such a little ball of energy!
Getting through the day without a nap means I have a little ball of cranky on my hands from about 5pm til bedtime but I've also noticed that on days she does nap then bedtime is a battle until after 10pm. I have found that the key to a happy preschooler is quiet hour….if she really needs a nap then she falls asleep…if not, then she plays quietly and recharges for the remainder of the day. Not to mention, mommy gets to keep her quiet time as well.
Now, I know what you're thinking….."there's no way my preschooler is going to sit still and be quiet for an hour!". And you would be correct….unless you make it a routine that's enjoyable for them…and just like you MADE them take a nap you have to MAKE them utilize quiet time….in the beginning it takes a LOT of gentle reminding and placing her back in her room. But now quiet time is a breeze since I've started using these quiet hour educational busy boxes!
Miss Jellybean LOVES playing with the items I've chosen for the boxes and she only gets them during quiet hour one day a week…so there's no getting bored. I've made quiet hour a time that she gets to play with her special toys.
How to Make Your Own Quiet Hour Educational Busy Boxes
Step 1: Get 7 plastic shoe boxes
I personally love these boxes because they stack easily and the tabs are perfect for little hands to open and close. This is a 12 pack but I'm sure you can find something to do with the other 5…like make an Allergy Survival Kit. 🙂
Step 2: Label the Boxes
Here's a free printable for the box labels I use!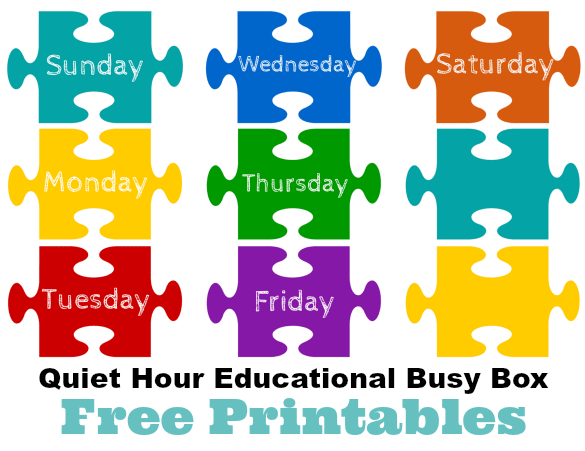 Step 3: Fill the Boxes
Here's what I put in each day's box…you can put whatever you want but I try to keep it educational. Each day has at least one STEM toy (Science, Technology, Engineering, & Math toy– you can find all sorts of STEM toys here), 1-2 books, a puzzle, and a sensory toy. I will also regularly switch out the books to add some variety.
Sunday:
Monday:
Tuesday:
Wednesday:
Thursday:
Friday:
Saturday:
So there's my suggestions for Quiet Hour Educational Busy Boxes….what would you add? Share in the comments below!
More posts you may like:
5 Tips for Getting More Done as a Stay at Home Mom
Top 5 Classic Board Games for Preschoolers
Top 5 Unique Board Games for Preschoolers