Rosé Sangria
It is that time of the year again when all I can think of are cookies, cakes and cookies and mulled wine by the cupfuls! But this year, I wanted to try out something new – a Rosé Sangria with a hint of spice.
Hi, I am Sarani and I am back this month with a Rosé Sangria which will be a perfect addition to the cocktail bar at your Holiday party. It is easy as breeze to make, delicious to the last drop and the ingredients couldn't be any simpler.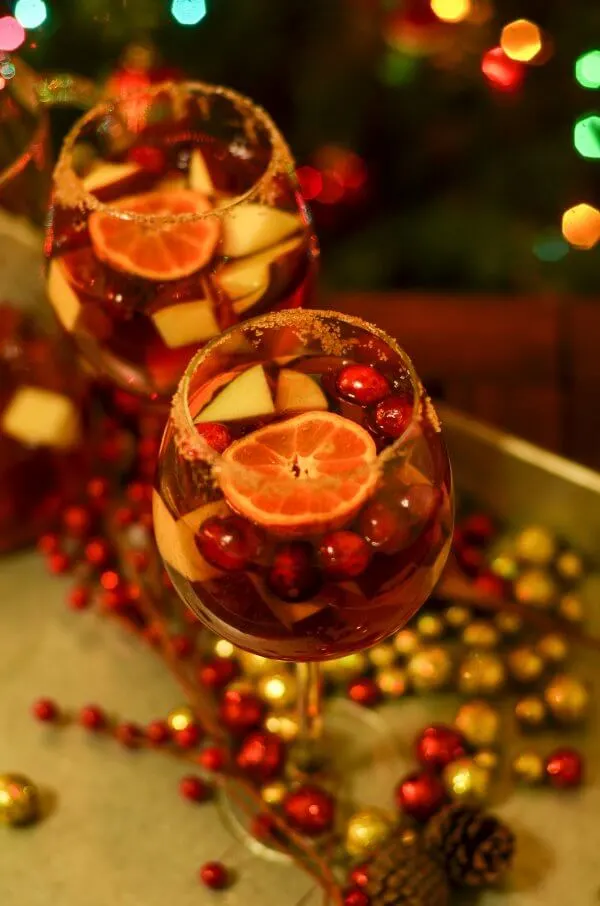 Ingredients for Rosé Sangria
A bottle Rosé wine
A bottle of sparkling water or club soda
Slices of 2 oranges
Couple of apples, chopped
Handful of cranberries
Handful of raspberries
Couple of cinnamon sticks
1/4 tsp of cinnamon powder
1 tbsp of maple syrup

How to make Rosé Sangria
There is no need to splurge on a bottle of expensive wine for making sangria – I usually use a cheap bottle of wine for my sangria and the 365 brand of wines from Wholefoods are just perfect. Letting the flavors infuse overnight works best, but if you are in a rush cannot make time for it, make it early in the day of your party, and crush your fruits ever so slightly to help the wine absorb the fruity flavors. I do not like adding sugar to my sangria and many a time will switch out the maple syrup with honey. But you can use sugar or honey or maple syrup to sweeten your Rosé Sangria. As for choosing fruits, you can use apples, peaches, pears, nectarines, cranberries, raspberries, orange slices, lemon wedges.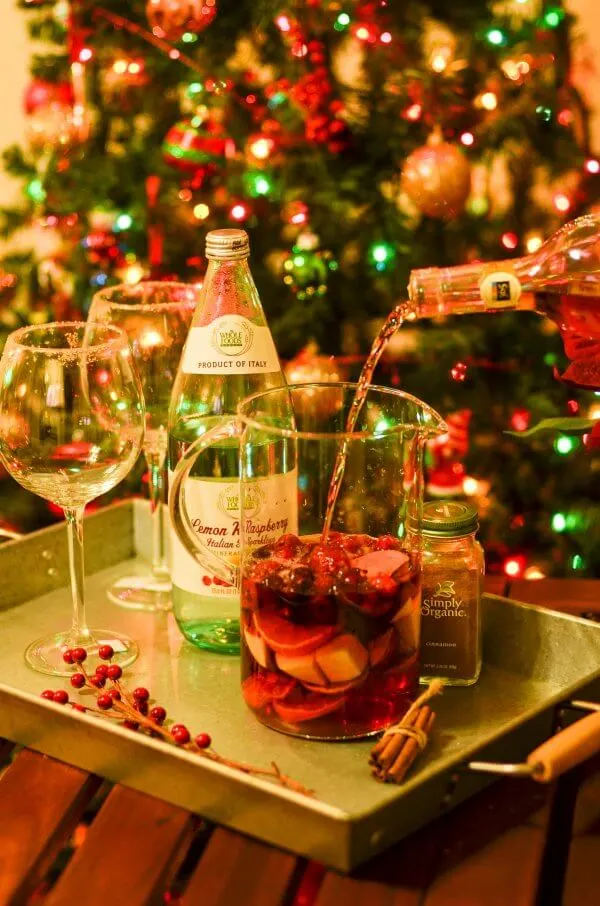 I used apples and orange slices and cranberries and threw in some raspberries too, since I had some sitting in the fridge – I just loved how the reds and oranges made the Rosé Sangria look so festive.
Take a tall glass pitcher and add the chopped apple pieces, orange slices, fresh cranberries, raspberries, cinnamon stick and cinnamon powder. Pour in the Rosé wine, maple syrup and stir to mix. Let it chill in the refrigerator for at least 4 hours (or overnight). The more time it sits, more the flavors of the fruits infuses and the more flavorful it becomes.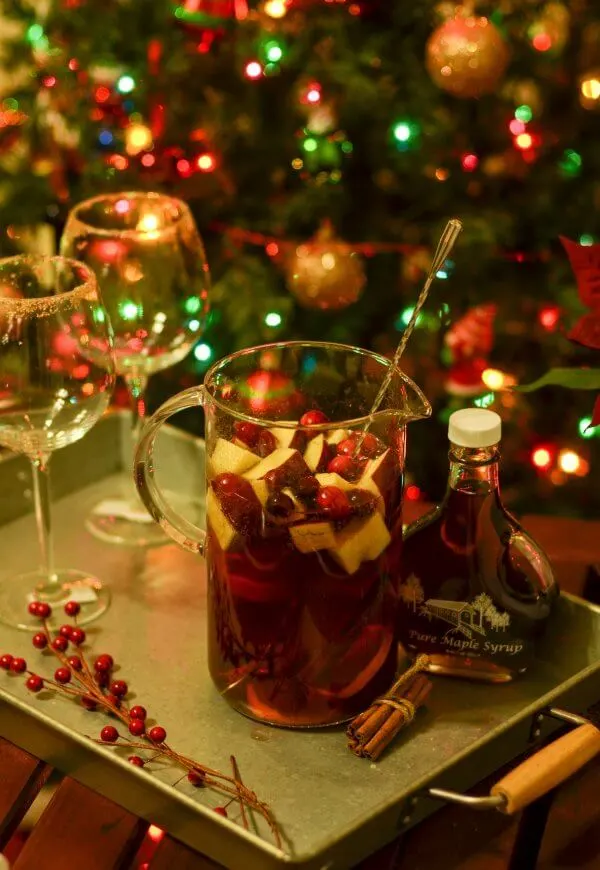 How to serve Rosé Sangria
Top it up with the sparkling water or club soda when you are ready to serve. Pour into glasses. To make it fancier, you can coat the rims of the glasses with cinnamon sugar. You can serve the Rosé Sangria chilled or at room temperature.