This simple semi-homemade easy moist cornbread dressing recipe is always a hit at Thanksgiving dinner! My family loves cornbread dressing but there's quite the debate over making it on the side or stuffing the turkey….I prefer to stuff the turkey but I've found the perfect compromise in this Simple Easy Moist Cornbread Dressing Recipe!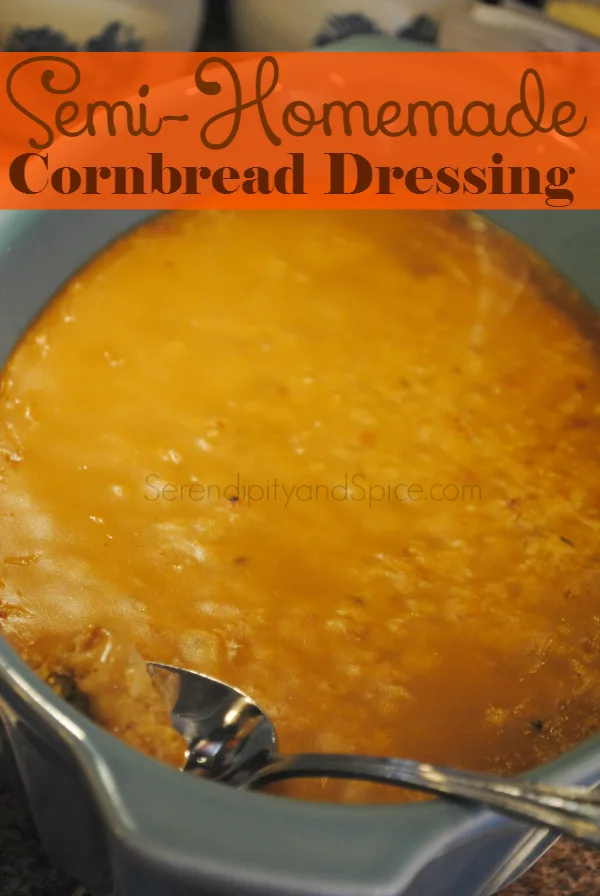 Simple, Easy, Moist Cornbread Dressing Recipe
The BEST semi-homemade stuffing recipe without stuffing a Turkey!
So every Christmas and Thanksgiving my family is divided on the issue of stuffing vs. dressing….I believe they are one in the same but anyway…. most of the family prefers "dressing" because they think it's gross to cook it inside of the turkey….but I don't get it because we are eating the turkey soooooooo……. I digress.
Personally I find dressing to be TOO dry and prefer the moist goodness of stuffing but in an effort to compromise I have developed the most simple, easy, moist cornbread dressing recipe…..all the goodness of stuffing with the turkey-cavity-free cooking method of dressing!
I love that I can make this any time of year and don't have to worry about getting a turkey– it's really good if you add sauteed chicken– then it's a whole meal all in itself!
Ingredients:
1 Package Pepperridge Farm Cornbread Stuffing
1 small Onion diced
1 TBS Butter
2 Cups Chicken Stock (check out my recipe for Homemade Chicken Stock- it makes a HUGE difference in flavor– but you can also use store bought)
1 sprig of celery chopped (optional– I didn't use any this time)
1/2 TBS Sage
1/2 TBS Basil
1 TSP Dill
1 TSP Salt
1 TSP Pepper
1 packet McCormick Turkey Gravy Mix
1 cup Water
Directions
Sautee onions and celery in butter until cooked through…let onions brown a little for some caramelized flavor.
Mix together cornbread stuffing mix, sage, basil, dill, salt, and pepper.
Add in onions and celery.
Mix chicken stock into stuffing mix.
Prepare turkey gravy according to directions.
Pour stuffing mix into a casserole dish and pack down tightly.
Drizzle turkey gravy on top.
Place in preheated oven and bake at 350 degrees for 30 minutes.
Which do you prefer– stuffing or dressing?