It's time for some ghoulish good fun with these spooky ghost Halloween cookies. They're a blast to make with the kids and take to Halloween parties for a fun and festive treat!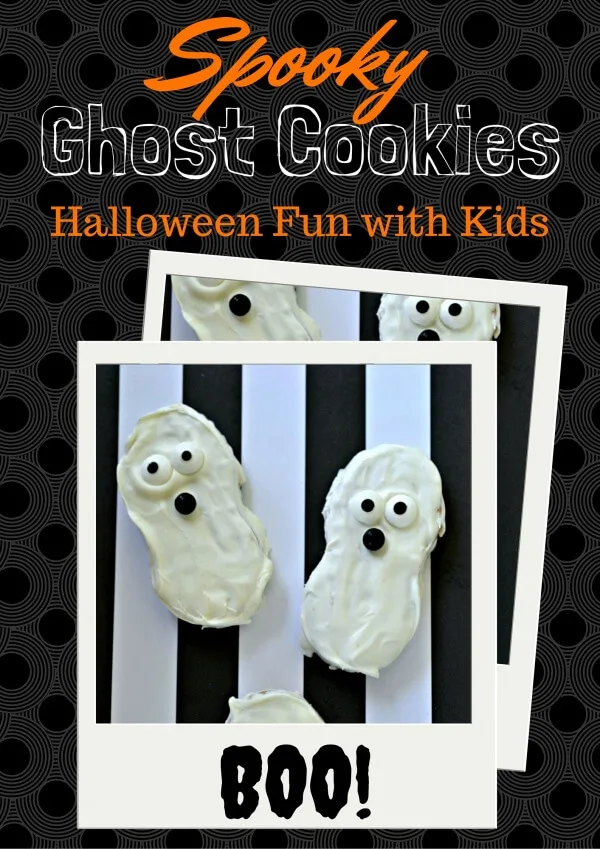 Spooky Ghost Halloween Cookies
Semi-Homemade Halloween Treats for Making With The Kids!
I can't believe it's already time for Halloween…..this year has just FLOWN by! It's my favorite time of year as Halloween is the beginning of the Holiday season….I mean, for the next few months there's one festive holiday after the next and it's just so much fun!
Yesterday I shared with you how to make the semi-homemade Boo-tiful Bat Halloween Cookies and today we're making the Spooky Ghosts. These are great for getting in the kitchen with your kids and letting them help make fun and festive treats. You can easily pick up all of the ingredients at your local grocery store
Ingredients & Supplies:
White Candy Melts (I like to use Wilton white Candy Melts because it has a great flavor and melts wonderfully for dipping)
Double Boiler for melting candy
Nutter Butter Cookies
Candy Eyes
Black Pearl Candies
Parchment Paper
Instructions:
Get your counter top ready. Place a sheet of parchment paper on your counter. Parchment paper is really important because it will keep your cookies from sticking.

Melt the white candy melts according to package instructions. I like to use this silicone double boiler because it doesn't get too hot if little hands accidentally touch it.

Once melted, coat a Nutter Butter cookie in the white candy melt.

Working quickly before the candy hardens, add two candy eyes and a black pearl candy for a mouth.

Let sit until the candy coating has hardened.

That's it! Super easy and absolutely adorable!
Make sure you check out the Boo-tiful Bat Halloween Cookies too…they're just so much fun to make!
You May Also Like:
The BEST No Carve Pumpkin Ideas
Dollar Tree Pumpkin Craft for Toddlers
Toddler Halloween Door Decor Craft