These spooky Halloween wreaths are perfect for making your home festive! Get in the Halloween spirit with these beautiful wreaths.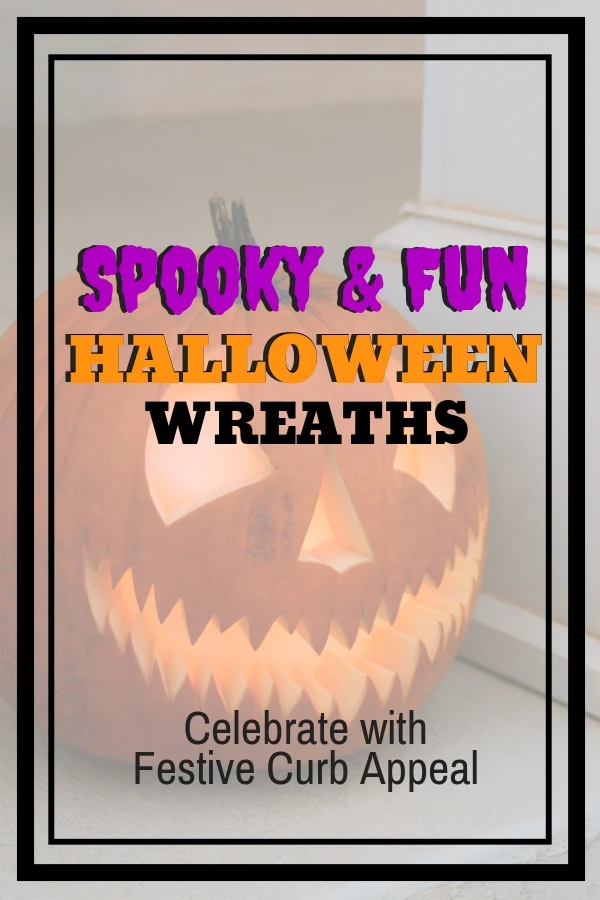 Spooky Halloween Wreaths
You can either make these wreaths yourself or order them off Etsy. I've done both…when I have time I love going to Michaels or Hobby Lobby and gathering all of the supplies to create a magnificent wreath! But then there are times when motherhood gets crazy and I just don't have the time to sit around and craft….this is one of those times.
I'm not sure HOW these Etsy sellers make much money selling their wreaths because I spend about the same amount whether I purchase the wreath already made or I have to go buy all of the supplies to make it myself. I guess they probably buy their materials in bulk…if I had the time I would totally do that and make wreaths to sell as well…because it is a lot of fun to make them….if you like crafting like I do!
Anyway…here are 10 spooky Halloween wreaths you're sure to love!
The Witch is In Wreath!
This Halloween, let all your friends and neighbors know "The witch is in!" Have fun this Halloween with this cute wreath on your front door!
Witches Hat and Legs Halloween Wreath
Beautifully handmade and designed with black and brightly colored Halloween accent ribbon with orange purple green and black accents placed carefully. Packed full of ribbons for this Halloween wreath!
Jack Skellington Nightmare Before Christmas Halloween Wreath
The Great Pumpkin Door Hanger
Candy Corn Witch Hat Door Hanger
Cute hat wreath. This great as a fall wreath or Halloween. The top is made with a thick black burlap with candy corn print and the bottom with orange, yellow and white mesh with pieces of corn stalks. Place on your front door or hang it as fall decor in your home.
Halloween Cute Ghost Door Hanger
This is a new design-only at Ever Blooming Originals ™. Handmade and customized especially for you!
Wicked Witch Grapevine Wreath
This Grapevine Halloween wreath will show off your holiday spirit while adorning your front door, office door, or any where in your home.
Candy Corn Wooden Painted Door Hanger
Trick or treat! Such a fun sign for Halloween…
Halloween Boa Wreath


Orange and Black tipped feathers make this wreath festive and glam!
Spider Web Wreath
Monster's Inc Sully Inspired Tutu Wreath


This friendly monster would like to welcome trick-or-treaters to your door this season. Scary cute Sully lookalike is made of foam and tulle with a loop of tulle to hang your wreath wherever you choose. Your little monsters will love it!
Skeleton Mermaid Halloween Wreath
This Halloween Wreath is ready to adorn your door as the Mermaid Skeleton wreath! Spooky decor for your door! This nautical Halloween wreath is sure to wow your guests!
Black Cat Burlap Halloween Wreath


This adorable wreath, made to resemble a black cat is made with black burlap, a polka dot bow, black pipe cleaners for the whiskers and faux fur ears.
Burlap Pumpkin Wreath
This adorable pumpkin wreath is made with burnt orange and avocado green Burlap and accented with a gray and white buffalo plaid bow, a little straw bow and a burlap stem.