This Pasta with Squash and Zucchini recipe is the perfect fall dish filled with farm fresh flavors! Make this super easy Pasta with Squash and Zucchini Recipe on busy nights!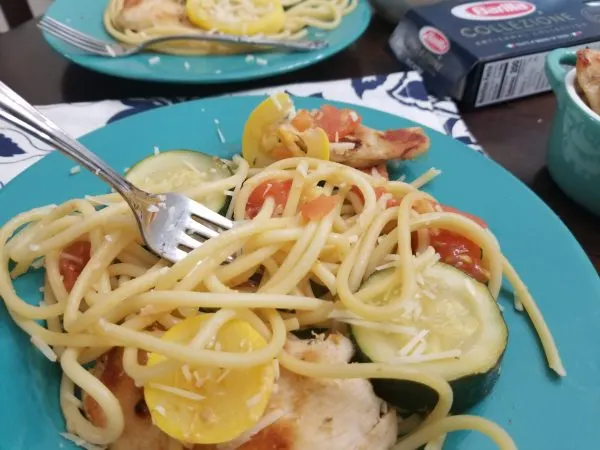 Bucatini Pasta with Squash and Zucchini Recipe
A Delicious and Easy One Dish Meal the Whole Family will LOVE!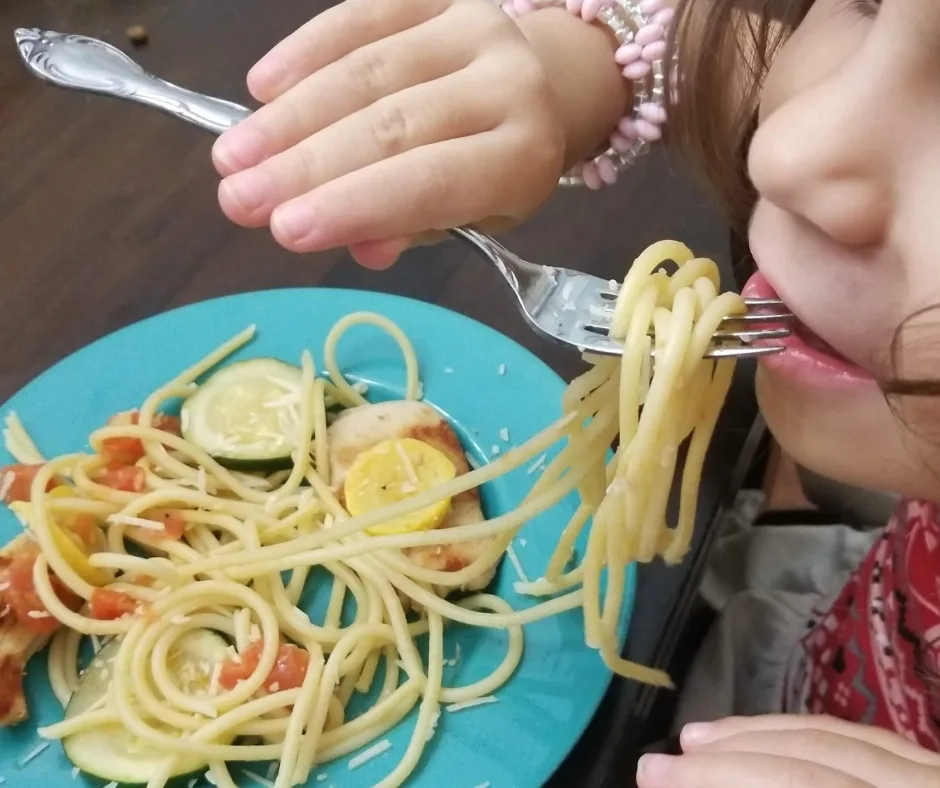 Now that school is back in full swing, so is soccer practice and dance classes…which means this mama is in a constant state of motion! I feel like we're always running from one event to the next and I'm always a HOT MESS! Whereas my sister in law has my nieces in even more activities and she's always this ultra prepared supermom who does it all.
So, when they come to visit I feel the need to pick things up a notch!
I don't know why I feel the need to be a calm cool and collected mom when she's around…seriously, she's family and my friends see my hot mess all the time! But I guess that's my own issues showing through. Anyway, on those days when I want to kick things up a notch and appear to be the supermom who can conquer the world….or at least dinner time…I rely on this Bucatini Pasta with Squash and Zucchini Recipe to truly impress!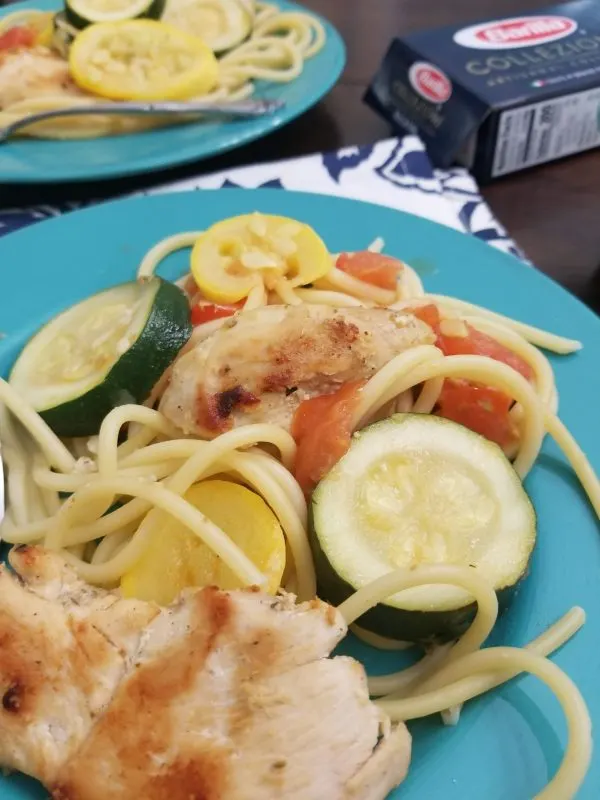 My brother, sister-in-law, and their girls came over on Friday to visit with my grandma so I had to kick it into high gear! I stayed up late Thursday night cleaning up the house and scrubbing toilets…because that's totally the supermom thing…right…sparkling toilets prove how AWESOME you are…ok…maybe not. Anyway, I at least vacuumed up all the pet hair and wiped down the counters.
On Friday while the kids were at school I finished up my work for the weekend knowing that chances of me opening my laptop were pretty much ZILCH. Then the chaos began….
Little Miss was picked up from preschool, we had a quick lunch and then high-tailed it over to her dance class. After dance class we went to pick Little Man up from school and headed straight to soccer practice. After sitting out in the sun for an hour we were all a total HOT mess but that didn't stop me from running into the grocery store to pick up everything we needed for dinner.
We grab fresh squash, zucchini, tomatoes, parmesan cheese, and boneless skinless chicken breasts. Then we head over to the pasta aisle and picked out the pasta to go with dinner. I love making this dish because you can mix up the pasta to whatever you're in the mood for…I've made this dish with tortellini, ziti, angel hair, etc.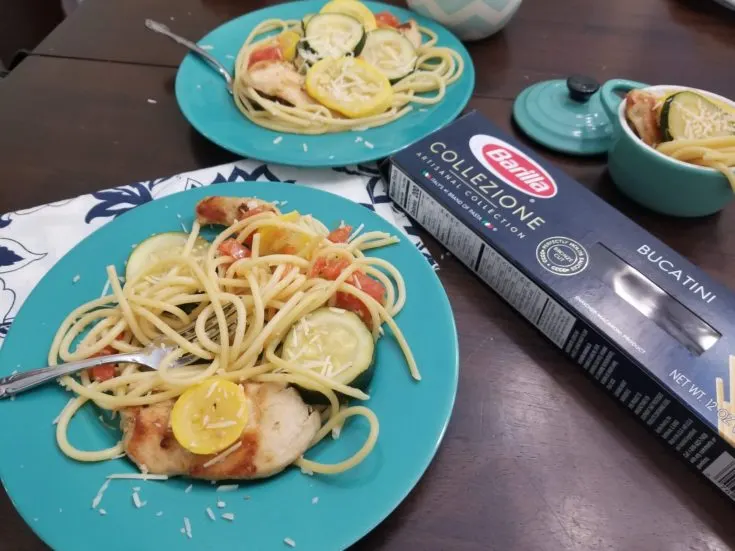 Bucatini Pasta with Squash and Zucchini Recipe
Ingredients
2 Large Yellow Squash
2 Large Yellow Zucchini
2 Large Tomatoes
4 TBS Olive Oil
2 TBS Italian Spices
1 TBS Garlic Powder
1 Package Barilla® Collezione Bucatini Pasta
1 Cup Grated Parmesan Cheese
Instructions
Heat up a skillet with 2 TBS Olive Oil
Slice Chicken Breasts and Sprinkle with Italian Seasoning
Sautee Chicken in Skillet until Cooked and Light Brown
Place Chicken to the Side
Slice Squash, Zucchini, and Tomatoes
Add 2 TBS Olive Oil to the Skillet
Sautee Squash and Zucchini in Skillet - Sprinkle with Garlic Powder
Once Zucchini is Partially Transparent - Add Tomatoes
Sautee Squash, Zucchini, and Tomatoes for 5 Minutes
Sprinkle with Parmesan Cheese and Continue Cooking 5 Minutes
Turn off Heat
Bring Pot of Water to a Boil
Add in Barilla® Collezione Bucatini Pasta to Boiling Water
Cook Pasta for 7 Minutes or Until Done
Drain Pasta
Serve together!