This DIY Organic Ranch Dressing Mix Recipe tastes just like the packaged stuff but without all the fillers and preservatives! By making your own Ranch Dressing Mix Recipe you save money and make a healthier option for your family by using organic spices and cutting out all the added sodium.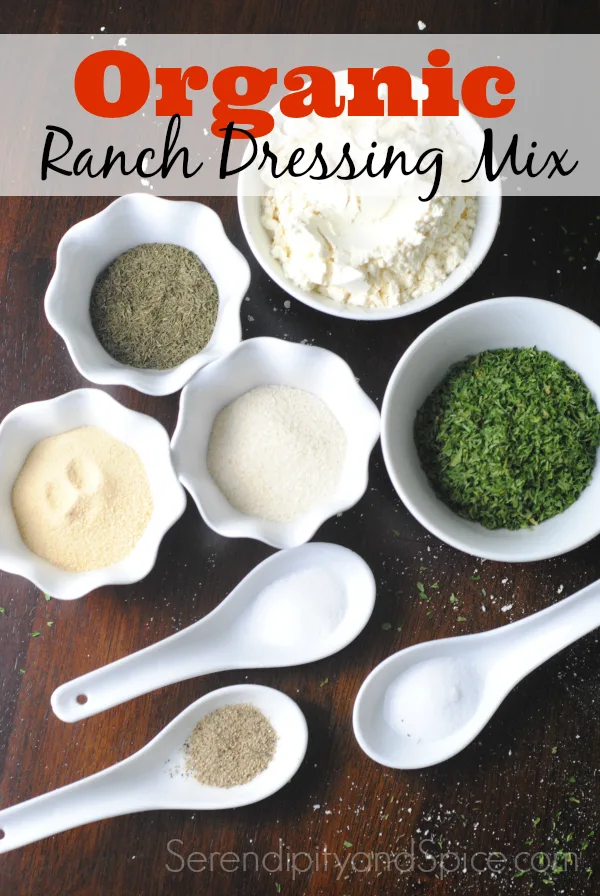 DIY Organic Ranch Dressing Mix Recipe
With all of my slow cooker recipes lately I've been going through a ton of dressing mixes because they make the perfect addition to any crock pot meal. Dressing mixes add a nice punch of spice without adding a ton of calories or effort….you know me, I like to keep things super simple around here!
A few weeks ago I had some moms over for a playdate and we started talking about recipes….we were all sharing our favorite go to slow cooker meals like my OMG Crockpot Chicken and Creamy Chicken with Bacon Slow Cooker Recipe. One thing we realized is that many of these meals call for packaged ingredients that are usually packed full of sodium and fillers. I mean….do you really know what all is in the packaged stuff….not really…..most of it we couldn't even pronounce much less figure out what it was! Yes we could switch to using just fresh herbs and spices but that just takes way too long….I mean I want to eat healthier but I want to get in and out of the kitchen quickly so we can go play and make memories! Plus, it's much easier to remember to keep 5 ingredients on hand rather than 25 ingredients….right?!
So I decided to start making my own mixes so that I can control what goes in them….and the BEST part….I've been able to switch to organic because I save so much money. Rather than spending $1 or more on each seasoning packet (and I use a LOT of packets) I can now spend about $25 at Whole Foods on spices and be set for many months! The cost savings is incredible and I can rest assure that I'm taking a step to serving my family healthier options.
First up I decided to make this DIY Organic Ranch Dressing Mix Recipe because we use a LOT of ranch dressing in our house…..we LOVE ranch! I use this mix to make ranch dip so Little Man will eat his veggies, I also make regular ranch dressing for salads, and I use it in several meals as a great spice base. Oh, and it takes less than 5 minutes to mix together a huge batch!
I like to use Mason Jars because they're so cute, seal easily, fit perfectly in the pantry, and are the perfect size. I found these adorable teal Mason Jars on Amazon and they're perfect…not to mention cheap!
A little goes a long way with this mix! One Tablespoon of mix is equal to one packet….all those fillers sure do take up a lot of room! Click on the links in the recipe to see which spice I recommend.
DIY Organic Ranch Dressing Mix
1 Cup Dry Buttermilk
5 TBS Parsley Flakes
2 TBS Dill Weed
3 TBS Garlic Powder
3 TBS Onion Powder
1 tsp Pepper
1/2 tsp Salt
1/2 tsp Sugar
Mix all the ingredients together and store in an airtight container til you're ready to use.
Some uses:
Mix 1 TBS Ranch Dressing mix with 1 cup of sour cream for ranch dip.
Mix 1 TBS Ranch Dressing mix with 1 cup of mayo and 1 cup of milk for ranch dressing.
Mix 1 TBS Ranch Dressing mix with 1 cup plain Greek yogurt and 1/2 cup skim milk for low fat ranch dressing.
Have you checked out Thrive Market? That's where I now buy all of my organic spices….the prices just can't be beat! It's like the Costco of organics!