Sweet Hawaiian Crock Pot Barbeque Pork Sandwiches
This BBQ Pulled Pork Slow Cooker Recipe makes the absolute best sandwiches ever! It takes about 5 minutes for the prep time and then you can go do what you want and have a delicious meal ready in just a few hours.
I've made this recipe with chicken, shredded beef, and ground beef….and they've all turned out fabulous!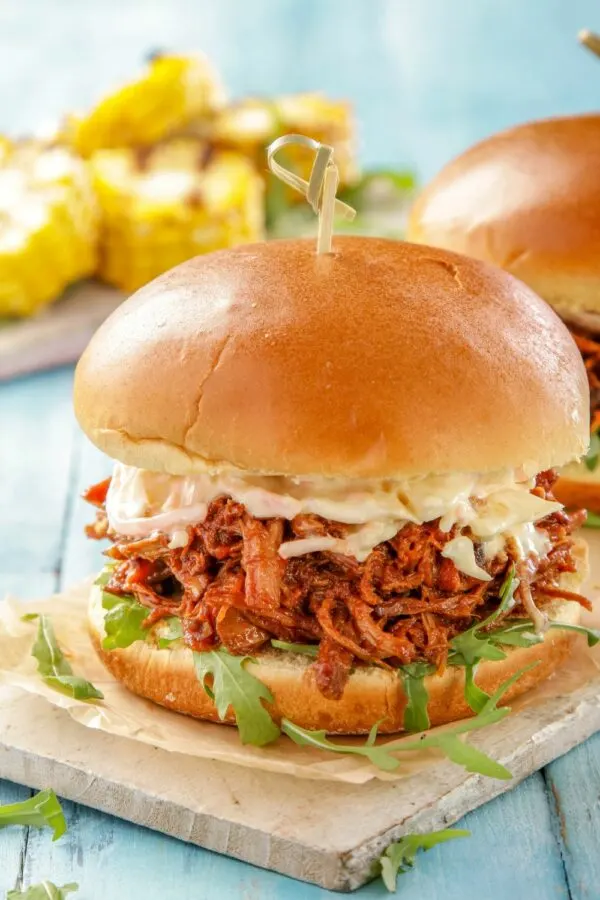 Table of Contents
If you're craving tender and flavorful BBQ pulled pork without the hassle of monitoring a grill for hours? Look no further! In this comprehensive guide, I'll show you how to create a delectable BBQ pulled pork using your trusty slow cooker.
This hands-off approach guarantees succulent, fall-apart meat with minimal effort. Get ready to impress your family and friends with this crowd-pleasing dish that's perfect for any occasion!
Why Choose the Slow Cooker Method?
The slow cooker, also known as a Crock-Pot, is a game-changer when it comes to making this BBQ pulled pork slow cooker recipe. Here are some reasons why this method stands out:
Time and Effort-Saving:

With the slow cooker, you can set it and forget it! No need to stand over a hot grill for hours.

Tender and Juicy:

The low and slow cooking process allows the pork to become incredibly tender and juicy, preserving all the delicious flavors.

Versatility:

Whether you're hosting a backyard BBQ or preparing a family meal, the slow cooker can handle it all with ease.

Flavor Infusion:

As the pork cooks slowly, it absorbs the rich blend of BBQ spices, resulting in a mouthwatering taste that's hard to beat.
This is the crock-pot that I use— I love that it has a timer so I don't have to worry about not being home in time- it will auto switch to warm and it's super simple to use unlike some other fancy crock-pots with timers.
BBQ Pulled Pork Slow Cooker Recipe FAQs:
How long does it take to cook BBQ pulled pork in a slow cooker?
The cooking time for BBQ pulled pork in a slow cooker typically ranges from 8 to 10 hours on the low setting. Cooking it slowly allows the flavors to develop and the meat to become tender and juicy.
Can I use a different cut of meat for pulled pork?
While pork shoulder and pork butt are the preferred cuts for making pulled pork due to their marbling and tenderness, you can experiment with other cuts like pork loin. However, keep in mind that leaner cuts may not yield the same level of juiciness and tenderness.
Should I cook the pork on low or high in the slow cooker?
For the best results, it's recommended to cook the BBQ pulled pork on the low setting. Cooking on high heat may result in less tender meat and can affect the overall flavor.
Can I prepare the BBQ pulled pork ahead of time and reheat it later?
Absolutely! BBQ pulled pork can be prepared ahead of time and stored in the refrigerator for a few days. Reheat it in the slow cooker on low or in the microwave until it's warmed through.
Can I freeze the pulled pork?
Yes, you can freeze the pulled pork for future use. Allow it to cool completely before transferring it to an airtight container or freezer bag. It can be kept in the freezer for up to three months.
Can I add vegetables to the slow cooker with the pulled pork?
Certainly! You can add vegetables like bell peppers, onions, or even pineapple to the slow cooker with the pulled pork to infuse additional flavors and create a complete meal.
Can I cook the pulled pork on high heat to reduce cooking time?
While it is possible to cook the pulled pork on high heat for a shorter duration, it may result in less tender meat and may not fully develop the rich flavors that slow cooking provides. It's generally recommended to stick with the low and slow method for the best results.
The Secret is the Bread
The key to this BBQ Pulled Pork Slow Cooker recipe is the bread!
You HAVE to get Kings Hawaiian rolls for these sandwiches….it's super soft with just a hint of sweet and the perfect size for sliders. No, Kings Hawaiian didn't pay me to say that…it's just the truth….trust me…get the bread….it's AMAZING!!!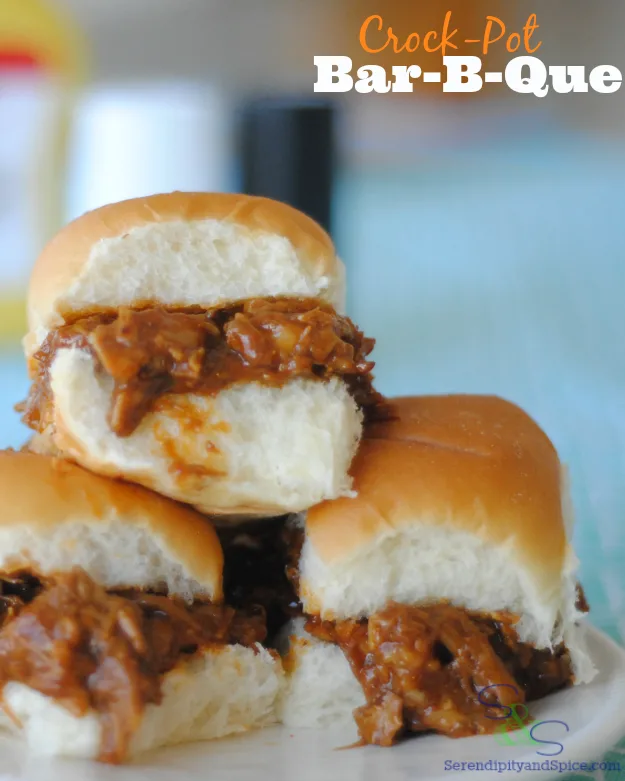 Printable BBQ Pulled Pork Slow Cooker Recipe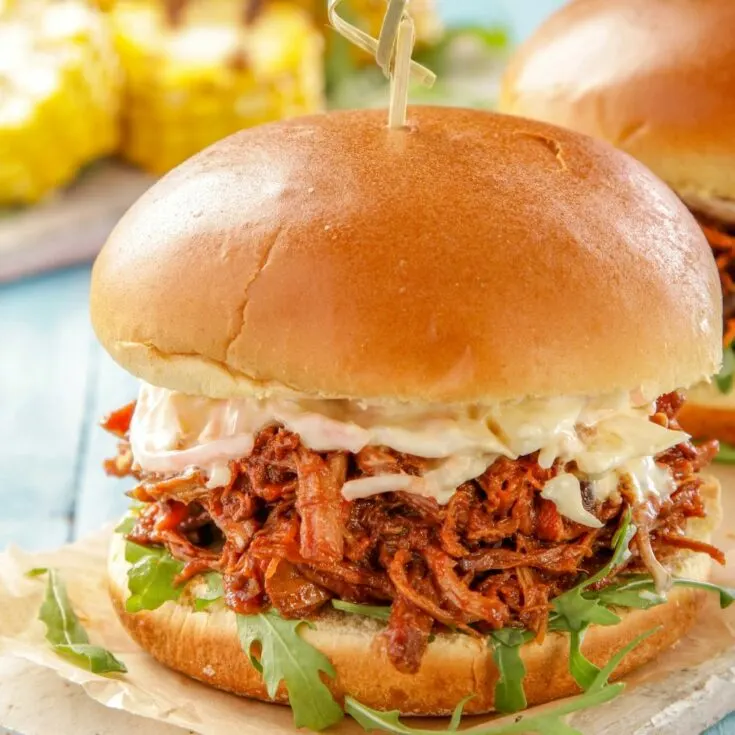 Yield:

6
BBQ Pulled Pork Recipe Slow Cooker
Total Time:
8 hours
10 minutes
Discover the secret to mouthwatering BBQ pulled pork in your slow cooker! Learn how to achieve tender, juicy perfection with minimal effort. Try our delectable recipe for a crowd-pleasing dish that's perfect for any occasion. Get ready to savor the irresistible flavors of slow-cooked BBQ pulled pork!
Ingredients
3-4 pounds of pork shoulder or pork butt (boneless for easy shredding)
1 large onion, finely chopped
4 garlic cloves, minced
1 cup of your favorite BBQ sauce (I prefer Sweet Baby Rays)
1 12oz can crushed pineapple
1/2 cup chicken broth or apple juice
2 tablespoons brown sugar
1 tablespoon paprika
1 tablespoon chili powder
1 teaspoon cumin
1 teaspoon garlic powder
1 teaspoon onion powder
1/2 teaspoon cayenne pepper (adjust to your preferred level of spiciness)
Salt and pepper to taste
Instructions
Trim the Pork: Before cooking, trim excess fat from the pork shoulder or butt to avoid an overly greasy finished product.
Create the Dry Rub: In a small bowl, mix paprika, chili powder, cumin, garlic powder, onion powder, cayenne pepper, brown sugar, salt, and pepper to form a delicious dry rub.
Season the Pork: Rub the dry mixture all over the pork, making sure it's evenly coated. This step is essential for enhancing the flavor.
Prepare the Slow Cooker: Place the chopped onion and minced garlic at the bottom of your slow cooker. This provides a savory base for the pork to rest on.
Add the Pork: Carefully place the seasoned pork on top of the bed of onions and garlic in the slow cooker.
Pour in the Liquids: Mix the BBQ sauce and chicken broth (or apple juice) in a bowl, and then pour the mixture over the pork. The liquid helps keep the meat moist throughout the cooking process.
Slow Cook on Low: Set your slow cooker to the low setting and let the pork cook for 8-10 hours. Cooking it slowly ensures that the flavors meld and the meat becomes fork-tender.
Shred the Pork: Once the cooking time is up, use two forks to shred the pork directly in the slow cooker. The meat should easily fall apart due to its tender texture.
Thicken the Sauce (Optional): For a thicker sauce, you can transfer the remaining liquid from the slow cooker to a saucepan and simmer it on the stove until it reduces to your desired consistency.
Recommended Products
As an Amazon Associate and member of other affiliate programs, I earn from qualifying purchases.
More Delicious Recipes to Try: