Sweet Hawaiian Crock Pot Barbeque Pork Sandwiches
The BEST Crock Pot Barbeque Pork Recipe Ever!
These are by far the easiest and best BBQ sandwiches I've ever had using the crock pot! It takes about 5 minutes for the prep time and then you can go do what you want and have a delicious meal ready in just a few hours. I've made this recipe with chicken, shredded beef, and ground beef….and they've all turned out fabulous!
I LOVE LOVE LOVE using my crock-pot during these warmer months because it helps keeps the temp down in the kitchen. Nothing's worse on a blistering summer day than sweating cooking over a HOT stove! And even though Summer isn't here yet– and I'm totally stoked about Spring, Winter lasted WAY too long this year– I still like to get my slow cooker recipes tried out and planned before the heat wave hits. For me, Spring just doesn't last long enough! It seems like we go from ridiculously cold to a week of perfection to blistering hot. But enough about the weather– back to this yummy Crock Pot Barbeque Pork Recipe! (This is the crock-pot that I use— I love that it has a timer so I don't have to worry about not being home in time- it will auto switch to warm and it's super simple to use unlike some other fancy crock-pots with timers.)
The key to this recipe is the bread! I know, you were expecting me to say the meat….which is pretty important too (I highly recommend buying your meat from Zaycon if you have the freezer space– it's top quality meat at a fantastic price– it's where I get all of my meat now). Okay, so back to the bread….you HAVE to get Kings Hawaiian rolls for these sandwiches….it's super soft with just a hint of sweet and the perfect size for sliders. No, Kings Hawaiian didn't pay me to say that…it's just the truth….trust me…get the bread….it's AMAZING!!!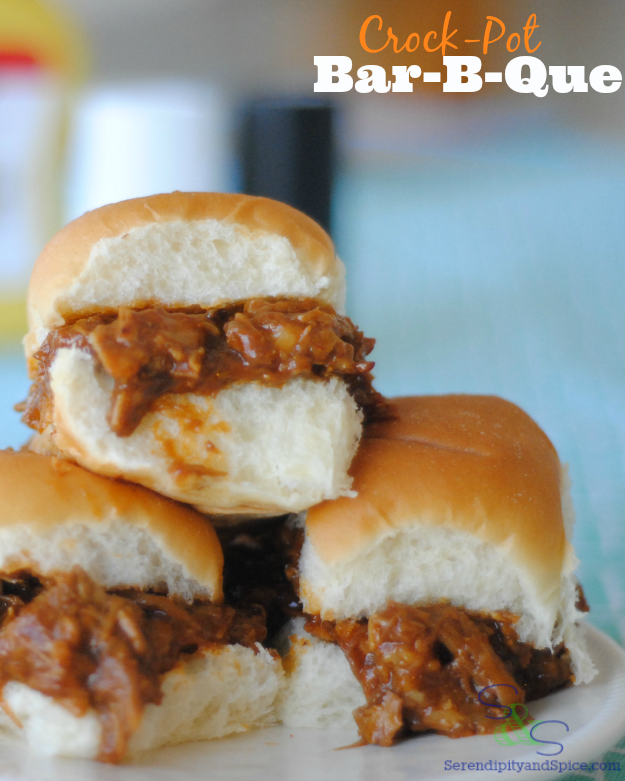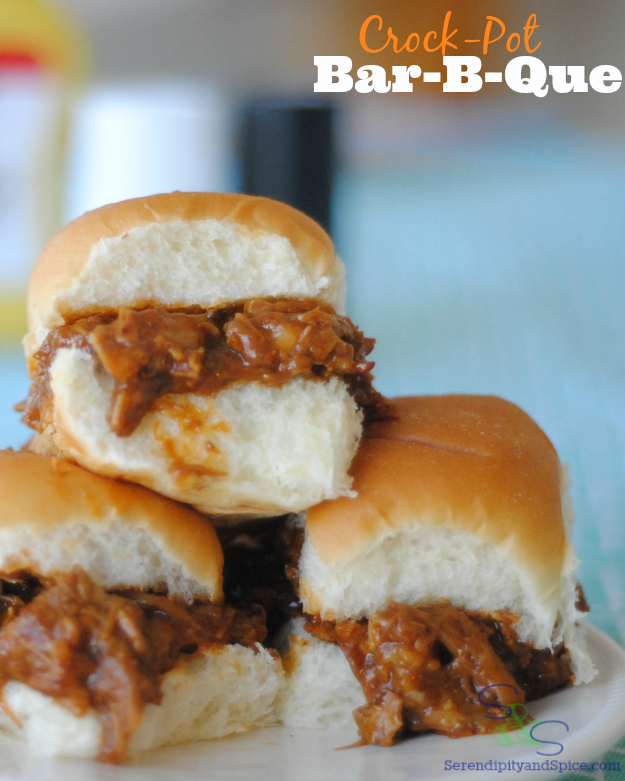 Alright, now for the recipe:
Sweet Hawaiian Crock Pot Bar-b-que Sandwiches
Author:
Prep time:
Cook time:
Total time:
Ingredients
2 lb pork roast
1 Bottle Kraft Original BBQ Sauce (17.5 oz)
1/4 Cup Ketchup
2 TBS Mustard
1 TBS Soy Sauce
1/4 Cup Light Brown Sugar
1/4 Cup Pineapple Juice
Instructions
Place roast in slow cooker and cover with Kraft BBQ Sauce.
Cook on low for 6-8 hours.
Using 2 forks- shred the pork roast apart.
Add in ketchup, mustard, soy sauce, brown sugar, and pineapple juice….you can adjust the levels of each to get your desired taste.
Cook for additional 30 minutes.
Serve on Kings Hawaiian Rolls.
So there you have it…my must have Sweet Hawaiian Crock Pot Barbeque Pork Sandwiches….the perfect Summer meal!
What is your must have meal this Summer?
Up Next:
OMG BEST Crock-Pot Chicken Ever