This is a sponsored post written by me on behalf of Disney Baby. All opinions are 100% mine.
Why I'm taking a baby to Disney World. Many say Miss Jellybean is too young and she'll never remember…but the memories aren't just for her….here are my reason's for taking a baby to Disney World.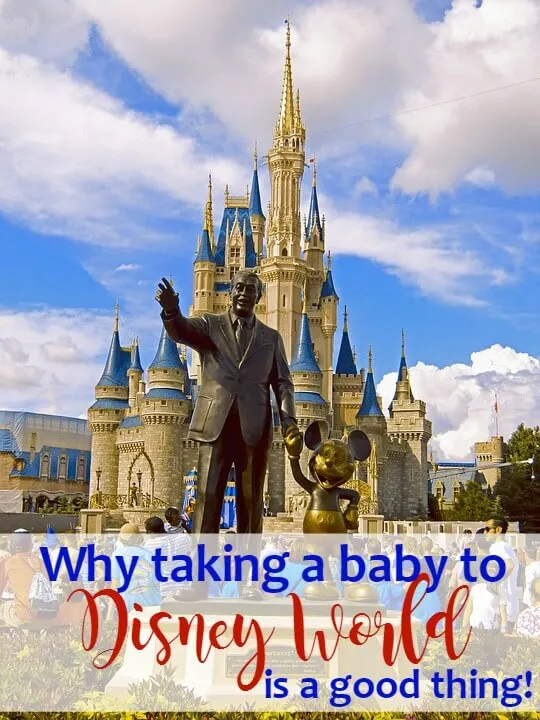 Taking a Baby to Disney World
Is Your Baby Too Young for Disney World
So, I'm taking my 17 month old baby to Disney World…well, she'll actually be 21 months old when we go. Now, before you give me the eye-roll. I know and understand that she's not going to remember any of it. People have explained to me over and over again that going to Disney World at such a young age is a waste of money and I should wait until both kids are older so they can remember the experience. I disagree. I do get all of the hesitation people have about taking babies to Disney World…I really do…but, it's not all about HER experiences and HER memories. Going to Disney World is about OUR experiences as a family and passing down family traditions.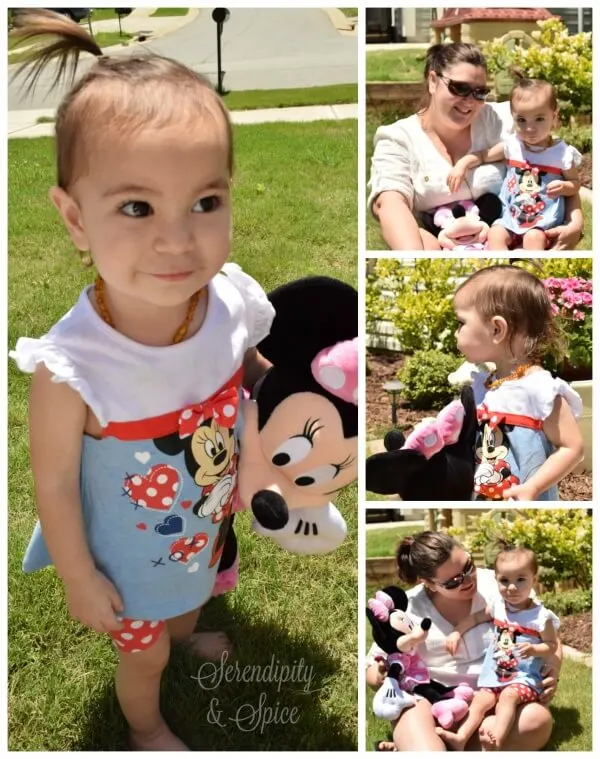 I have an intense love of Disney…if you follow Serendipity and Spice regularly then you already know that! Hubs and I went to Disney World before we ever had children; Little Man's first trip to Disney World was when he was just 6 weeks old– Hubs took us to Mickey's Very Merry Christmas Party because while in labor with Little Man I told him I had always wanted to go.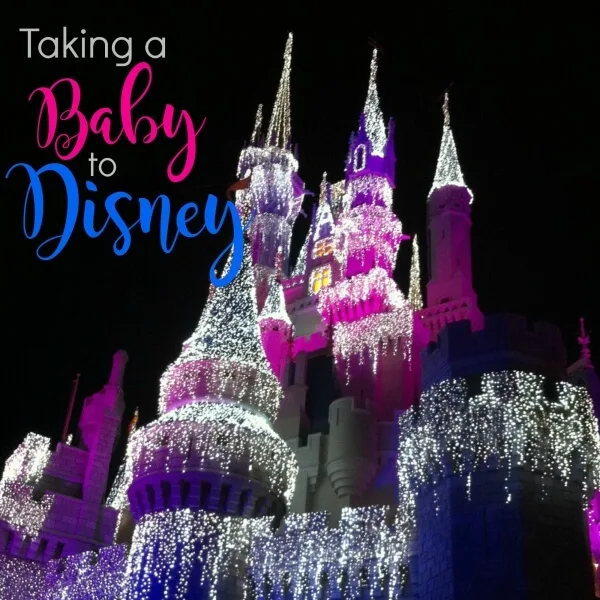 Growing up, Disney was always around in our house. Back then the Disney Channel was a premium channel like HBO or Showtime and my parents paid for it because they saw the value in having the Disney Channel for us kids. Mickey, Minnie, Pluto, and the Gang are symbols of fun, wholesomeness, and magic. Going to Disney World was and will always be a true vacation from all of the stresses in the world…at least for my family. And that's something that I want to pass down to my children.
Miss Jellybean LOVES all things Minnie Mouse! I can remember the first time she watched Disney Junior's Mickey Mouse Clubhouse she immediately zeroed in on Minnie Mouse and started pointing at her. For her first birthday I bought her a plush Minnie Mouse of her very own and she carries Minnie around everywhere that she goes!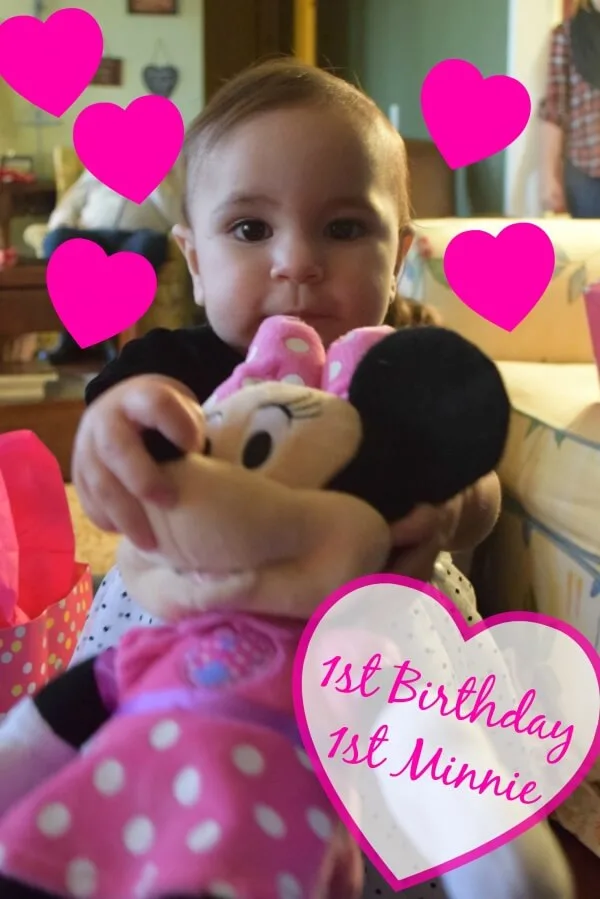 Right now, everything is new and magical to her. I remember how Little Man's eyes lit up when he saw Mickey Mouse for the first time and I can't wait to see Miss Jellybean's eyes light up just as bright. Taking her to Disney World at such a young age seems so natural to me. If we wait on everything until the kids are old enough to remember then there wouldn't be much joy in our lives.
Babies and kids retain so much information in those first 5 years that I think special family trips to Disney World are important during this timeframe. They may not remember the specifics of the trip, but subconsciously they remember the experiences, the emotions, the togetherness….and all of those help shape them as they grow up. And I remember their excitement to the magic and wonder. Miss Jellybean is very excited about getting to meet Minnie Mouse in person and she points to the TV and says "go see, go see" every time Minnie pops on the screen.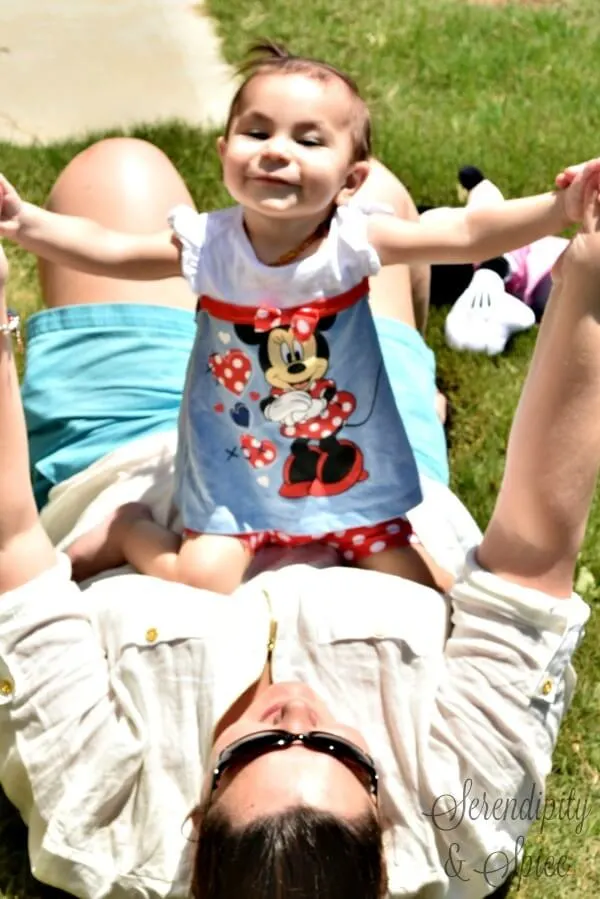 Don't you just love Little Miss' outfit?! It's the Disney Baby Minnie Mouse Outfit in Tomato. She adores her new Minnie Mouse outfit…and I love that I found it at Walmart for a great price. Walmart has a bunch of Minnie Mouse products that are just too cute for the little girl in your life. Check out: Disney Baby at Walmart
Walmart is definitely my one stop shop for all things Minnie Mouse. How cute is this Disney Baby Minnie Mouse Rocker…and this Disney Baby Minnie Mouse Plush Blanket. I even bought these Disney Baby Minnie Mouse Bottles for a friend as a baby gift! The prices just can't be beat and everything is just so darn cute!
So don't put off making those memories for when the kids are older. Embrace the fun now and create memories that YOU will cherish forever….because they're only this little once. Before we know it they'll be grown up in just a blink.
Have you taken your little one to Disney World? Share your experiences in the comments below!