So you think you want to start a blog?
Let me share the truth about blogging with you!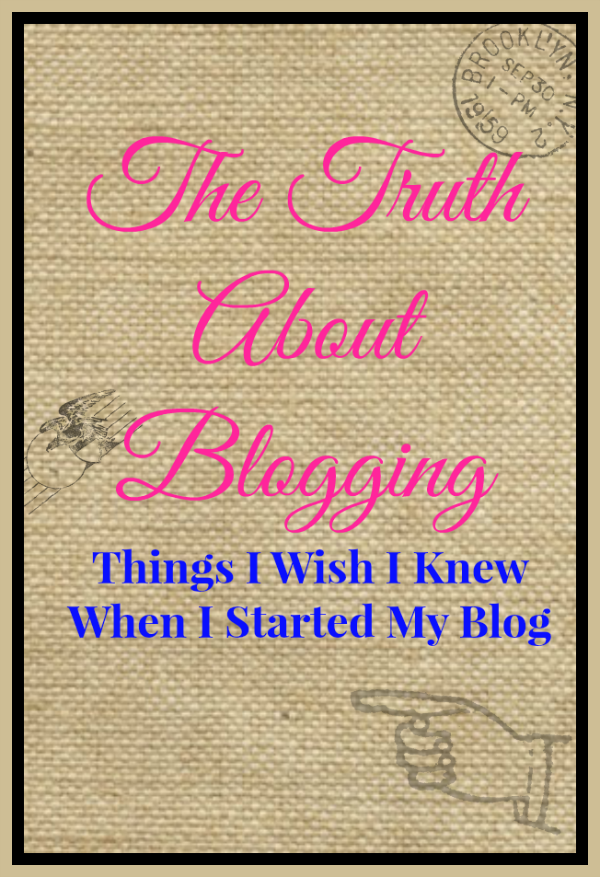 Now, I know this post is going to be a bit controversial and some of the bloggers that have been around a bit longer may not be thrilled that I'm putting all of this out there BUT it's things I wish someone had told me when I first started.
UPDATE: I just started Year 3 of blogging. This year I'm averaging 1 million page views a month and earning over $2000 a month! Since so many people have asked I've started a new series: How to Start a Successful Blog! Come check it out as I walk you through step by step to building a blog!
This week is my 2 year blogiversary….I started Serendipity and Spice on January 1, 2012 as a part of my New Year's resolution to be more purposeful in my life, to document my adventures with Little Man (who had just been born in October), share life as a new mother (what a transition that was!), and to make some extra money on the side. Yep, I said it…..I started my blog to make money…..the horror!
Here's the deal…..I want to stay at home with Little Man…..I know, I know….that's sooooo backwards in this day and age and I'm a disgrace to women around the world and throughout history who have fought to make me equal with Hubs. But I can't imagine not spending every possible moment of Little Man's childhood being there for him. Yes, there are days when I dream of putting him in daycare/preschool and going back to work…I mean I am still paying off the ridiculous amount of student loans from college….but those moments are usually when he's being a wholly terror and 10 minutes later he turns into my sweet loving boy and I remember that we only get so many years of hugs and cuddles before they're too old for all that mushy stuff… so I want to get my lifetime's worth while I can. But this post is not about my choice of being a stay at home mom….this post is about my choice of being a blogger.
So here's the truth about blogging (make sure you subscribe to the weekly newsletter or follow along on BlogLovin, Facebook, Twitter, or Google+ because I'll be breaking each of these down in individual posts and don't want you to miss a thing):
1. Can you make money blogging?
Yes you can….will you become rich quick? Nope. Will you make a six figure income? Yes you can. Will you make enough to pay for a Disney vacation? It depends on your devotion and effort. Will you make enough to have some extra fun money? Most definitely….but you gotta work for it!
2. Is blogging easy?
No….but it is quite rewarding! It has moments of being easy….especially if you really enjoy what you're doing and you blog about your passion!
3. Does the blogging world really need another blogger?
YES! I'm sure there are many "older" bloggers (not age older, but more like blogging veterans) who would disagree….they don't want any more bloggers. But I believe that if you have a passion that you want to blog about then you should do it! I read somewhere that only 5% of people that begin a blog will follow through and still be blogging 2 years later…so there may be a TON of blogs out there but 95% of them have been abandoned…so give it a go….you never know…you might just be the next Martha Stewart….oh wait, she hates bloggers…..hmmmm….anyway, you may be the next blogging superstar….but you'll never know if you don't give it a honest try!
4. Can anyone become a blogger?
Yes and no. I say yes, because anyone can put together a blog (heck, my mom has one…actually I put it together for her….but…..). Anyway, yes, anyone out there can technically become a blogger– you build a site, start posting, and hope they will come. And this is why I say yes AND no. The no part is because of the posting and hoping they will come. You can't really half-ass blogging and get away with it…..people will be able to tell and they won't come back. Also, you have to actually post (see mom's blog above). AND, you have to learn not only the basics of blogging but the etiquette of blogging too.
5. So why even start a blog if it's so much hard work and you don't get rich quick?
Starting a blog is a decision I would never change….I love my blog and I love what it's given me! I've always had a passion for writing….I wanted to be a journalist in High School….although I always hated writing papers in college….hmmmmm. Anyway, I've always liked writing short articles not 15 page dissertations! Pair that with my love of cooking, crafting, helping others, and my amazing Little Man….and there's my blog. Starting a blog can be highly rewarding…..I mean wouldn't you like 30 people telling you that the wreath you made is gorgeous….or 2500 people pinning and making a recipe that you've shared….oh yeah, check out my OMG BEST Crockpot Chicken EVER recipe here….the name speaks for itself! But anyway, blogging does have it's rewards!
I have made a great circle of friends through my blogging journey…some have come, some have gone, some have given up there blogs but we keep in touch, some have multiple blogs, some live nearby and we grab coffee in person, some live far away and we send each other Christmas gifts and do Google+ hangouts…..my circle of blogging friends just continues to grow and it's so rewarding.
You get cool stuff. There, I just told you another taboo reason for blogging…..but who doesn't like FREE cool stuff?! I've done several campaigns (advertising for companies) where I've gotten boxes FULL of fun craft supplies, boxes of neat ingredients, boxes of samples to try, boxes of stuff to giveaway….anyway I've gotten boxes full of FREE swag over the last 2 years!
You can also get into expensive events for free. Another taboo reason for blogging….but it's true….there are many events out there that will give complementary tickets to bloggers if they'll promote the event (note- you do have to have an established blog with a decent following). Check out The Gift of Lights post I did during the Holidays….granted it would have only cost us $20 if we paid for it….but I'm holding out hope for free tickets to Disney on Ice when it comes to Charlotte…those tickets are $40 per person! Even Disney World and SeaWorld will extend a free ticket to bloggers….I can't wait for the next trip to Florida!
And the best thing about blogging is the satisfaction I get from feeling like a real person with a purpose. Being a stay at home mom you tend to loose yourself in your children. My blog gives me the "Me Time" that I need. Hubs knows that he has to give me time to complete my projects, take pictures, work on the computer…because I treat my blog like my job. And sometimes you just need that quiet time to complete a project, recipe, post, etc.
So, if you're thinking about starting a blog I say go for it! Just know that you're not going to make millions of dollars but you'll have a blast doing it if it's a passion! BUT, I highly suggest waiting until you read tomorrow's post on The Truth About Blogging: Things I wish I had done differently….and get your blog set up the right way on the first try!
UPDATE: I just started year 3 of blogging. This year I'm averaging 1 million page views a month and earning over $2000 a month! Since so many people have asked I've started a new series: How to Start a Successful Blog! Come check it out as I walk you through step by step to building a blog!