The Woodlink Wooden Bluebird House is perfect for a mom who loves the outdoors and nature. The natural finish blends in perfectly with the great outdoors and the birds love the simple design.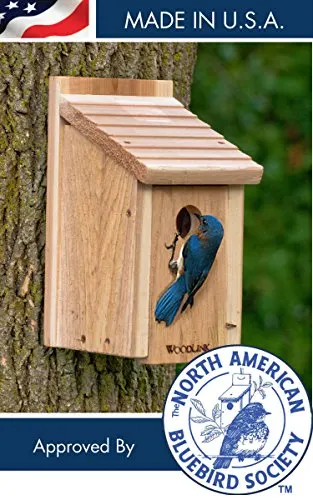 Woodlink Wooden Bluebird House
Can your mom sit at her kitchen table and watch birds for hours? Does she let you know what they are doing daily? You can get a gift that helps her enjoy it more the Woodlink Wooden Bluebird House. This is a great gift idea for moms who love birdwatching.
Plus if she's a big gardening fan, this birdhouse will make her hobby even more enjoyable. She can watch the birds while she is working.
This house is specifically designed to attract bluebirds, which will delight her. And you'll like that this stylish bird house is constructed within the USA and benefits from exemplary quality.
Its appearance is all thanks to the kiln dried inland red cedar used during construction. It also features a ridged roof design, giving it more of a modern look. This means it will fit in with any garden décor.
The quality of this little bird house will have the birds your mom enjoys coming back for years. The smooth, rounded edges make it more comfortable for them to use. A lot of bird houses on the market come with a very thin, rough design so compared to its competitors, this is an exceptional model.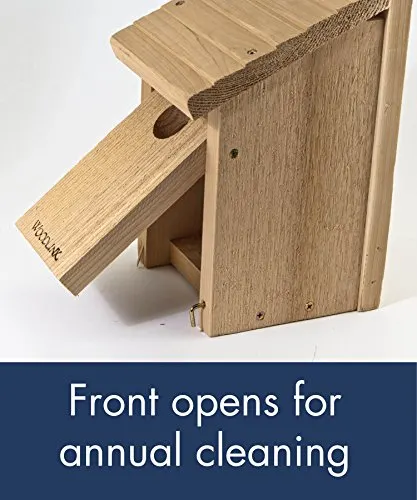 The wood used to create it is also taken from reforested areas. So if she's concerned with the environment, this should give her peace of mind.
The manufacturer has given it an Ornithological design to ensure it attracts bluebirds. There's a small ½ inch hole that is especially well-suited for eastern bluebirds.
As well as this entrance hole, there's also a drain hole provided on the base and a ventilation gap at the top of the bird house so they can breathe easier inside. She'll love the fact it is easier to clean with these.
Speaking of cleaning it out, the front of the bird house opens to make that chore a breeze. Obviously this should be done when the birds aren't nesting. The front panel does slide down so she can check on any nesting birds without disturbing them however.
Its benefits don't just stop there either. The red cedar used is both weather-resistant and insect repellent. So whatever the weather, you can be sure this bird house is going to last for many years. She also won't need to worry about wasps or other insects trying to make it their home.
Finally, the house comes fully assembled and 100% ready to be mounted. She won't even need to worry about putting it together. It's a gift she can instantly start using.
While it is designed largely with eastern bluebirds in mind, it's also suitable for the western variety too. It comes with full instructions on the best location to hang it as well as information on how to protect the bluebirds against predators.
Overall the Woodlink Wooden Bluebird House, is a quaint addition to the garden that she'll love. Available at a really low cost, this is one of the best Mother's Day gifts you can give to a mom who loves nature and gardening.
Other gifts mom will love:
Gifts For Someone Who Has Everything
20 Lilly Pulitzer Gifts Under $25
Reclaimed Barnwood Mini Herb Garden
VREMI Horticulture Helper 9 pcs Garden Tools Set