This 4 Ingredient Guacamole Recipe is so simple to make and absolutely delicious! Whip it together in just 5 minutes and pair with some warm tortilla chips for the perfect addition to dinner.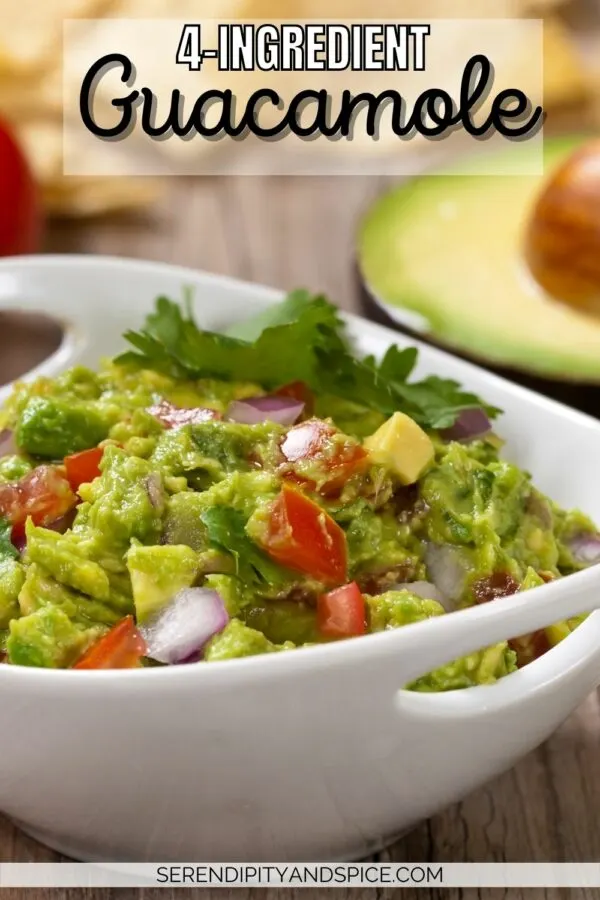 This 4 Ingredient Guacamole Recipe is a must have on our Taco Tuesday nights! The key to good guacamole is all in the avocados and tomatoes….seriously, when it comes to fresh guacamole, the simpler the better.
I've tried so many different types of guacamole recipes. Some call for a bunch of spices, some call for extra oil to make the dip creamier, some call for adding dressing or hard to find peppers. But, what I've found to work best is just to keep it simple.
First, the key to a delicious guacamole recipe, is choosing the right avocado.
What Kind of Avocado to Buy?
Did you know there are many different varieties of avocados? And they all taste a little bit different which can effect the flavor of your guacamole as well as the creaminess of it too.
The most common avocados in the United States are Hass, Hall, and Choquette. Hass avocados are the small ones you typically see in the grocery store, they typically fit in the palm of your hand. The Hall and Choquette avocados are larger with smoother skin…these avocados have higher water content so they're better for slicing and eating.
For this recipe I use Hass avocados.
How do you know when an avocado is perfectly ripe?
Finding a perfectly ripe avocado for this 4-Ingredient Guacamole Recipe can be a challenge…especially in the United States. Since avocados are imported, they tend to arrive at the grocery stores underripe and hard or they've travelled for so long that they become over ripe and too soft.
When choosing an avocado you want one that's firm yet soft. When you pick up an avocado it should feel solid yet when you press your thumb gently it should give without mushing into goo.
The problem with choosing a perfectly ripe avocado is the window of ripeness is very short! Typically, if I know I have guacamole on our menu I'll go ahead and buy a few underripe avocados and hope they ripen up in time.
The day before I make this 4 ingredient avocado recipe, if my avocados still aren't ripe enough, I'll place them inside a brown paper bag and this will quicken the ripening process.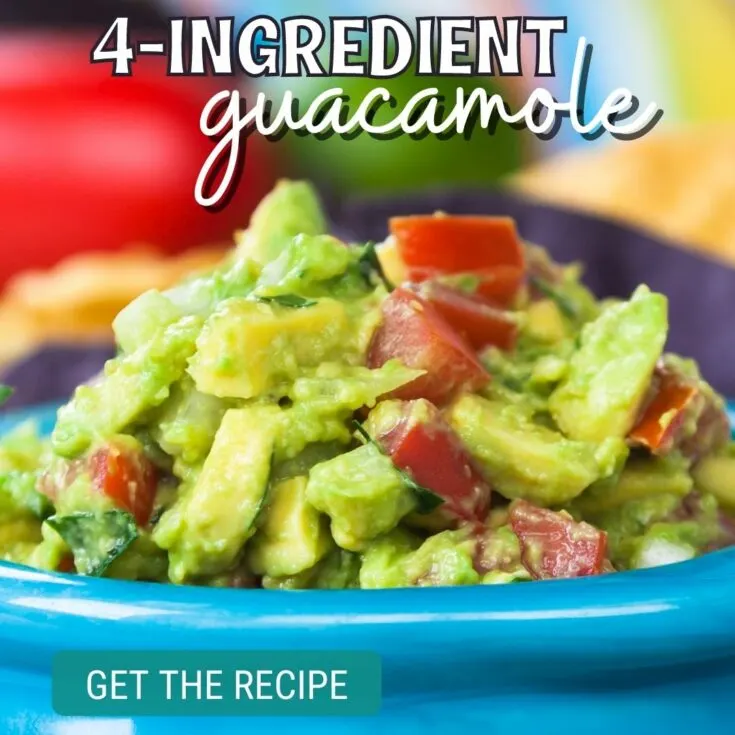 Yield:

4
4 Ingredient Guacamole Recipe
Ingredients
2 Hass Avocados
1 Cup Diced Red Onion
1 Cup Diced Tomato
1 Lime
Instructions
Peel and dice your avocado into a bowl.
Add in diced onion and diced tomato.
Slice lime in half and squeeze juice over ingredients.
Mix well and serve.
Notes
Optional: Add cilantro...most people either love it or hate it....if you love it then add it for more flavor.
Recommended Products
As an Amazon Associate and member of other affiliate programs, I earn from qualifying purchases.
Some helpful tips…..
How to keep your guacamole nice and green?
Keep the avocado pit and place it back in the dip once it's made. I'm not sure how or why it works but it keeps your guac from turning brown.