These banana pudding brownies are more accurately described as blondies…but whether you call them blondies or brownies….this banana pudding brownie recipe is a delicious dessert everyone loves!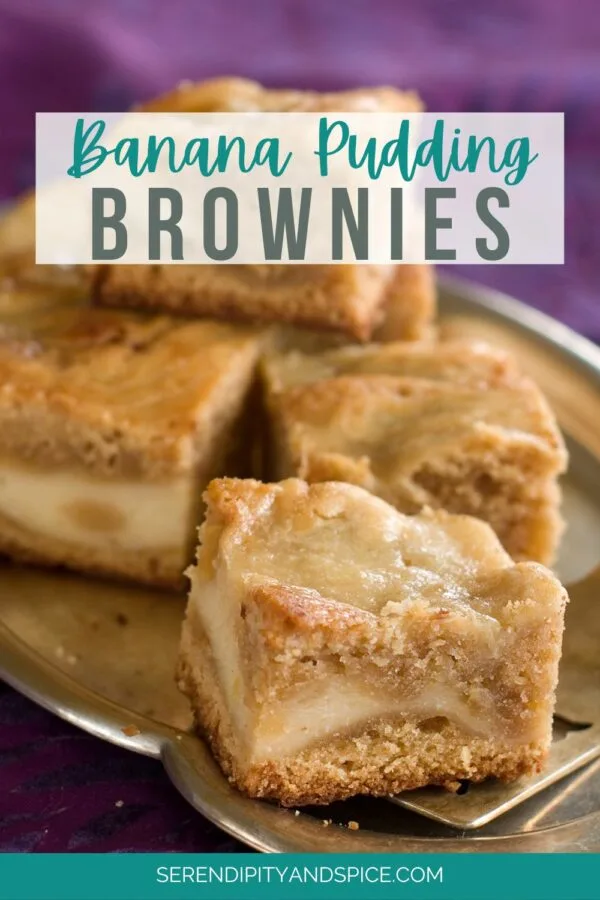 Do you love banana pudding? Do you love ooey gooey brownies? Well, these banana pudding brownies make the perfect dessert option!
Make these banana pudding brownies for a delicious twist on a classic favorite! The whole family loves these banana pudding brownies for dessert.
Ingredients
8oz Cream Cheese
1 Box Banana Pudding
1/3 Cup Milk
2 Cups Brown Sugar
1/3 Cup White Sugar
2 1/2 Cups All Purpose Flour
1 Stick of Butter - melted
4 Eggs
1 Extra Egg Yolk
1 tsp salt
1 tsp Baking Powder
1 tsp Vanilla Extract
Nilla Wafers (optional)
Instructions
In a large bowl, mix together cream cheese and banana pudding.
Add in milk and 2 eggs. Mix well.
Set banana pudding mixture in fridge while you create the rest.
In a separate bowl, mix together brown sugar and white sugar.
Add in melted butter, 2 eggs, 1 egg yolk, vanilla extract, baking powder, and salt.
Slowly add in flour.
Mix well until a thick dough forms.
Preheat oven to 350 degrees.
Grease a 9x12 baking dish.
Place dough into baking dish.
Press down center of dough to make little indentions for the banana pudding mixture....this is a great job for kids because it doesn't need to be perfectly flat. You want "bubbled" areas.
Remove banana pudding mixture from fridge and spoon on top of the dough.
If desired, top with vanilla wafers for a classic banana pudding feel.
Bake at 350 degrees for 45 minutes.
Top should be a light golden brown when finished.
Let banana pudding brownies cool completely before cutting into single serving squares.
Notes
You can add Nilla wafers if you want...but my family prefers these banana pudding brownies without the Nilla Wafers. The brownies come out perfectly gooey and oh so delicious....but some people prefer the classic banana pudding addition of the Nilla wafers....it's totally up to you!