These banana pudding brownies are more accurately described as blondies…but whether you call them blondies or brownies….this banana pudding brownie recipe is a delicious dessert everyone loves!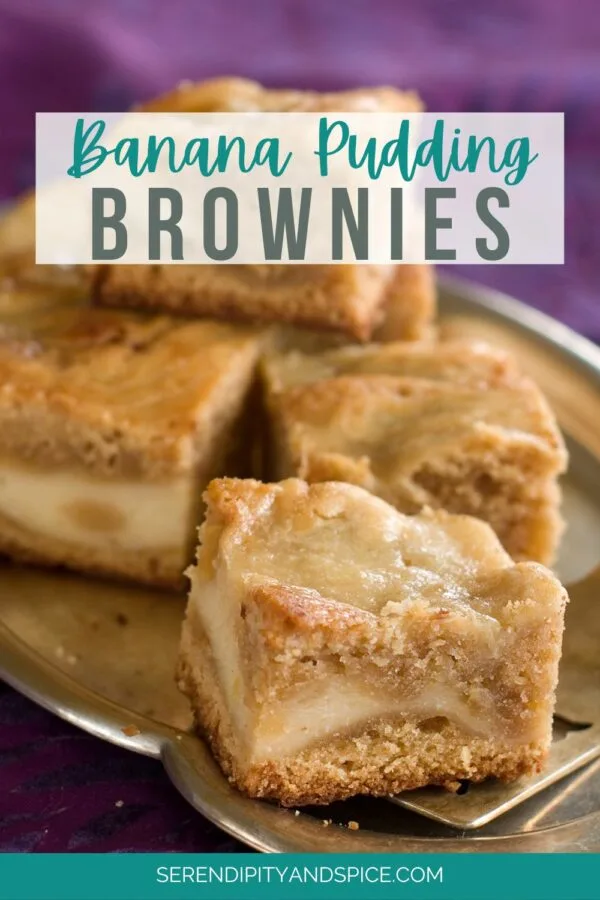 Table of Contents
Viral Sensation: The TikTok Banana Pudding Brownies
Do you love banana pudding? Do you love ooey gooey brownies? Well, these banana pudding brownies make the perfect dessert option!
In today's fast-paced world, being a mother often means juggling countless responsibilities. From managing household chores to professional obligations and the continuous task of nurturing children, time is an incredibly valuable commodity.
This is why, when it comes to cooking, the majority of busy moms are always on the lookout for quick, delicious, and satisfying recipes.
And, this is where the Banana Pudding Brownies, a viral sensation from TikTok, come in.
Easy and Quick to Make
Banana Pudding Brownies are the epitome of convenience, embodying the mantra of 'maximum flavor with minimal effort.'
The recipe typically involves a simple brownie mix (which can be store-bought for extra convenience), ripe bananas, vanilla pudding, and a few other basic ingredients.
With an approximate total time of under an hour from start to finish, it's a recipe that's easy to squeeze into a busy day.
Child-friendly and Loved by All
Let's face it – kids can be picky eaters. But when it comes to these brownies, their rich chocolate taste combined with the familiar, comforting flavor of bananas and vanilla pudding is almost universally appealing.
Banana Pudding Brownies are also a fun way to introduce your little ones to baking, given their simple recipe steps.
Flexible and Forgiving Recipe
One of the beauties of this recipe is its flexibility.
Over-ripe bananas sitting in the fruit bowl?
They're perfect for this dessert.
Only have chocolate pudding on hand?
It'll add an extra dimension of chocolatey goodness to your brownies.
This flexibility means that you can adapt the recipe according to what you have available, reducing the need for extra grocery runs.
Perfect for Any Occasion
Whether you're packing a school lunch, preparing a treat for a playdate, or even if you need a last-minute dessert for a dinner party, Banana Pudding Brownies are versatile enough to fit the bill.
They can be dressed up with a dusting of powdered sugar or a scoop of ice cream, or kept simple just as they are.
A Fun, Viral Trend
Lastly, but by no means least, being a viral TikTok trend means that making Banana Pudding Brownies can be an exciting activity that allows moms and their kids to connect with a wider online community.
Kids will love the idea of creating something they've seen go viral, adding an extra sprinkle of fun to the baking process.
Make these banana pudding brownies for a delicious twist on a classic favorite! The whole family loves these banana pudding brownies for dessert.
Ingredients
8oz Cream Cheese
1 Box Banana Pudding
1/3 Cup Milk
2 Cups Brown Sugar
1/3 Cup White Sugar
2 1/2 Cups All Purpose Flour
1 Stick of Butter - melted
4 Eggs
1 Extra Egg Yolk
1 tsp salt
1 tsp Baking Powder
1 tsp Vanilla Extract
Nilla Wafers (optional)
Instructions
In a large bowl, mix together cream cheese and banana pudding.
Add in milk and 2 eggs. Mix well.
Set banana pudding mixture in fridge while you create the rest.
In a separate bowl, mix together brown sugar and white sugar.
Add in melted butter, 2 eggs, 1 egg yolk, vanilla extract, baking powder, and salt.
Slowly add in flour.
Mix well until a thick dough forms.
Preheat oven to 350 degrees.
Grease a 9x12 baking dish.
Place dough into baking dish.
Press down center of dough to make little indentions for the banana pudding mixture....this is a great job for kids because it doesn't need to be perfectly flat. You want "bubbled" areas.
Remove banana pudding mixture from fridge and spoon on top of the dough.
If desired, top with vanilla wafers for a classic banana pudding feel.
Bake at 350 degrees for 45 minutes.
Top should be a light golden brown when finished.
Let banana pudding brownies cool completely before cutting into single serving squares.
Notes
You can add Nilla wafers if you want...but my family prefers these banana pudding brownies without the Nilla Wafers. The brownies come out perfectly gooey and oh so delicious....but some people prefer the classic banana pudding addition of the Nilla wafers....it's totally up to you!
More Delicious Desserts to Make