Looking for a quick and nutritious breakfast option that satisfies your sweet tooth? Look no further! This Strawberry Cheesecake Overnight Oats recipe will leave you craving more. Not only is it incredibly delicious, but it's also packed with wholesome ingredients to fuel your day. So, let's dive right in and discover how to make this mouthwatering breakfast treat!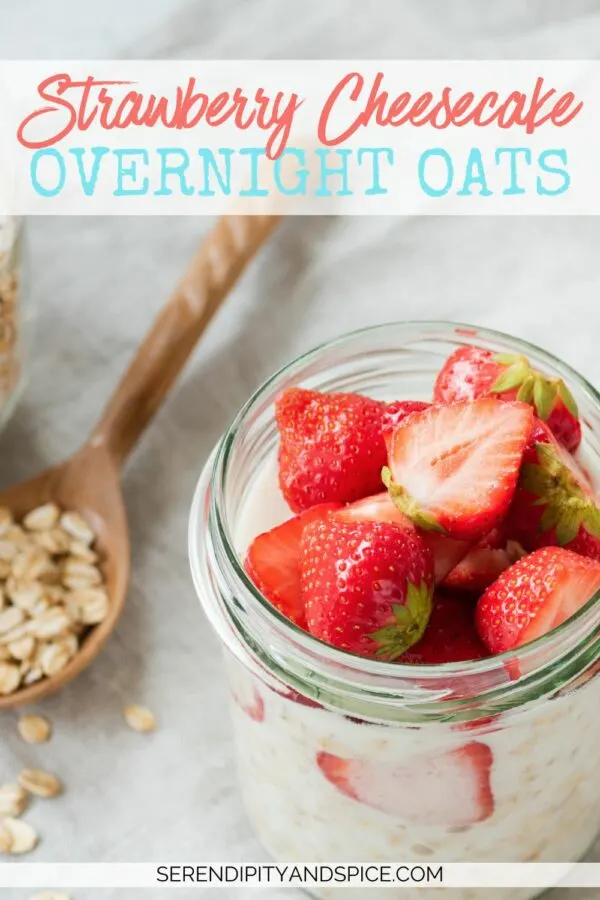 Table of Contents
The Benefits of Overnight Oats
Before we delve into the delightful recipe, let's talk about why overnight oats are a fantastic breakfast choice. Overnight oats are a type of no-cook oatmeal that you prepare the night before, allowing the oats to soak in liquid and soften overnight.
Here are a few benefits to making overnight oats:
Digestive Health: Overnight oats are an excellent source of dietary fiber, which aids in promoting healthy digestion. The fiber content helps regulate bowel movements, prevents constipation, and supports a healthy gut microbiome.
Heart Health: Oats are well-known for their heart-healthy properties. They are packed with soluble fiber, specifically beta-glucan, which has been shown to help reduce LDL (bad) cholesterol levels and improve overall cardiovascular health.
Blood Sugar Management: The slow-digesting nature of oats helps maintain stable blood sugar levels. This is particularly beneficial for individuals with diabetes or those looking to control their blood sugar levels throughout the day.
Weight Management: Overnight oats can be a valuable tool for weight management. The high fiber content helps you feel fuller for longer, reducing the likelihood of overeating and snacking on unhealthy options throughout the day.
Energy Boost: Oats are a complex carbohydrate that provides a steady release of energy. By starting your day with overnight oats, you'll have sustained energy levels, keeping you focused and productive throughout the morning.
Nutrient Density: Overnight oats can be customized with a variety of nutritious toppings such as fresh fruits, nuts, seeds, and spices. This allows you to boost the nutrient density of your breakfast, providing essential vitamins, minerals, antioxidants, and healthy fats.
Convenience: As the name suggests, overnight oats are prepared the night before, making them a time-saving option for busy mornings. You can portion them into individual containers or jars, and they are ready to grab and go. This convenience factor makes it easier to stick to a healthy eating routine.
Versatility: Overnight oats are incredibly versatile, allowing you to experiment with different flavors and combinations. You can add ingredients like cocoa powder, nut butter, yogurt, protein powder, or spices like cinnamon and nutmeg to create a wide range of delicious variations.
Budget-Friendly: Oats are an affordable staple that can stretch your grocery budget. Compared to many pre-packaged breakfast options, overnight oats are a cost-effective way to enjoy a nutritious meal.
Reduced Cooking Time: Since overnight oats require no cooking, they save you time in the morning. By simply preparing them the night before, you eliminate the need for pots, pans, and stove use, making cleanup a breeze.
What Container to Use for Overnight Oats
When it comes to making overnight oats, having the right containers is essential for convenience, freshness, and portability. I LOVE these containers for making overnight oats because they offer several features that make life easier:
Capacity and Size: These overnight oats containers have a generous capacity, allowing you to prepare a sufficient portion of overnight oats for a satisfying breakfast. Plus, I love having a little extra room for some delectable toppings

.

Airtight Seal: These containers are designed with an airtight seal, ensuring that your overnight oats stay fresh and delicious. Being a homeschool family that's always on the go, we need something that can be taken in the car and won't make a mess.
BPA-Free: The containers are made from high-quality, food-grade materials that are BPA-free, ensuring that your food remains safe and free from harmful chemicals.
Easy-to-Use Design: When making overnight oats, you want a jar with a wide mouth, making it effortless to fill them with your oats and other ingredients. The twist-on lids provide a secure closure, and the containers are stackable, saving valuable space in your refrigerator.
Easy Cleaning: Cleaning these containers is a breeze. They are dishwasher safe, saving you time and effort in the kitchen. The smooth surfaces ensure that no food residue gets trapped, making them hygienic and easy to maintain.
Incorporating overnight oats into your breakfast routine can provide numerous health benefits while offering endless possibilities for taste and texture.
So why not give them a try and experience the goodness yourself? This Strawberry Cheesecake Overnight Oats recipe is the perfect place to start!
Printable Strawberry Cheesecake Overnight Oats Recipe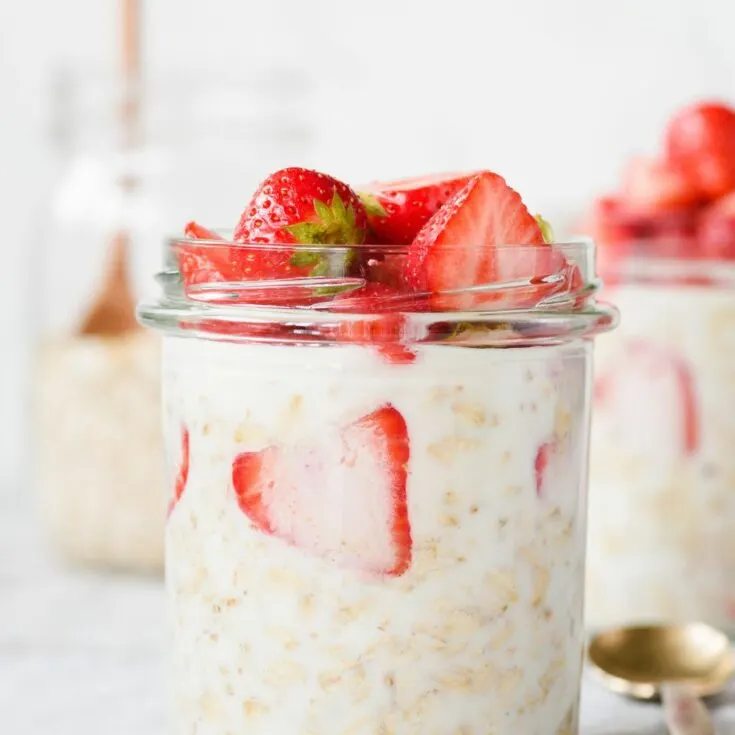 Strawberry Cheesecake Overnight Oats
Total Time:
6 hours
5 minutes
Start your mornings right with this Strawberry Cheesecake Overnight Oats Recipe... a wholesome and indulgent breakfast that will keep you fueled throughout the day!
Ingredients
1/2 cup rolled oats
1/2 cup unsweetened almond milk (or any milk of your choice)
1/4 cup Greek yogurt
1 tablespoon chia seeds
1 tablespoon honey or maple syrup
1/2 teaspoon vanilla extract
1/4 cup fresh strawberries, diced
1 tablespoon cream cheese (optional)
1 tablespoon graham cracker crumbs (for topping)
Instructions
In a mason jar or airtight container, combine rolled oats, almond milk, Greek yogurt, chia seeds, honey or maple syrup, and vanilla extract. Stir well to ensure all ingredients are fully combined.
Add the diced strawberries to the mixture and gently stir to distribute them evenly throughout the oats.
If desired, add a tablespoon of cream cheese to the mixture for an extra touch of cheesecake flavor. Mix well.
Seal the container tightly and refrigerate overnight, or for at least 4-6 hours, to allow the oats to soften and the flavors to meld together.
The next morning, give the oats a good stir. If the mixture appears too thick, you can add a splash of milk to reach your desired consistency.
Sprinkle graham cracker crumbs on top of the oats for that classic cheesecake crust flavor and a bit of crunch.
Enjoy your Strawberry Cheesecake Overnight Oats right away or take them on the go for a delightful and nutritious breakfast.
Notes
Switch up this recipe with your favorite fruits...blueberries, raspberries, blackberries, peaches, etc. The versatility of overnight oats allows you to experiment with your favorite flavors, such as additional fruits, nuts, or a drizzle of chocolate.
Recommended Products
As an Amazon Associate and member of other affiliate programs, I earn from qualifying purchases.
More Delicious Strawberry Recipes: