This site contains affiliate links, 3rd party ads, and sponsored content. For more information please read our Disclosure Policy. As always, I only recommend products or services I personally use and love!
Yep, you read that right…slow cooker pizza recipe!  Make this slow cooker pizza recipe as a fun and delicious alternative to ordering out on pizza night.

Slow Cooker Pizza Recipe
Okay, so I know you're wondering…."why on Earth would I make a pizza in the slow cooker if I can just order a pizza?".  I get you…I really do.  If I'm going to cook then it's going to be something much better and much more nutritious than pizza…right?  Well, the answer is simple….
….because it's absolutely, mouth watering, DELICIOUS!!!
And it's also a great way to hide veggies from the kids….ah….the truth emerges.  Yes, you can disguise veggies as Slow Cooker Pizza!  If you're looking for some actually crispy crust pizza, you're going to be disappointed with this recipe. If however you're in the mood for lots of yummy gooey food that fills you up and gives you all your favorite pizza flavors, this is definitely for you. I have yet to meet a kid that doesn't like this.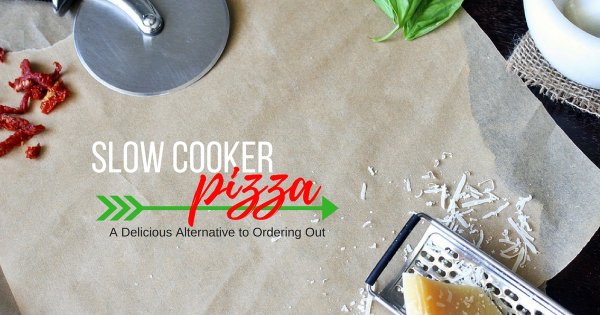 Slow Cooker Pizza Recipe
Ingredients
1½ lb ground beef or bulk Italian sausage
1 jar (15 oz) favorite no-sugar-added pizza sauce
3 cups fresh spinach, chopped
12 slices good pepperoni
1 cup sliced ripe or green olives
1 cup sliced fresh mushrooms
1 cup sliced onion
Any of your favorite pizza toppings!
3 cups shredded Mozzarella cheese
Instructions
Brown the ground meat first in a separate skillet, add the pizza sauce and stir to combine.
Put ½ of the meat-sauce into the crockpot, followed by ½ the fresh spinach, ½ the pepperoni, ½ of the olives, ½ of the mushrooms, ½ the onion, and ½ the Mozzarella cheese.
Repeat the layers using up the remaining ingredients, ending with the Mozzarella cheese covering the top.
Put the crockpot setting on LOW, cover, and cook for 5 to 6 hours.
Turn off the heat and let it sit for 15 minutes before cutting.
I love that you can mix this up anyway you like.  The possibilities are endless….Hawaiian with pineapple, ham, peppers, and corn; chicken and broccoli, meat lovers, veggie lovers….it's so good.
If you're like me and like a bit of crust on your pizza then you can simply add a can of crescents to the top once your slow cooker pizza is done and pop it in the oven at 350 degrees for about 10 minutes or until your "crust" is golden brown.
This is the best slow cooker for making slow cooker pizza because it easily goes from slow cooking into the oven to finish baking.
What are your favorite pizza toppings?  Share in the comments below!
You May Also Like:
Slow Cooker Turkey Pot Pie Recipe
Perfectly Glazed Slow Cooker Chicken Recipe
O-M-G BEST Crockpot Chicken EVER Recipe
Hamburger Hash Slow Cooker Recipe
Sharing is caring! We'd love it if you shared this post: